2013 NCAA Season
No. 5 UCLA Continues Road Swing at No. 2 Oklahoma
No. 5 UCLA Continues Road Swing at No. 2 Oklahoma
Feb 21, 2013
by Jennifer Teitell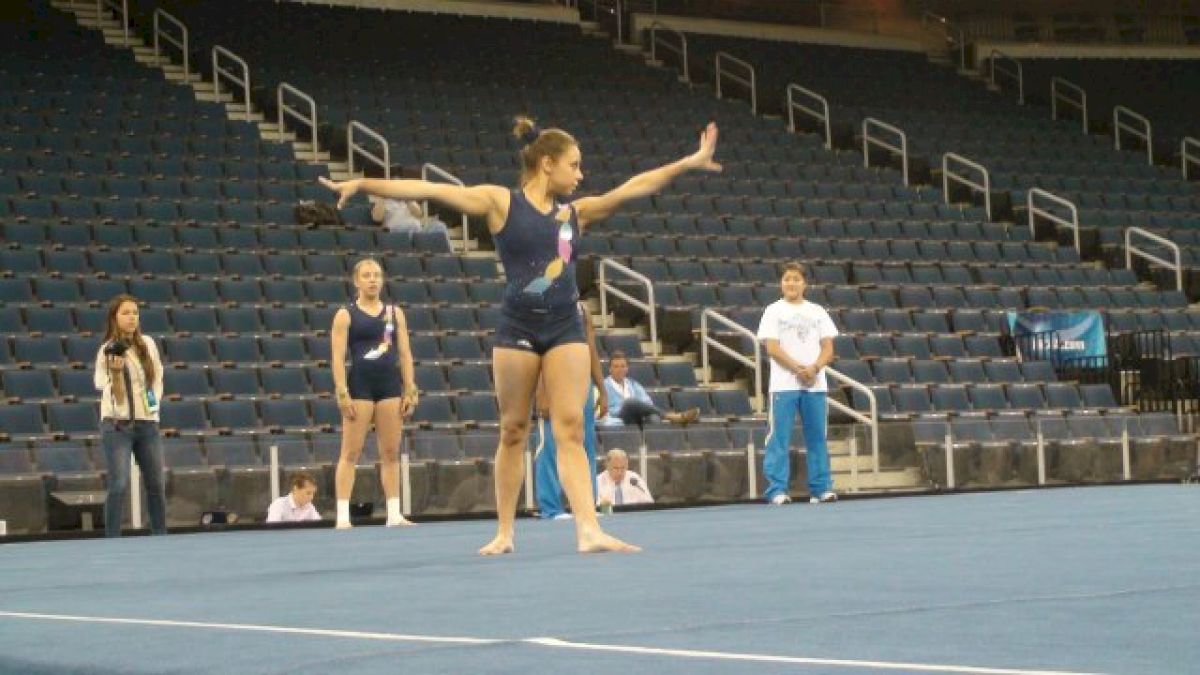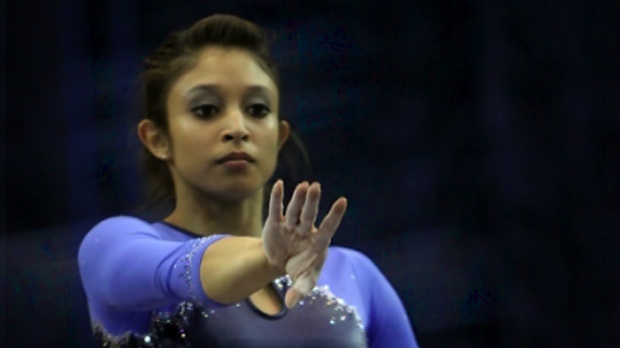 Fifth-ranked UCLA (7-1) visits second-ranked Oklahoma (14-0) on Friday, Feb. 22 at 7 pm CT. This meet is the second of three-straight road meets against Top 15 teams for the Bruins.
UCLA dropped one spot to No. 5 in the national rankings with a season average of 196.650. The Bruins rank sixth on bars (49.167) and beam (49.071), seventh on floor (49.225) and ninth on vault (49.188).
Vanessa Zamarripa ranks No. 1 in the nation in the all-around (39.595) and floor exercise (9.930) for the second consecutive week. She also ranks No. 3 on bars (9.879), No. 4 on beam (9.875) and No. 7 on vault (9.908). Olivia Courtney and Lichelle Wong join Zamarripa in the all-around rankings, checking in at No. 12 (39.35) and No. 17 (39.3), respectively. Two Bruin freshmen rank in the Top 20 on beam - No. 8 Danusia Francis (9.875) and No. 18 Sophina DeJesus (9.837). Three Bruins rank in the Top 15 on floor - No. 1 Zamarripa, No. 9 Courtney (9.890) and No. 12 Alyssa Pritchett (9.883).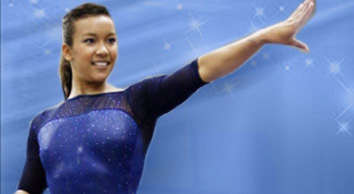 Wong Shines in Bruin Loss at Oregon State
UCLA suffered its first loss of the season, falling to Oregon State in Corvallis, 196.725-196.075. The Bruins had to shuffle their lineup due to a few minor injuries, resulting in an unexpected all-around performance by senior Lichelle Wong. Competing in the arena in which she tore her Achilles last season, Wong shined, recording season-highs on all four events and scoring 39.3 in the all-around, just shy of her career-best. She and Vanessa Zamarripa tied for first on uneven bars, and Zamarripa also picked up a first-place finish on vault.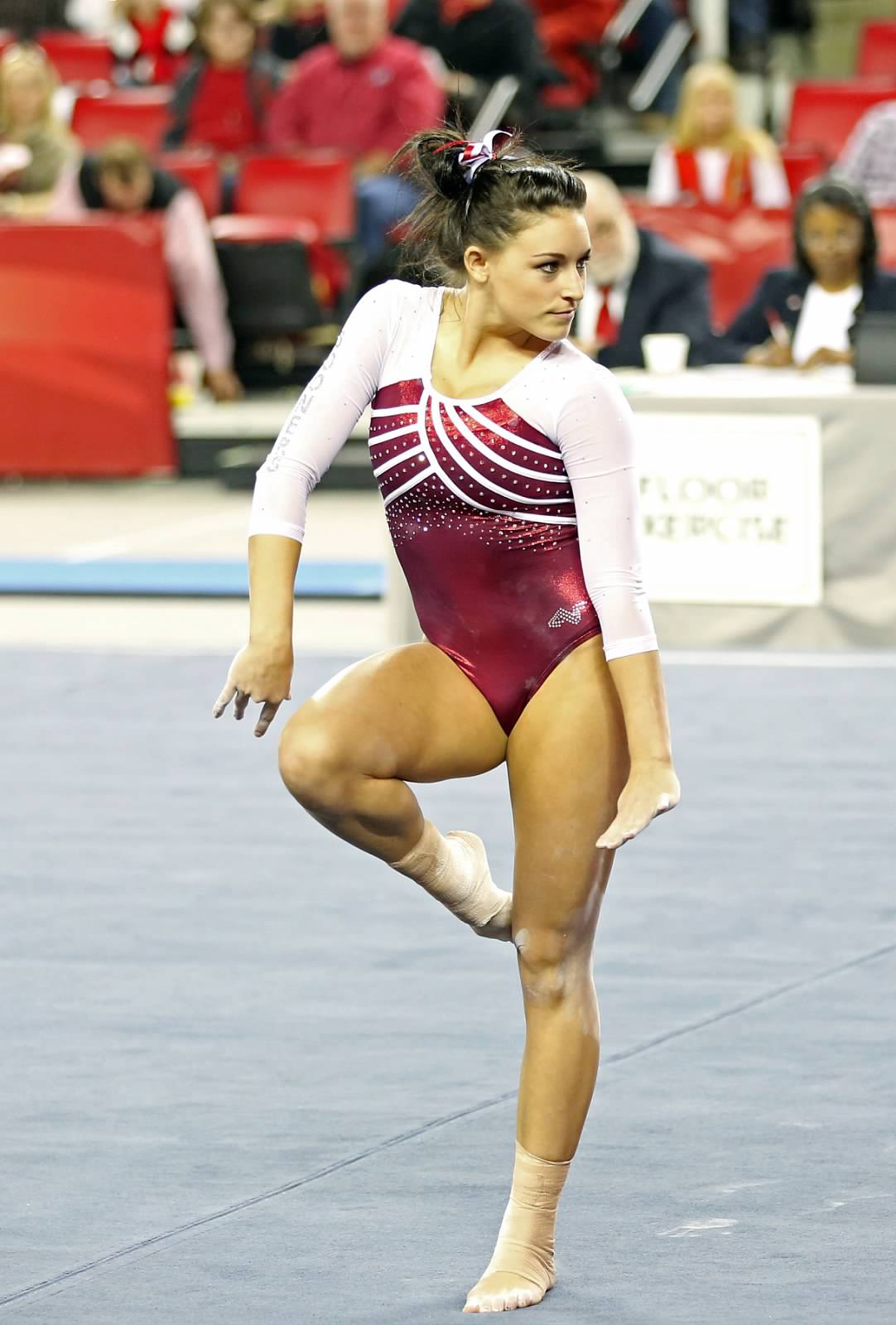 (c) Erin Long

About The Sooners
The nation's leader in wins with 14 and one of just two undefeated teams in the nation, Oklahoma ranks second nationally with a season average of 197.171. The Sooners have scored 197+ in a school record-tying five consecutive meets. Three Sooner gymnasts rank in the Top 25 in the all-around - No. 4 Taylor Spears (39.446), No. 9 Erica Brewer (39.375) and No. 22 Brie Olson (39.242).
Series History
UCLA and Oklahoma have met just four times in the regular season, with the Sooners holding a 1-3 series advantage. The Bruins won the last matchup a year ago in Los Angeles, 197.525-196.475. This will be UCLA's first-ever trip to Oklahoma.
Zamarripa Sets Pac-12 Records
With four Pac-12 Gymnast of the Week honors this season and nine in her career, Vanessa Zamarripa has set the standard in the conference. Her four awards this season tie the single-season record held by UCLA's Kristen Maloney in 2005. Zamarripa's nine career awards broke the record set by her former teammate Elyse Hopfner-Hibbs, who totaled six.
Zamarripa has been dominant this season, ranking No. 1 in the nation in the all-around and on floor exercise, and winning the all-around in four of her five meets. In addition to her all-around wins, she has placed first on 14 of 22 routines (64%) this season.
Francis Beaming in First Year
Freshman Danusia Francis has been a star for the Bruins on balance beam, ranking eighth nationally on the event with an average of 9.875. Francis has placed first in four meets and in the Top 3 in all six meets. She has set career-highs of 9.925 twice on beam and has scored no lower than 9.8 all season. Francis has competed on uneven bars in every meet as the leadoff performer and has posted a high of 9.775 three times. The 2012 British Olympic alternate has also competed on floor the last two meets, scoring 9.725 in her debut Feb. 10.
DeJesus on Road to Recovery
Freshman Sophina DeJesus is close to coming back after sitting out two weeks with a concussion. DeJesus has been a strong performer for the Bruins all season, earning Pac-12 Freshman/Newcomer of the Week honors twice and totaling two event wins and five Top 3 finishes. She is averaging over 9.825 on both beam and floor and has a high of 9.9 on uneven bars.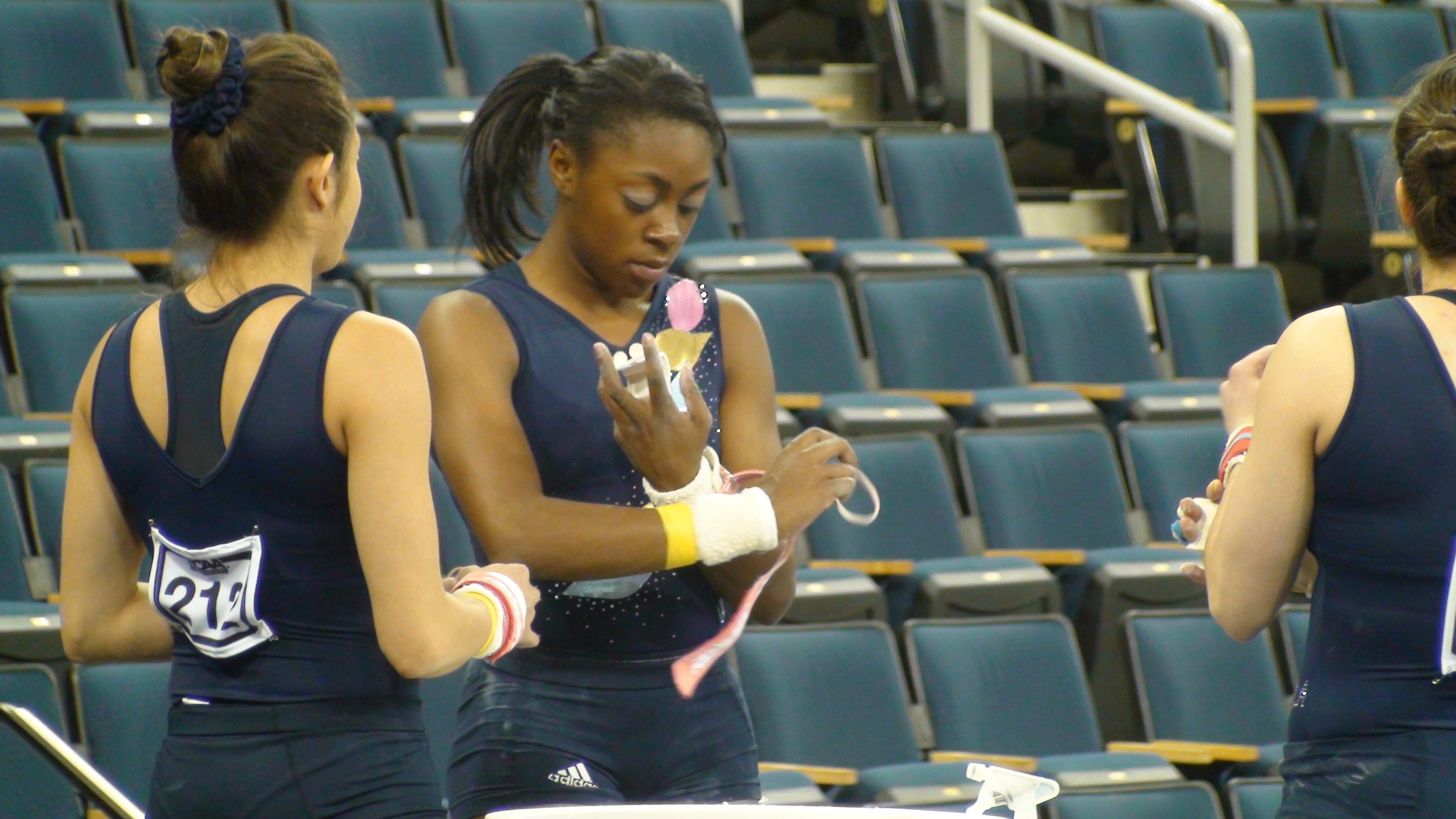 Courtney Continues Consistent Effort
Junior Olivia Courtney has been one of the Bruins' most consistent gymnasts since her freshman season. Through her career, she has hit 97 of 100 routines (97%), with her only three misses all coming on balance beam. She is 19-for-19 this season and averages 9.846 on vault, 9.817 on bars and 9.890 on floor. Two weeks ago, she posted 39.475 in the all-around, just .025 shy of a personal-best, and tied for first on beam with a season-high 9.875.
Back On Bars
Senior Monique De La Torre made her season debut on uneven bars Feb. 10 after sitting out the event the first four meets due to a shoulder injury. The 2011 first-team All-American showed no signs of rust with her new routine that featured a hop full to double layout dismount, scoring 9.85. She also competed on bars at Oregon State Feb. 16 and scored 9.8.
Rookie Performers Shine
With UCLA needing to replace 12 routines from last year's NCAA Championships, many new faces are emerging to play key roles in 2013. Freshmen Sophina DeJesus and Danusia Francis have jumped right into competition, with the duo combining to win six events in UCLA's six meets. DeJesus has one each on uneven bars and balance beam, while Francis has won beam in a team-best four meets. A pair of sophomores who did not compete due to injuries a year ago have also been strong competitors. Dana McDonald is averaging 9.800 on vault and 9.821 on floor in leadoff positions. Last weekend at Oregon State, she competed on beam for just the second time this season and scored a career-high 9.8. Sadiqua Bynum has competed in each meet on floor, with a high of 9.85 set Feb. 10. Additionally, two other athletes who missed most of last season with injuries, are back - junior Sydney Sawa scored 9.8 on vault vs. Utah and scored on floor at ASU, and senior Lichelle Wong had season-highs on all four events and the all-around last weekend at Oregon State. Wong ranked No. 1 in the nation on bars in the first two weekly rankings.

Super Seniors Leading the Way
The Bruins' three redshirt seniors - Kaelie Baer, Alyssa Pritchett and Vanessa Zamarripa - are making the most of their final season of competition. Baer, who sat out the 2010 season and most of 2011 due to injuries, has competed in every meet in 2012 and 2013. This season, she has scored a career-high on vault with a 9.875 and is averaging 9.842. She has been a consistent leadoff performer on beam with a high of 9.8. Pritchett enjoyed a breakout year in 2012 after missing 2011 with a stress fracture in her ankle and came back even better in 2013, averaging 9.883 on floor with Top 3 finishes in five meets and a new career-high of 9.925 set Jan. 12 vs. Utah. Zamarripa sat out 2011 with a ruptured Achilles and came back in 2012 to score two perfect 10s on vault and enjoy a dominating all-around performance at the NCAA Super Six, scoring a career-high 39.775. Dominating doesn't even begin to describe Zamarripa's 2013 campaign thus far. She has captured 14 out of a possible 22 event titles this year and has won the Pac-12 Gymnast of the Week award four out of seven weeks. She currently ranks in the Top 10 nationally on all events, including No. 1 in the all-around and on floor.