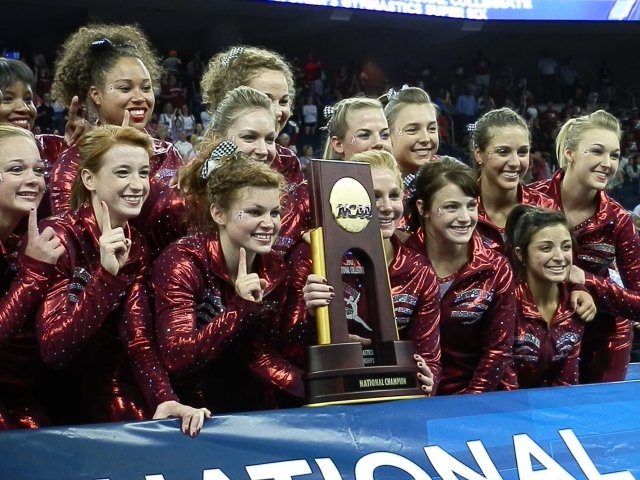 TUSCALOOSA, Ala. - It was on a Saturday night last April in Duluth, Ga., that the Alabama gymnastics team won its second NCAA Championship in a row and sixth overall. It was also the second of four national titles won by Crimson Tide teams during the 2011-12 academic year.
This Saturday night, in Bryant-Denny Stadium, the gymnasts, coaches and staff that earned that title will receive their championship rings during halftime of the Alabama-Mississippi game.
It will mark the 11th time that coaches Sarah and David Patterson have led one of their teams out onto the field for a championship ring ceremony since the 1988 team won the Tide's first NCAA and Southeastern Conference titles in 1988.
All 18 members of last year's championship squad will be honored on Saturday, including Scholastic All-American, All-American and back-to-back individual NCAA Champion Geralen Stack-Eaton; All-American, Scholastic All-American and two-time winner of the NCAA Elite 89 Award Rachel Terry; All-Americans and Scholastic All-Americans Kayla Williams, Sarah DeMeo, Ashley Sledge, Diandra Milliner, Kim Jacob and Ashley Priess; All-American Marissa Gutierrez; Scholastic All-Americans Kaitlyn Clark, Lora Leigh Frost, Brooke Parker, Ria Domier, Lindsey Fowler, Hannah Toussaint and Becca Alexin; SEC Academic Honor Roll honoree Olivia Carisella; and Hunter Dennis, who joined the Tide in January.
Saturday will also mark the second weekend in a row that a member of the Patterson family has received a championship ring. During halftime of last Saturday's Alabama-Florida Atlantic football game, the Patterson's daughter Jordan, a catcher on the UA softball team, and her teammates received rings representing the Tides first national softball title.