Update #3 on McKayla Maroney, 9/13/12
Successful surgery, out of tour for a while

According to McKayla Maroney's Facebook page, the Olympic gold and silver medalist had surgery today and "it was successful!" She is expected to sit out upcoming Kellogg's Tour of Gymnastics Champions stops while she recovers.

Maroney tweeted this photo from the hospital around 6pm Eastern time, with the following message: "I'M ALIVE!!!! haha just kidding...(; I just woke up from my surgery a little bit ago and was told it was s." The tweet cuts off, likely because of Twitter's character limit.



Photo: @McKaylaMaroney


Update #2 on McKayla Maroney
Kellogg's Tour of Gymnastics Champions update, via USA Gymnastics
Sept. 11, 2012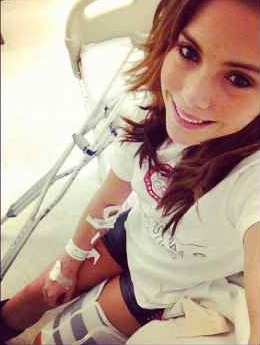 On Sept. 9, 2012 Olympic gold-medalist McKayla Maroney was injured on her uneven bars dismount at the Ontario, Calif., performance of the Kellogg's Tour of Gymnastics Champions. Maroney's MRI showed a fractured tibia on her left leg, and she is currently in a brace to keep the leg stabilized. Maroney and her family are consulting with physicians and specialists to determine the proper course of treatment. Maroney's return to the Kellogg's Tour in some capacity will be determined at the appropriate time during her recovery.
---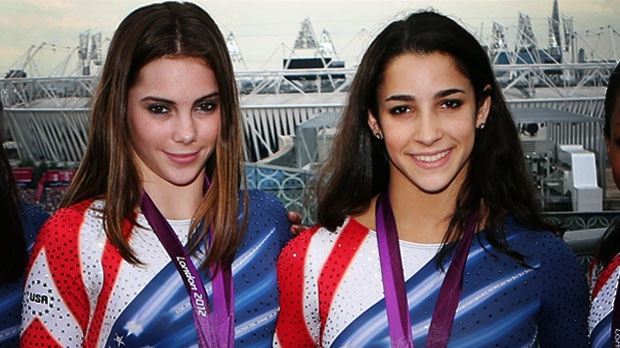 Kellogg's Tour of Gymnastics Champions update via USA Gymnastics:
SAN DIEGO, Calif., Sept. 10, 2012 – At the Sept. 9 performance of the Kellogg's Tour of Gymnastics Champions in Ontario, Calif., 2012 Olympic gold-medalists McKayla Maroney and Aly Raisman were injured while performing on the uneven bars.
Raisman, who was examined at the arena by the physician for the performance, has bruised knees. She will follow an icing and additional treatment regimen with continued assessment by the medical staff, but does not require any further testing at this time.
Maroney is undergoing medical evaluations and tests today to determine the extent of her injury to her left knee. A further update will be provided once Maroney's injury is diagnosed and confirmed.
---
Original post:

Olympic gold medalists McKayla Maroney and Aly Raisman reportedly were injured last night, just seconds apart, on the second stop of the Kellogg's Tour of Gymnastics Champions in Ontario, California.

The video below, by YouTube user Varela6869, shows Maroney being carried out of the arena after a bad landing on a simple layout dismount on bars (1:16). Seconds later, Raisman mounts the bars and misses a Shaposhnikova release move from the low bar to the high bar (1:55). She lands on the mat, but hits her legs on the unmatted concrete floor of the arena.


Blogger ukulele-hero provides a first-person account of what happened, here. As shown in the video, ukulele-hero writes that "McKayla landed (feet apart and sort of crouched . . .) and she either fell right after she landed or took a hop and fell. . . . She was on the ground and she wasn't really getting back up. . . . Two medics . . . came running over, she must have said she was hurt because they both picked her up and carried her out of the arena."




Photo: Ukulele-hero

As to Raisman, the blogger reports that Raisman "landed face first" and that her legs hit the concrete arena floor so hard that the blogger "could hear it from where I was sitting. I'm pretty sure my heart stopped." As shown in the video, Aly walked away with a bit of a limp after the fall and then left the arena, presumably for treatment.

In addition to winning gold with their teammates, Maroney and Raisman were the only members of the Fierce Five to win individual medals in event finals at the London Olympics (teammate Gabby Douglas also captured the all-around gold). Raisman, the most decorated member of Team USA in London, won gold with her powerful floor routine, as well as bronze on beam after a score inquiry and nail-biting tie-breaker.

Maroney, who was nearly universally favored to win gold on vault, captured the silver after an uncharacteristic fall on her second vault. Her expression of raw disappointment on the medal stand, now known as the "McKayla is not impressed" face, has garnered world-wide attention ever since (click here for Gymnastike's favorite McKayla is not impressed memes).

Throughout the Olympics, Maroney had a widely publicized toe injury. She later revealed that she also had a fractured fibula (read more about that here). Her leg reportedly had been heavily taped during rehearsals.

Reportedly, neither Maroney nor Raisman returned to the arena after their falls. Ukulele-hero captured this photo of the Fierce Five, minus their two injured teammates, later on in the show:




Photo: Ukulele-hero

The Tour's next stop on September 13, 2012 in San Diego, California.

Read more about the Tour here, including Jill Hicks' exclusive behind-the-scenes blog.