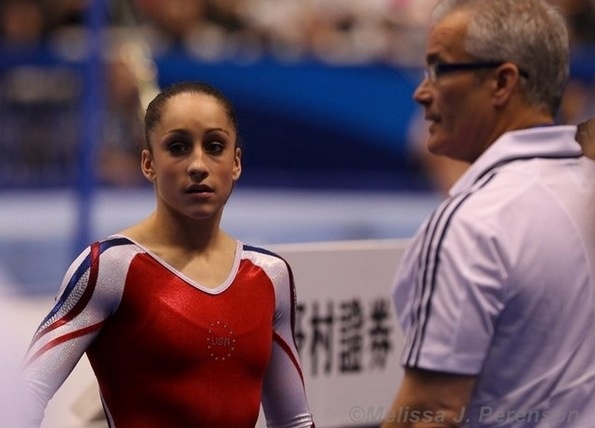 Throughout this Olympic Games Jordyn Wieber has revealed her "strong character" as U.S. National Team Coordinator Martha Karolyi calls it.
Coming in with enormous expectations, the reigning World Champion did not have the Olympic Games of her dreams. The only medal Wieber will take home to Michigan is a team gold.
We saw Wieber rise to the occasion with spectacular performances during Team Finals and fight through individual disappointment while continuing to hold her head high and support her teammates. The 17-year-old handled defeat with class and maturity.
Then as the London Olympics came to a close with Wieber's final performance in the floor exercise final, Coach John Geddert revealed that there was one more thing Wieber was fighting through: a likely stress fracture.
Geddert shared that according to USA team doctor Larry Nassar, "there are all the signs of a stress fracture. She's had soreness and now there is a lump there. So, she'll be in a boot tomorrow, finish out the Games, get an x-ray, and then an MRI. It's the same leg as her heel injury. She's been having problems since training camp."
Not competing in London was never an option. "She's not going to not compete", he stated with certainty. "I didn't want to dwell on it, and she neither did she. We rested it as much as we could. We didn't do as many numbers as we normally would. And obviously it took it's toll. She wasn't as polished as she normally is because we couldn't train. I'm really proud of her team performance because she really dug down deep. Obviously, today she had a shot at a medal. If she'd have done the same routine she did in team she would've had a medal. But, I'm not making excuses. I don't want to get into that. There are some great champions out there. I don't want to draw away from their accomplishments."
You can't help but view her situation as deja vu of 1991 World Champion Kim Zmeskal at the '92 Barcelona Olympic Games. Zmeskal came in touted as the favorite, and a stress fractured slowed her training and ultimately dashed her Olympic all around chances.
When asked about the similarity to this, Geddert replied, "Well, it's the sport of gymnastics. We've had the greatest ride of many, many people, so I guess we can't complain. It's just bad timing, bad karma, whatever you want to call it."
Wieber will still depart London as an Olympic Gold Medalist, but she will carry with her a lot of "what if's?".
Coach Geddert shared, "she's disappointed. She probably feels unfulfilled. And I know her well enough that thats probably at the top of the list - disappointed and unfulfilled."
What's next for World Champion Wieber? First, six weeks in a walking boot, then the Kellogg's Tour of Gymnastics Champions, and then, as Geddert put it, "Then she's got some decisions to make. She hasn't come out and said exactly what she wants to do."
"It would be my hope (that she comes back). She's still a senior in high school. I think she's got another good year before she goes off to college, so an individual worlds is certainly a realistic goal for her. Not fulfilling her dreams here might add a little fuel to the fire. You know, these kids are all bred from the same cloth. They all get a little bit hungry when they don't achieve what they want to get done."