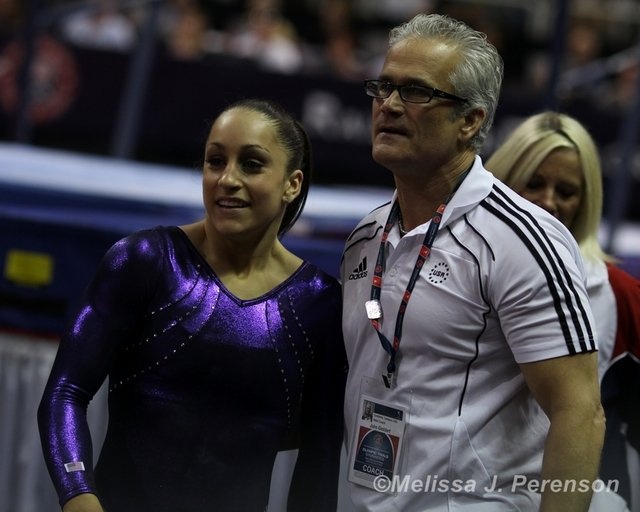 Imagine this: your athlete who you've trained since she was four years old is the reigning World and National Champion and coming into the Olympic Games as the all around favorite. She has a good day, not great, in her first Olympic competition and finishes 3rd in the World out of the 3 of 5 sessions of qualifications. However, the two gymnasts ahead of her are her teammates. So, because of a rule, she will not advance to finals.

This is what Coach John Geddert and Jordyn Wieber had to absorb today in London, along with the high of a dominating performance for Team USA.

Coach Geddert spoke to media after the competition.
Trying to sum it all up, Geddert stated, "I'm basically devastated for her. She has trained her entire life for this day and to have it turn out anything less than she deserves is going to be devastating. She has waited her entire career for this. She is happy for her teammates and disappointed that she doesn't get to move on."
Take us through the day...
"It was a decent bar set. Obviously the judges didn't see it with the same eyes. But, that's their job, not mine. Beam, similarly, she got no credit for anything. They took everything away. That's never happened, ever. Floor was a decent set and her normal score on floor would have gotten her in the all around. That's the lowest floor score she's gotten... ever. And again, they gave her nothing in her floor routine that was questionable."
Seeing that floor score, did your heart sink knowing Aly was next on floor?
"Yeah. Knowing we only had a three tenth lead and Aly's certainly capable of beating a 14.60. Again, Jordyn's a normal 15 or 15.10, she's in all around finals."
What was the first thing she said to you?
"She hasn't said a word. She doesn't talk. She'll go into her little shell and it'll be a while until she comes out."
Is it as much that Aly has been on the verge of this as it is Jordyn had a few mistakes today?
"Aly had the meet of her life today. What a time to have it. And I couldn't be happier for her. She's a great kid, she certainly deserves it, and nobody works harder. So it's a great thing for her. In this system its a shame that the world champion doesn't get to compete in the all around finals at the Olympics, because of a stupid rule of 2 per country rule."
And you guys are top 3 right now...
"Yeah, and when it's all over she'll probably be in the top 5 all around score on an okay day. It's a dumb rule. Some of the FIG rules are absolutely ridiculous. The 3-up-3 count rule is just the stupidest rule I've ever heard for children's sports. One kid is going to make a mistake that costs her country a medal, and they have to live with that the rest of their life. So the FIG really needs to start rethinking some of these things. A kid's training their entire life and because they're the 3rd best in their country, they don't get to go to the dream competition. I just, I don't know where they're coming from. And that's about as negative as I'm getting today."
She's been at the top for so long, how do you get her focused emotionally now?
"That's what I told her. She going to handle this with as much class as she's always handled the victories. Make no excuses. There are no excuses. Team USA's got a big day on Tuesday."
And she did.

Wieber released a statement: