Updated 7/29 10:30pm London time with quotes from Team USA. See below.

The news after the early qualifying rounds was both expected and shocking, at the same time. As many predicted, the U.S. women put forth big scores on every event, jumping out to a lead over Russia, 181.863-180.472.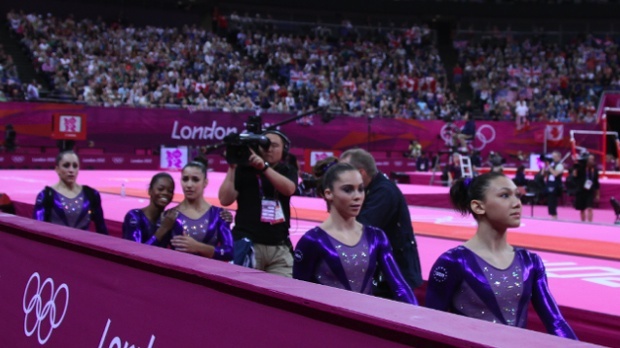 The USA women's team marches out of the London Olympic Stadium as Jordyn Wieber absorbs the all around results. Photo by Grace Chiu.

In an unexpected turn, World All Around Champion Jordyn Wieber was kept from advancing to the individual all around final by her two teammates, Gabby Douglas and Aly Raisman, who outscored her. Only two gymnasts per country may compete in the final.

The U.S. started its Olympics with a bang, showing powerful Amanar vaults from Aly Raisman (15.8), Gabby Douglas (15.9), Jordyn Wieber (15.833) and McKayla Maroney (15.9). The team next moved to bars, where its shine dulled just a little. Wieber overarched a pirouette (14.833) while Kyla Ross (14.866) and Gabby Douglas (15.333) received lower scores than expected for hit routines.
Ross made a statement as the first gymnast on beam, posting a big 15.075 for a confident set. Douglas followed and delivered another solid routine, despite small bobbles on her flight series and dismount (15.266). Wieber was steady as well, with only a few wobbles in her challenging set (14.7). Raisman anchored and delivered yet another hit routine (15.1).
The U.S. team was not as precise on floor exercise, as Ross and Douglas both bounced out of bounds on double arabians. Wieber also stepped out after a triple full immediate stag leap (14.666). Raisman went up last again, delivering the powerful tumbling she's become known for. Her score of 15.325 puts her in first on floor after three subdivisions.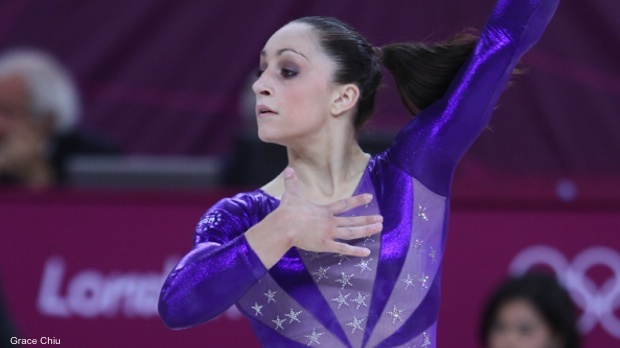 In the all around, Raisman and Douglas sit in second and third, leaving Wieber out of the final, in an unsatisfying third place.
Home team Great Britain got off to a rocky start on beam, with Hannah Whelan suffering a fall and Jennifer Pinches stumbling out of her dismount (13.1). Young leader Rebecca Tunney stayed on as the team's anchor, but wobbled on nearly every skill to score 13.166.
On floor, the British women faired better, with Tunney (14.0), Pinches (14.1) and Beth Tweddle (14.433) posting good scores, to the delight of the home crowd. Vault was also a strong endeavor, with Whelan (14.5), Pinches (14.366) and Tunney (14.4) throwing double-twisting Yurchenkos while Imogen Cairns did a beautiful Yurchenko 1 1/2 (14.433).
Uneven bars was the British highlight, with Tunney scoring 14.825 for her difficult routine, which set up Tweddle's exercise that scored a massive 16.133 (Khorkina to Gienger; Toe on Tkatchev 1/2 to Yezhova). Tweddle will easily make the event final, where she will battle for gold in front of a home crowd.
Canada was steady on its first piece, the uneven bars, led by Kristina Vaculik (14.366) and Brittany Rogers (14.5). On beam, Canada couldn't keep it together, as both Vaculik and Victoria Moors struggled. Vaculik missed her foot on a back tuck and slid down the beam, then fell on an aerial later in the exercise. Ellie Black led the team with a 13.966.
On floor, Canada regained its consistency, with Black and Dominique Pegg putting up matching scores of 14.233. Moors, a favorite on floor exercise, stumbled out of a pair of landings, keeping her score to only 14.1. She will not make event finals.
Canada's top vaulters Brittany Rogers and Ellie Black may qualify to vault finals, however. Both hit their vaults and currently sit in third and fourth positions.
QUOTES from TEAM USA after the competition:
Mihai Brestyan, Aly Raisman's personal coach

On Aly topping the all around:
"She deserves this. She's a hard worker. Everybody's dreaming for that."
How do you think this sets you up for the Team Final?
"That's the most important part. The Team Final we need to win. We have to win the team final."
"Because we have to." (laughs). "That's our goal, every single one of us. Coaches, gymnast, administrators. We want to win that and we have to. And if not, a medal is good too, but we'll be disappointed."
Martha Karolyi
Reaction to Jordyn Wieber missing all around Finals:
"I'm very sad to see that, but on another token I'm very happy that the other girls made it. Aly Raisman's success is proof that hard work pays off. She's the most hard working dedicated person through the year and finally she gets the pay off for her hard work.
Martha, what does this say about how deep this team is?
Yes, that really... that is what happens. Many of these girls are preforming high level gymnastics and they just had a stronger day than Jordyn did. You always try to do your best, you're always striving for perfection but we are still human beings, we aren't machines. I jokingly tell the girls, 'program it in and then you'll be able to do it' But, you just, can not.
How do you get Wieber emotionally ready for Team Finals?
We will have to support and just have to explain that this is sport and things happen, and you have to turn the page and take the next chapter which will be the team final and perform at the highest level possible.


Aly Raisman
How did you feel when you found out you won?
"I felt overwhelmed and really excited. I just finished my floor routine so I didn't even have a second to process it and it still hasn't sunk in. I'm really happy. I wasn't expecting to finish at the top of the all around beacuse I did a good bar routine but I've been doing it better in workouts so I wasn't sure if that would be enough."

"I had no idea. I don't even look at the scores. I just kind of focus on myself. So I think that made it that much better, it was such a surprise at the end."

"It's the best feeling in the world because my coaches have always believed in me and they've always been so supportive. I feel like I not only did it for myself, I also did it for them."

Raisman on beating out Wieber
"It's really hard of course just becuase we're best friends and I know how bad she wanted it and that was one of the first things I said was that I felt so bad because she worked so hard too and it's tough that only top two gymnasts go. But, I know she's still a good friend and she'll still be happy for me."


Gabby Douglas

"Everyone was talking about me and her (Wieber) and 'the showdown', and after Aly's floor routine everyone got really shocked. But, all have to learn how to deal with disappointments. But
I'm so proud of Aly. She deserved it."

How will the team come together again after this?
"Yeah, it's definitely a little awkward. You know, when I had my struggles and I wanted to give up and you just have to turn the other way. You've just got to be positive."

What are you most happy with today?
"I'm most happy with my beam. It's kind of been shaky the past couple meets, but it was solid today!"

Click here for full interview with Coach John Geddert



RESULTS AFTER QUALIFICATIONS

TEAM:
1. USA- 181.863
2. Russia- 180.429
3. China- 176.637

4. Romania- 176.264
5. Great Britain- 170.656

6. Japan- 170.198
7. Italy- 168.397
8. Canada- 167.696

ALL AROUND:
1. Viktoria Komova (RUS)- 60.632
2. Aly Raisman (USA)- 60.391
3. Gabby Douglas (USA)- 60.265
4. Aliya Mustafina (RUS)- 59.966
5. Deng Linlin (CHN)- 57.998
6. Vanessa Ferrari (ITA)- 57.932
7. Asuka Teramoto (JPN)- 57.865
8. Larisa Iordache (ROM)- 57.800
9. Huang Qiushuang (CHN)- 57.707
10. Sandra Izbasa (ROM)- 57.532
11. Jessica Lopez (VEN)- 56.665
12. Elizabeth Seitz (GER)- 56.466
13. Rebecca Tunney (GBR)- 56.391
14. Ana Sofia Gomez Porras (GUA)- 56.132
15. Hannah Whelan (GBR)- 55.699
16. Dominique Pegg (CAN)- 55.657
17. Celine van Gerner (NED)- 55.632
18. Carlotta Ferlito (ITA)- 55.500
19. Giulia Steingruber (SUI)- 54.715
20. Emily Little (AUS)- 54.498
21. Aurelie Malaussena (FRA)- 54.399
22. Marta Pihan-Kulesza (POL)- 54.365
23. Rie Tanaka (JPN)- 54.333
24. Ashleigh Brennan (AUS)- 54.232

Reserves: Anne Kuhm (FRA), Gaelle Mys (BEL), Kristina Vaculik (CAN) and Ana Maria Izurieta (ESP)


VAULT:
1. McKayla Maroney (USA)- 15.8

2. Sandra Izbasa (ROM)- 15.316
3. Maria Paseka (RUS)- 15.049
4. Oksana Chusovitina (GER)- 14.808
5. Yamilet Peña (DOM)- 14.699
6. Janine Berger (GER)- 14.483
7. Brittany Rogers (CAN)- 14.483
8. Ellie Black (CAN)- 14.366

Reserves: Giulia Steingruber (SUI), Nastassia Marachkouskaya (BLR), Phan Thi Ha Thanh (VIE)

UNEVEN BARS:
1. Beth Tweddle (GBR)- 16.133
2. He Kexin (CHN)- 15.966
3. Viktoria Komova (RUS)- 15.833
4. Yao Jinnan (CHN)- 15.766
5. Aliya Mustafina (RUS)- 15.7
6. Gabby Douglas (USA)- 15.333
7. Elizabeth Seitz (GER)- 15.166
8. Koko Tsurumi (JPN)- 15.033

Reserves: Celine van Gerner (NED), Kyla Ross (USA) and Rebecca Tunney (GBR)

BALANCE BEAM:
1. Sui Lu (CHN)- 15.4
2. Viktoria Komova (RUS)- 15.266
3. Gabby Douglas (USA)- 15.266
4. Deng Linlin (CHN)- 15.166
5. Aly Raisman (USA)- 15.1
6. Ksenia Afanasyeva (RUS)- 15.066
7. Catalina Ponor (ROM)- 15.033
8. Diana Bulimar (ROM)- 14.866

Reserves: Asuka Teramoto (JPN), Vanessa Ferrari (ITA) and Carlotta Ferlito (ITA)

FLOOR EXERCISE:
1. Aly Raisman (USA)- 15.325

2. Sandra Izbasa (ROM)- 15.066
3. Vanessa Ferrari (ITA)- 14.9
4. Ksenia Afanasyeva (RUS)- 14.833
5. Lauren Mitchell (AUS)- 14.833
6. Jordyn Wieber (USA)- 14.666

7. Catalina Ponor (ROM)- 14.6
8. Aliya Mustafina (RUS)- 14.433

Reserves: Beth Tweddle (GBR), Marta Pihan-Kulesza (POL) and Asuka Teramoto (JPN)