2012 Olympic Team Trials
RECAP: USA Men's Podium Training at the 2012 Olympic Games
RECAP: USA Men's Podium Training at the 2012 Olympic Games
Jul 25, 2012
by Anne Phillips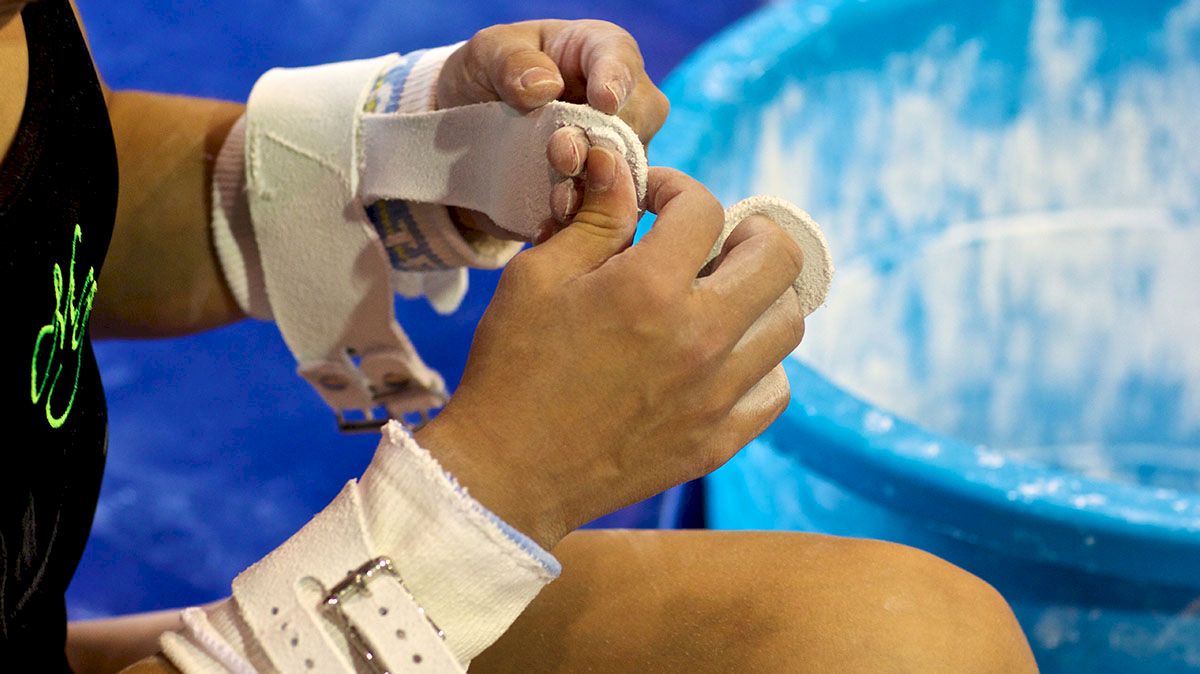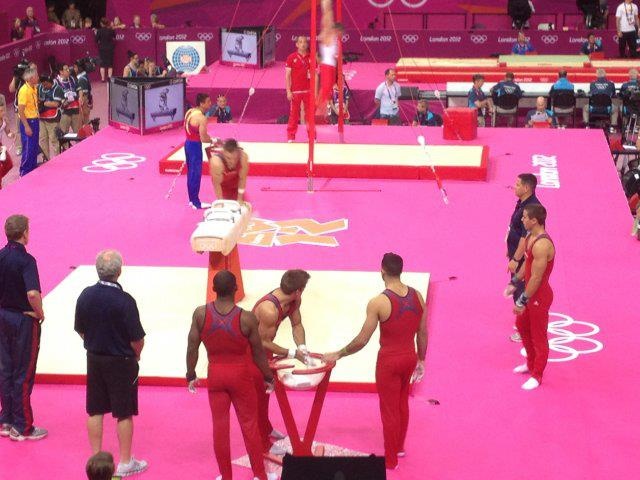 The U.S. mens step on to the 2012 London Olympic podium for the first time.

Podium training for the U.S.A. men's team at the 2012 Olympic Games has concluded, and despite a few falls, Head Coach Kevin Mazeika and the U.S. athletes still call it a success. Today was about getting used to the new Gymnova equipment to prepare for preliminary competition on Saturday.
"I thought it was a great podium training today", Mazeika stated. "Podium training is about getting used to the little idiosyncrasies of the equipment, so we'll make the adjustments accordingly and take in that information to be ready to go on Saturday."
The biggest obstacle for Team USA, and most of the other countries, was the Gymnova vaulting board. Like many of the other gymnasts taking to the competition floor for the first time today, the U.S. team sat down numerous vaulting attempts.
Two-time Olympian Jonathan Horton revealed that "the board has been a challenge to get used to. It acts a little weird. Basically when the board bends, instead of throwing us straight up, it throws us forward, so it feels like it throws us straight into the vault instead of up over it. We've been fighting it. Everyone is struggling on vault also, I saw a lot of people crash today. It's going to take a little time to make the adjustments, but I think these guys will be able to land when they need to."

Danell Leyva summed it up best saying "vault is all about adrenaline", and he's confident that competing in his first Olympic Games will give him the adrenaline needed to put his tsukahara 2.5 twist to his feet on Saturday.
The Americans shook off vault and moved to parallel bars where all five members presented full routines. Sam Mikulak nailed his set to re-energize his teammates down on the floor. He looks to have secured his place on this event for the team final, along with World Champion Leyva.
On high bar, the Americans showed promising routines highlighted by a fantastic performance by Danell Leyva, who was the class of the field on the event today. It was the team's veteran and Olympic silver medalist Jonathan Horton, however, who struggled. Horton was 1-4 today on his Cassina release, a full twisting laid out Kovacs. This is the same skill he missed at Olympic Trials.
Horton regretted doing so many attempts at a skill he knew he could make and confirmed that the routine has been going well in training. "I shouldn't have done so many. I should've just walked away. I've been on fire with that release lately, and I think I let it get into my head. I hate to say it, but it's kind of shaken my confidence a little bit. I'm going to get back in the gym tomorrow, do a few more, make sure I catch them, and build it back up".
Coach Mazeika did not seem concerned with Horton struggles today, and does not plan to pull the release move from his routine, stating: "Jon's a seasoned veteran, and he'll be ready to go on Saturday".
The equipment even affected 3-time World all around Champion Kohei Uchimura, who looked uncharacteristically human today. Nicknamed "Superman," he is by far the favorite for the Olympic all around title. However, he started off his day with two falls on high bar, peeling off the bar after catching a Kolman release, and failing to catch a Liukin as well.
On floor, Uchimura looked fatigued, and closed out the rotation by attempting an incredibly difficult triple twisting double tuck, landing on his face. While it was shocking to see the reigning World floor and all around Champion suffer a fall like this, Uchimura was unfazed, jumping right back up and laughing it off.
Even still, Uchimura left today's arena with moments of greatness we've come to expect from him, like a stuck double twisting double tuck off of rings, and a nearly perfect 2.5 twisting yurchenko vault.
The session concluded with a fantastic floor routine by American Jake Dalton, mounting with a clean laid out double arabian. Dalton is looking strong to contend for a medal on the event here in London. The hardest part will be handling the pressure of competing in his first Olympic Games, with the constant presence of the Olympic Rings reminding him what's at stake.
"You go out there and see 'London Olympic Games' and the Olympic Rings. Actually, the only thing that feels the same is the gymnastics. Outside, everything is different. It's pretty cool to stay in the village and with all the other countries."

2012 U.S. National Champion John Orozco agreed.

"The experience so far has been really fun. I'm trying to think of it as another interernational meet, but the village and the whole atmosphere is making it impossible to do that," he says with a smile.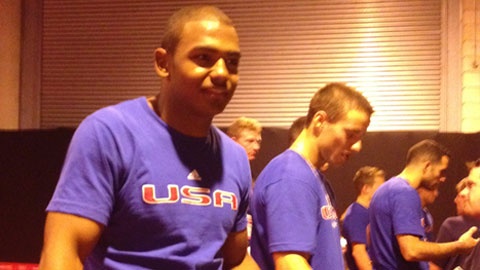 John Orozco and Team USA in the mixed zone following podium training.
Dalton, like many of his teammates, is reflecting on past performances for confidence. He says that aside from seeing the Rings everywhere, "today felt a lot like World Championships to me. It felt like I've already done this before, like we just did this not too long ago. I'm just ready to get out there, I think we all feel comfortable with the equipment now. We know what it looks like, we know what to expect, and we're ready to go."
You can count on team veteran Jonathan Horton to deliver a strong pep talk to the team tonight. When asked what he would say, he quickly replied: "Don't be worried. Stay relaxed. We all got here for a reason...because we are great gymnasts."
The U.S. men will begin competition on Saturday in subdivision two of three, starting off on the pommel horse. The top 8 teams from the prelims will advance to team finals. Americans to watch in the all around race will be 2012 Olympic Trials Champion Leyva and
2012 U.S. Champion John Orozco.