2012 London Olympics
Yang Hak Seon Still World's Best Vaulter
Yang Hak Seon Still World's Best Vaulter
Jul 20, 2012
by Danny Sierra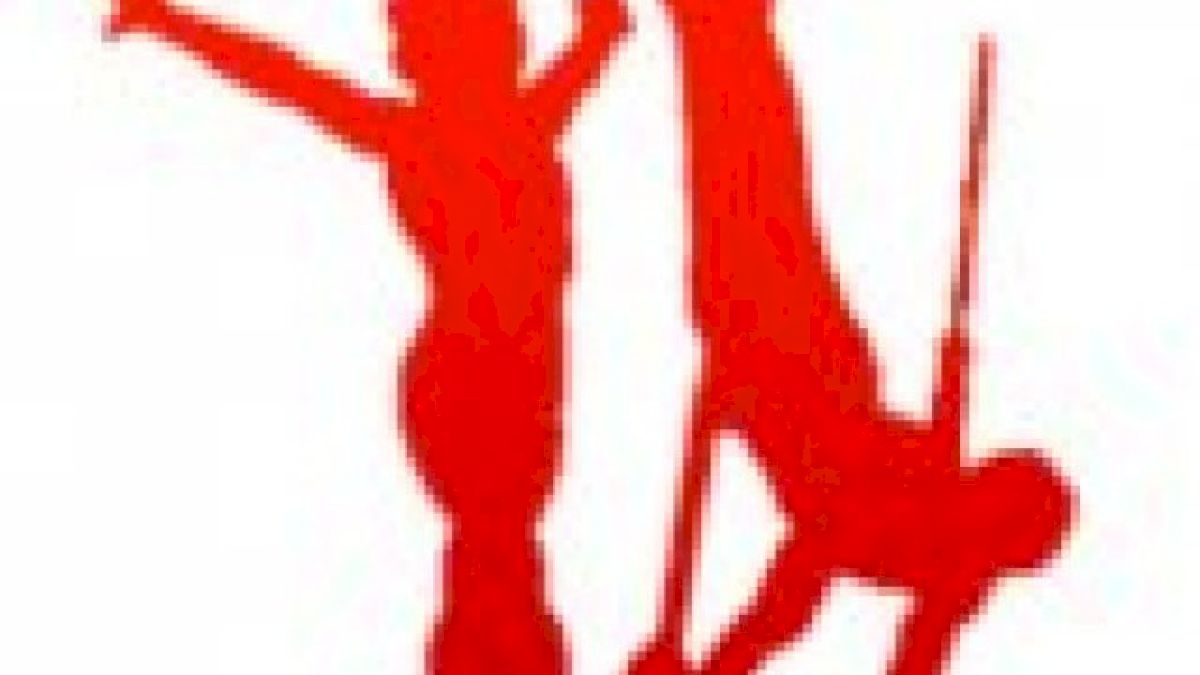 YANG HAK SEON GOLDEN AGAIN!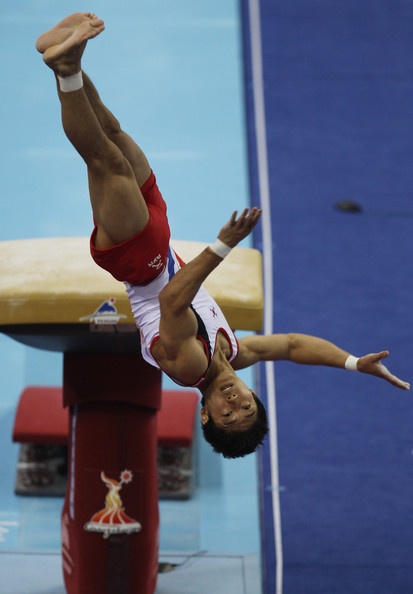 While several gymnasts stuck superb, difficult vaults to stay competitive, reigning World Champion Yang Hak Seon of South Korea showed the highest levels of difficulty and execution to win gold in a riveting men's vaulting final.
As the final vaulter, Yang again showed his signature vault, a handspring triple twist, which carries a massive 7.4 D-score - the highest in the world. Although he took two big steps forward, he made up the difference with his second vault, a near-perfect Kasamatsu double full (9.6 E-score)!
Yang set himself apart from the field with his perfect twisting form and body position in the air, opening up to prepare for his landings. His average of 16.533 showed the attention to detail in his tricks.
Denis Ablyazin of Russia had plenty of difficulty, but wasn't as precise as Yang in the execution of his Tsukahara double pike and and half-on, 2 1/2 twist off (named after China's Li Xiaopeng). Ablyazin took silver (16.399), his second event medal at these Olympics (he took bronze on floor exercise).
Igor Radivilov of Ukraine stuck an astounding Dragulescu (double front half-out), followed by a Tsuk double pike with just one step, but in a field this talented, his average of 16.316 was only good enough for bronze - Ukraine's first gymnastics medal in London.
Tomas Gonzalez Sepulveda (CHI), Sam Mikulak (USA) and Isaac Botella (ESP) performed their vaults well, but each lacked the difficulty of the vault medalists. Like Yang Hak Seon, Botella displayed excellent twisting form, while American Sam Mikulak stuck his handspring double front.
Romania's Flavius Koczi struggled with his landings and appeared to get lost in the air on his second vault, which he intended to be a Randi. He left out a full twist and took a large step backwards on landing.
Kristian Thomas of Great Britain stood up a nice Yurchenko double pike (just a small hop), but unfortunately sat down his handspring double front. Thomas's vaults will be last performance from a British gymnast at these Olympics.
1. Yang Hak Seon (KOR)- 16.533
2. Denis Ablyazin (RUS)- 16.399
3. Igor Radivilov (UKR)- 16.316
4. Tomas Gonzalez Sepulveda (CHI)- 16.183
5. Sam Mikulak (USA)- 16.050
6. Isaac Botella (ESP)- 15.866
7. Flavius Koczi (ROU)- 15.633
8. Kristian Thomas (GBR)- 15.533
------------------------------------------------------------
WAG: Team AA VT UB BB FX
MAG:
Team
AA
FX
PH
SR
VT
PB
HB

When: Monday, Aug. 6 - 10:41 a.m. ET
---------------------------------------------------------------------------------------------------------------


VAULT FINALISTS:
1. Denis Ablyazin (RUS)- 16.366
2. Yang Hak Seon (KOR)- 16.333
3. Tomas Gonzalez Sepulveda (CHI)- 16.149
4. Sam Mikulak (USA)- 16.083
5. Kristian Thomas (GBR)- 15.983
6. Flavius Koczi (ROM)- 15.949
7. Isaac Botella Perez (ESP)- 15.833
8. Igor Radivilov (UKR)- 15.799

Reserves: Dzmitry Kaspiarovich (BLR), Matteo Angioletti (ITA) and Oleg Verniaiev (UKR)


-----------------------------------------------------------------------------------------------------------------


How to advance to event finals
The top eight gymnasts based on scores from prelims will advance to event finals. However, only two gymnasts per country may advance. For vault, a gymnast must compete two vaults from different vault families in order to be eligible for vault finals. Their two scores are averaged.


Past World Champions
2011 Yang Hak Seon (KOR)
2010 Thomas Bouhail (FRA)
2009 Marian Dragulescu (ROU)
2007 Leszek Blanik (POL)

Past Olympic Champions
2008 Leszek Blanik (POL)
2004 Gervasio Deferr (ESP)
2000 Gervasio Deferr (ESP)
1996 Alexei Nemov (RUS)

2012 Olympic Medal Contenders

Igor Radivilov, Ukraine
Powerful Ukrainian Igor Radivilov wowed us on vault at this year's European Championships, competing an easy handspring double front 1/2 (Dragulescu) that fell out of the sky. His second vault, an equally high Tsukahara double pike (7.0) makes him a major contender for gold in London.




Yang Hak Seon, Korea
The reigning World vault champion shows a talent for twisting that is reminiscent of vaulting master Li Xiaopeng. As the first gymnast to perform a handspring triple twist, the resultant 7.4 D-score gives him an edge over other vaulters. Additonally, his tight execution will make him hard to beat.

Flavius Koczi, Romania
Another vaulter who favors twisting skills is reigning European Champion Flavius Koczi. A veteran on the vaulting scene, Koczi took silver at the 2009 World Championships. His vaults, while consistent, are not as dynamic as the other competitors.

Denis Ablyazin, Russia
A strong Russian contender is Denis Ablyazin, who placed fifth at the 2011 World Championships. Capable of the rare "Li Xiaopeng" vault (half on, Randi off), Ablyazin has two of the highest D-scores in the world. Can he find the balance between difficulty and execution?

Dzmitry Kaspiarovich, Belarus
A seasoned competitor in the sport, Kaspiarovich is able to keep pace with the younger vaulters, throwing a Dragulescu and a Tsuk double pike, both 7.0 vaults. A vault finalist in Beijing and bronze medalist at the 2010 Worlds, Kaspiarovich is after an Olympic vaulting medal in London.




Jake Dalton, USA
The top American on vault is young Jake Dalton. A gifted technician, Dalton competes a Kasamatsu double full (7.0) and is also capable of a handspring double full. At the Olympic Trials, he told Gymnastike that he has been training a more difficult second vault: a Randi. With lower difficulty, Dalton's key to medaling will be flawless execution.