RAISMAN WINS FLOOR!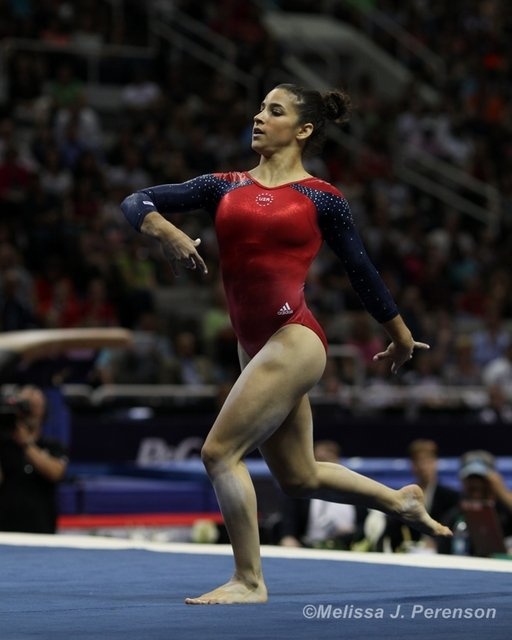 Team USA's Aly Raisman outshined the other performers in the floor exercise final, winning gold with plenty of room to spare, scoring a massive 15.6. Catalina Ponor took home silver (15.2), while Russia's Aliya Mustafina collected yet another medal from these Games, taking bronze (14.9).
Raisman was at the top of her game, sticking her opening tumbling run (1 1/2 to double Arabian-punch layout), which she had been struggling with in London. From that point, Raisman only needed to do her usual thing to run away with the gold medal, winning by .4.
Ponor went up immediately after Raisman and gave a valiant effort to catch the American star. Opening with a double layout, Ponor stuck nearly every pass en route to a silver medal, even adding a back tuck at the end of her whips to piked full-in line.
Aliya Mustafina surprised for bronze, her fourth medal in London. Precise landings helped her overcome loose twisting form and she mounted with a beautiful sky-high double Arabian to stag leap. As in the all around, Mustafina's bronze came after a tiebreaker, this time with Italy's Vanessa Ferrari. Both scored 14.9.
Ferrari, who nearly won her first Olympic medal, ends in a disappointed fourth place - the victim of yet another tiebreak at these Games. Mounting with a secure double-double, Ferrari stood out with her choice of leotard (one arm sleeved, the other sleeveless) and her clean second pass of full-in immediate back tuck.
Australia's Lauren Mitchell finished fifth, just behind Mustafina and Ferrari at 14.833. Suffering from a strained abdomen, Mitchell struggled with a few of her passes.
The World Champion from 2011, Ksenia Afanasyeva from Russia, drew the unlucky position of competing first in the final. Though she gave a wonderful performance, two steps out of bounds kept her off the podium.
Jordyn Wieber also gave away points on landings, again going out of bounds on her second line - a 1 1/2 to triple full immediate stag jump, just as she had done in preliminaries.
Surprise vault gold medalist in London, Sandra Izbasa was likely headed for a medal until crashing her final tumbling pass to her knees.
QUOTES:
Gold medalist Aly Raisman:
On whether going from fourth to third in the balance beam after an inquiry help her motivation for the floor exercise:
"It felt like redemption. I went out into the the next event with a really good feeling. I wanted to win a medal in an individual event, so once I achieved that goal it felt like I could just go out there and enjoy myself. It was going to be my last memory from London and I definitely wanted to make it count. When I was doing my floor routine, I could actually hear everyone cheering and usually I just tune it all out."


On whether or not she'll continue in elite gymnastics:
"Definitely, especially how to day went. Im excited to go back to the gym and to keep working."
Silver Medalist Catalina Ponor:
On missing out on a beam medal:
"I could have done more work - but I felt the pressure and I was nervous."
On completing her final competitive appearance before retiring:
"I will say it again, I want everyone to know, I will quit without regrets. I have worked every second for my team, I have worked every second for myself, I have worked every second for everybody. I have already been an Olympic champion, I will quit gymnastics with my chin up."
Message to her fans:
"I want to thank everybody for their support. I am sorry I have disappointed them."
On her future plans:
"For now, I want to have a vacation so I can relax my mind. Afterwards, I want to try to do something like coaching."
Bronze medalist Aliya Mustafina:
On winning four medals (gold on uneven bars, silver in team, bronze in the individual all-around and on floor):
"It's a great pleasure to win so many medals for my country. All the hard work wasn't for nothing. It's a great feeling."
On being the top Russian medallist in all sports so far at these Olympic Games:
"I'm not used to going to an event and just winning one medal. You get a taste for it and you want a second medal, then a third."
On her future plans in gymnastics:
"I am certainly not stopping now. I'm going to start training for the next Olympics straight away."
WOMEN'S FLOOR EXERCISE FINAL:
1. Aly Raisman (USA)- 15.6 (GOLD)
2. Catalina Ponor (ROU)- 15.2 (SILVER)
3. Aliya Mustafina (RUS)- 14.9 (BRONZE)
4. Vanessa Ferrari (ITA)- 14.9
5. Lauren Mitchell (AUS)- 14.833
6. Ksenia Afanasyeva (RUS)- 14.566
7. Jordyn Wieber (USA)- 14.5
8. Sandra Izbasa (ROU)- 13.333
---

2012 Olympic Floor Finalists


1. Aly Raisman (USA)- 15.325
2. Sandra Izbasa (ROM)- 15.066
3. Vanessa Ferrari (ITA)- 14.9
4. Ksenia Afanasyeva (RUS)- 14.833
5. Lauren Mitchell (AUS)- 14.833
6. Jordyn Wieber (USA)- 14.666

7. Catalina Ponor (ROM)- 14.6
8. Aliya Mustafina (RUS)- 14.433
---

Event History
Past World Champions
2011 Ksenia Afanasyeva (RUS)
2010 Lauren Mitchell (AUS)
2009 Beth Tweddle (GBR)
2007 Shawn Johnson (USA)
Past Olympic Champions
2008 Sandra Izbasa (ROU)
2004 Catalina Ponor (ROU)
2000 Elena Zamolodtchikova (RUS)
1996 Lilia Podkopayeva (UKR)
---

Event Preview

2012 Olympic Medal Contenders


Catalina Ponor, Romania
Olympic champion on floor exercise in 2004, Ponor returns to Olympic competition in London. Ponor has returned to form in 2012, winning a silver medal on floor at the European Championships. A veteran who knows how to handle pressure, Ponor should not be counted out for gold.



Aly Raisman, USA
The highest floor score in the world this year belongs to Aly Raisman (15.8). Her D-score of 6.5 also tops the other contenders. With a signature mount that defies logic, Raisman tumbles a risky 1 1/2 to double Arabian, punch layout. Fourth at the 2010 Worlds and last year's bronze medalist, Raisman looks to strike gold in London.




Larisa Iordache, Romania
The reigning European floor exercise champion, first-year senior Larisa Iordache enters London with high expectations. On floor exercise, Iordache is a quick and exposive performer, throwing an effortless double-double and whip immediate triple full. Her D-score of 6.4 is one of the highest in the world.




Lauren Mitchell, Australia
The World Champion in 2010, Lauren Mitchell uses the code to her advantage, linking jumps to the ends of her tumbling passes to minimize landing deductions. Mitchell has a big 6.3 D-score and mounts with a beautiful whip-double Arabian-stag leap.

Victoria Moors, Canada
In 2012, one of the most exciting gymnasts to watch on floor is young Victoria Moors. Showing a gift for presentation and dance, Moors also competes brilliant tumbling skills, including a double-double mount. With some luck, Moors could surprise in London for a medal.




Ksenia Afanasyeva, Russia
As one of the most complete floor workers throughout the quad, Afanasyeva has been dealt injuries in 2012. With no outstanding results so far this year, Afanasyeva hopes to deliver peak performances on her best event in London, and hopefully defend her World title from 2011.



Jordyn Wieber, USA
All-around star Jordyn Wieber is also a favorite to medal on floor exercise in London. A steady and reliable competitor, Wieber was a finalist at the 2011 Worlds. Showing impressive tumbling skills, Wieber mounts with a tidy double-double. She has scored as high as 15.6 this year.




Sui Lu, China
Reigning World Championship silver medalist on floor, Sui Lu has made the floor final at each of the last three World Championships. Sui Lu successfully combines difficulty with clean execution and will surely be in the mix come London.




Anastasia Grishina, Russia
If Afanasyeva isn't healed, Russia's best hope for a floor exercise medal will be Anastasia Grishina. A talented dancer and tumbler, Grishina debuted a new pass of double-twisting double back during training in London.
---
Jump to more Olympic gymnastics events:

WAG: Team AA VT UB BB FX
MAG:
Team
AA
FX
PH
SR
VT
PB
HB