2012 London Olympics
China Goes 1-2 On Balance Beam
China Goes 1-2 On Balance Beam
Jul 20, 2012
by Danny Sierra
China 1-2 On Beam!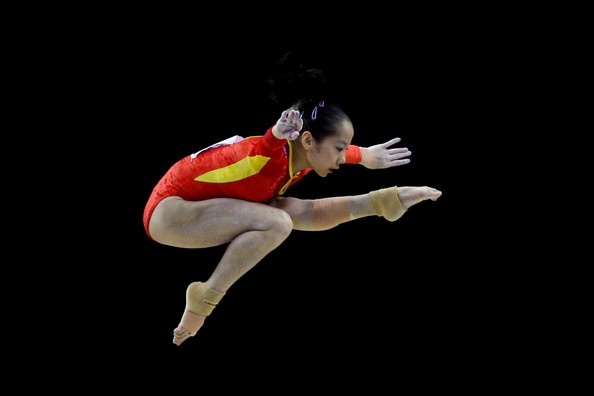 The Chinese women, Deng Linlin and Sui Lu, went 1-2 in the balance beam final, standing out from the pack of otherwise shaky performances in the eight-person final.


Deng Linlin cruised through her difficult set, finishing each skill with a flourish. Deng tumbled a gorgeous series of two back handsprings to straight layout, tacking a swingdown onto the end to earn the top spot (15.6).


Like her teammate, China's Sui Lu looked comfortable on the beam, counting very few wobbles. Her routine was highlighted by a stuck punch front 1/2, helping her to a big 15.5 score.


Aly Raisman again found herself in fourth place after her performance, receiving a 14.966 for a stable beam routine with a hop on the dismount. After an inquiry, Raisman's D-score was raised by one tenth, tying her with Romania's Catalina Ponor. This time, the tiebreaker went Raisman's way, as she earned the bronze medal by virtue of a higher execution total.


Ponor, Olympic champion from 2004, looked uncharacteristically shaky, overcooking a double turn at the start of her routine, then fighting to stay on after a full-twisting back handspring gone awry. Just as in '04, Ponor dismounted with a difficult piked full-in (15.066) for fourth place.


Fellow Romanian Larisa Iordache, who was inserted into the final over teammate Diana Bulimar, fell from the beam after a back full.


Russia's Ksenia Afanasyeva performed an elegant routine, but wasn't quite as solid as in the team competition, bouncing backwards out of her double back dismount (14.583).


All around winner Gabby Douglas, in her final appearance in London, looked shaky throughout, missing a connection at the start of her routine. Her medal chances slipped away when her foot missed the beam after a switch leap 1/2, causing her to slide off the apparatus.


Viktoria Komova, silver medalist in the all around, didn't have the routine she had hoped for, either. She fought to save a errant punch front, but couldn't stay on the beam. Deflated, she then sat down her Patterson dismount (13.166).

QUOTES

Beam Champion Deng Linlin:
"I made a mistake in the women's team event so this medal compensates for that. I have no regrets. After the team event I was depressed. The motivation from this event came from my coach and other teammates so I could adjust in the past four days and prepare for this event."
On her aims after Beijing 2008:
"My goal after 2008 was to have a breakthrough in an individual event. Now I have."

Mihai Brestyan, Coach of Aly Raisman
On why he submitted an inquiry:
"The full turn combination was the skill in question. They (the judges) thought she lost the combination, so she wasn't given the bonus. But when they watched it on the screen (after the inquiry) they saw that she moved the whole time. It was a slow connection, but still a connection. When I saw the lower difficulty score I knew it was wrong."

Beam bronze medalist Aly Raisman:
"When I walked into the arena I saw that Gabby had fallen and that Komova had fallen too, and then I looked over and saw one of the Chinese gymnasts crying and I had no idea what was going on. Then when I got off the podium (after my routine) and saw the first two scores were. I knew I definitely wasn't going to beat those, so I was just hoping for bronze."


BALANCE BEAM FINAL:
1. Deng Linlin (CHN)- 15.6 (GOLD)
2. Sui Lu (CHN)- 15.5 (SILVER)
3. Aly Raisman (USA)- 15.066 (BRONZE)
4. Catalina Ponor (ROU)- 15.066
5. Ksenia Afanasyeva (RUS)- 14.583
6. Larisa Iordache (ROU)- 14.2
7. Gabby Douglas (USA)- 13.633
8. Viktoria Komova (RUS)- 13.166
---
We asked you, the fans, to predict the 2012 Olympic Beam Champion
HERE
. Below are the final results of the poll. The fans have picked Aly Raisman for Gold!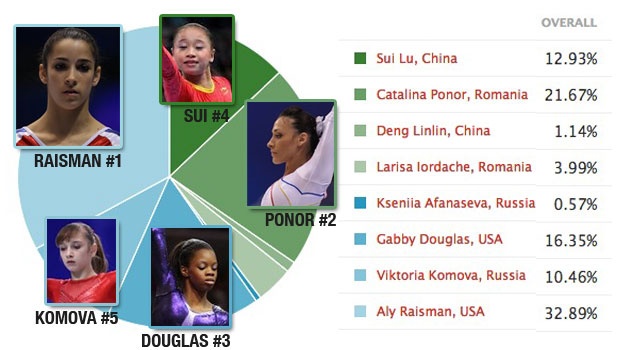 ---
2012 BEAM FINALISTS

USA vs Russia vs Romania vs China
2. Viktoria Komova (RUS)- 15.266
3. Gabby Douglas (USA)- 15.266
4. Deng Linlin (CHN)- 15.166
5. Aly Raisman (USA)- 15.10
6. Ksenia Afanasyeva (RUS)- 15.066
7. Catalina Ponor (ROM)- 15.033
8. Diana Bulimar (ROM)- 14.866 -- Replaced by teammate Larisa Iordache
Reserves: Asuka Teramoto (JPN), Vanessa Ferrari (ITA) and Carlotta Ferlito (ITA)
---

EVENT HISTORY
Past World Champions
2011 Sui Lu (CHN)
2010 Ana Porgras (ROU)
2009 Linlin Deng (CHN)
2007 Nastia Liukin (USA)

Past Olympic Champions
2008 Shawn Johnson (USA)
2004 Catalina Ponor (ROU)
2000 Xuan Liu (CHN)
1996 Shannon Miller (USA)



---
EVENT PREVIEW
2012 Olympic Medal Contenders



Larisa Iordache, Romania
A favorite to win in London, Iordache displays the signature quick Romanian style on beam. She shows high difficulty with a back handspring-full combination and triple full dismount. Consistency has spoiled Iordache in the past, but she holds the highest score in the world thus far: 15.95.




Jordyn Wieber, USA
After struggling with difficult connections throughout 2012, she and coach John Geddert have said they will re-evaluate her composition going in to London. A mental warrior on the event, she won bronze on the event at last year's Worlds.




Yao Jinnan, China
The reigning World silver medalist, Yao Jinnan throws big tricks (standing full) and often times, she nails them. A gold medalist on beam at this year's Zibo World Cup, Yao Jinnan looks to return to the medal stand in London.




Catalina Ponor, Romania
The Olympic champion from 2004, Ponor may be just as dominant in her second Olympics in London. Known for her sharp connections and aggressive style, Ponor is the reigning European Champion on beam.




Aly Raisman, USA
A finalist at last year's World Championships, Aly Raisman has only improved on beam in 2012. With a stellar 6.5 D-score, Raisman has been the picture of consistency this year. If others falter, Raisman will surely be there to take advantage.




Lauren Mitchell, Australia
A medal contender on balance beam for the last five years, Mitchell made her first World beam final in 2007, finishing fifth. She went on to win silver on the event in 2009 and place fourth in 2010. With a high score of 15.7 at this year's Australian Championships, Mitchell will aim to earn an Olympic medal for her country in London.




Sui Lu, China
As reigning World Champion, Sui Lu is again a contender to earn gold in London. Boasting a 6.6 D-score, she is one of China's strongest medal hopes in 2012.




Kyla Ross, USA
As the least experienced American in London, Kyla Ross will have to keep nerves of steel to even qualify to the beam final. With stellar form and execution, Ross is one of the best technicians on balance beam. She scored a big 15.5 in Jesolo this year.




Viktoria Komova, Russia
Talented Russian Komova can win it all if she keeps her nerves together on beam. Capable of high D and E-scores, Komova has added the Patterson dismount back to her routine, and has scored as high as 15.325 this year.
---
JUMP TO MORE OLYMPIC GYMNASTICS EVENTS
WAG: Team AA VT UB BB FX



MAG:

Team

AA

FX

PH

SR

VT

PB

HB