2012 Olympic Team Trials
Maroney Cleared to Compete at Trials
Maroney Cleared to Compete at Trials
Jun 27, 2012
by Danny Sierra
Less than three weeks after suffering a concussion and small nasal fracture at the Visa Championships, McKayla Maroney has been medically cleared to compete at the 2012 U.S. Olympic Trials in San Jose this weekend.

USA Gymnastics released this statement Wednesday regarding Maroney's condition:


"McKayla Maroney has been monitored and evaluated on a daily basis by the USA Gymnastics medical staff for a concussion and nasal fracture that she sustained at the 2012 Visa Championships in St. Louis, Mo.
Her medical care has been under the direction of Dr. Larry Nassar (USA Gymnastics medical director), Dr. David Kruse (USA Gymnastics medical staff member), and additional sports injury specialists. This medical team worked closely with her parents and coaching staff to provide comprehensive medical care.
Maroney's treatment plan consisted of office visits, phone consultations, specialized concussion testing, and in-gym monitoring. Maroney has been medically cleared to participate in the U.S. Olympic Trials based on in-office evaluation, objective testing, as well as successful completion of concussion treatment protocols."

Maroney is the reigning World vault champion and finished second in the all around at the 2011 Visa Championships. She was ranked seventh after prelims at the 2012 Visa Championships in early June, but a scary fall in warmups resulted in her injuries and withdrawal from the competition.

The injury occurred when Maroney got lost in the air during a twisting pass on floor exercise, slamming her body into the mat, resulting in the concussion. Maroney walked away from the incident, but spent a brief time in the hospital.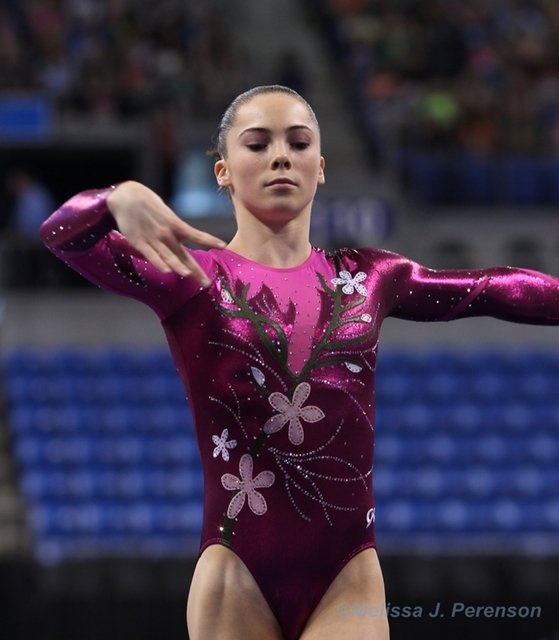 In training on Tuesday, USA Gymnastics posted video of Maroney showing skills on all four events, including an effortless Amanar vault. She also warmed up a 3 1/2 twist on floor exercise, which is the pass she was injured attempting in St. Louis.

Maroney is scheduled to begin on vault at the Olympic Trials, and at this point, is expected to compete all four events in an effort to the make the U.S. Olympic Team.

More videos of podium training and interviews with the athletes can be found HERE.