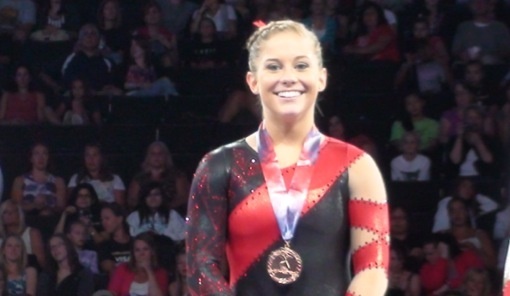 Shawn Johnson will close out her illustrious gymnastics career, officially announcing her retirement from the sport on Sunday due to her lingering knee injury.


In a release from USA Gymnastics, Johnson stated, "I still have the heart, drive, and desire to compete and help the USA at the London Olympics," said Johnson, who also won two senior U.S. all-around titles. "Unfortunately, it has become obvious that my left knee is not able to sustain the demands of gymnastics any longer. All I can do now is gracefully retire and thank everyone who has believed in me and my journey.
"Being given the opportunity again by Martha Karolyi and USA Gymnastics to represent the USA has been the greatest honor of this comeback," said Johnson.

Johnson was on the roster to compete at this week's Visa Championships in St Louis in an attempt to make a bid at her second Olympic team. Johnson has not competed since last October's Pan American Games where she competed three events.

Johnson is one of the most popular U.S. gymnasts of all time. She burst onto the senior elite scene by winning the 2007 World all around title. In total, her career includes three world championship gold medals and four Olympic medals (one gold and three silver).

Listen to what Shawn had to say right after officially announcing her retirement HERE.

Watch videos of Shawn Johnson