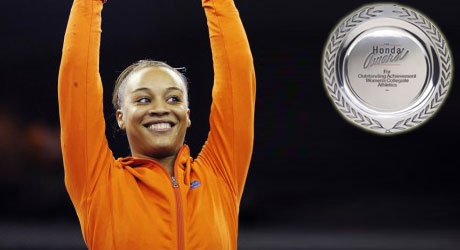 Kytra Hunter
of the University of Florida has won the 2012 Honda Sports Award for gymnastics after being crowned the NCAA all-around and vault champion this season as a freshman. Her selection by the Collegiate Women Sports Awards Program recognizes Hunter as the country's top female athlete in her sport.
Hunter is the first gymnast from the University of Florida to win the NCAA all-around title and only the fifth freshman in the 31-year history of the NCAA championships to win multiple titles. Hunter also won this year's SEC all around title, was named to the 2012 All-SEC First Team, and became a five-time All-American.
The freshman beat out three senior finalists: Jaime Pisani of the University of Arkansas, Geralen Stack-Eaton of the University of Alabama, and Amy Glass of Boise State University (this year's AAI Award winner as top senior gymnast).
You likely remember Kytra from her days in elite gymnastics, competing for Hill's Gymnastics in Maryland under renowned coach
Kelli Hill
who also produced former Honda Award winner and NCAA standout
Courtney Kupets
. Hunter was a member of the U.S. Senior National Team from 2009-2011. She was 4th all around at the Visa Championships in both 2009 and 2010, and was the 2010 CoverGirl Classic floor champion. Internationally, Hunter represented the US in Germany, France, Italy, and Japan and was named an alternate for the 2009 and 2010 U.S. World Championship teams.
Click here to watch a Workout Wednesday with Hunter and Coach Kelli Hill
.
Hunter is currently majoring in Social and Behavioral Sciences and hopes to pursue an Economics degree.
via Honda Sports Awards
Video interview with Kytra Hunter after winning the NCAA all around title: