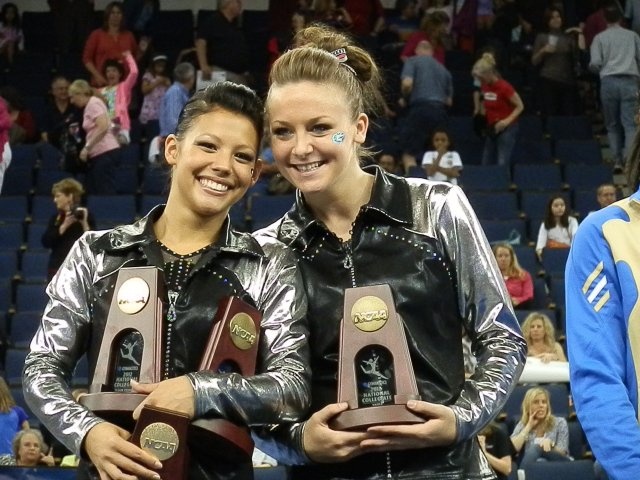 Double event winner Kat Ding with Georgia teammate Lindsey Cheek at the NCAA awards cermony.

Kytra Hunter, Kat Ding, and Geralen Stack-Eaton are your 2012 individual national champions.

Kytra Hunter started her night out on vault where she nearly stuck her 1.5 twisting Yurchenko. She followed up with a Yurchenko full with a big step back. The two vaults averaged were good enough for first, though, with a score of 9.875.

Kat Ding defended her national title on the uneven bars after a near-perfect routine for a 9.9875. She received four perfect 10s from the six judges.

Ding's major competition came from Alaina Johnson of Florida, but Johnson faltered and only scored a 9.4875.

On beam, Geralen Stack-Eaton took the title with a 9.9375 with Oklahoma's Megan Ferguson finishing second, and individual competitor form Arizona Katie Matusik finishing third.

On floor, it looked like Elyse Hopfner-Hibbs was going to run away with her first individual title, but Ding took it home with 9.95 for her final routine as a Gym Dog.

Vault
1. Kytra Hunter, Florida 9.875
2. Diandra Milliner, Alabama 9.825
3. Kat Ding, Georgia 9.8125

Bars
1. Kat Ding, Georgia 9.9875
2. Sami Shapiro, Stanford 9.9
3. Olivia Courtney, UCLA 9.8875

Beam
1. Geralen Stack-Eaton, Alabama 9.937
2. Megan Ferguson, OU 9.925
3. Katie Matusik, Arizona 9.8875
Floor
1. Kat Ding, Georgia 9.95
2. Geralen Stack-Eaton, Alabama 9.9375
2. Elyse Hopfner-Hibbs, UCLA 9.9375

Full event finals results here.