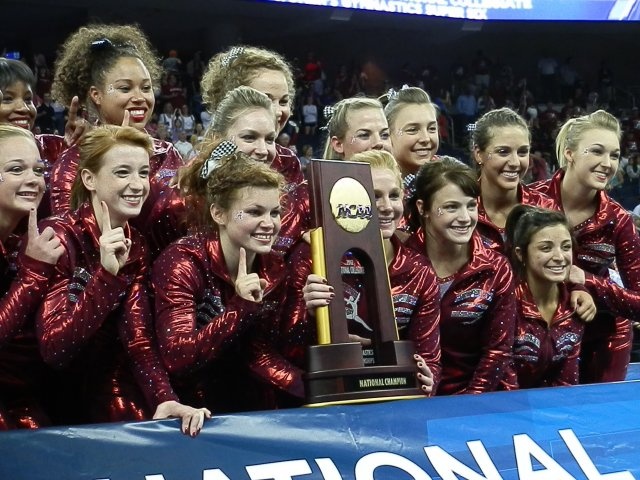 The Alabama Crimson Tide are the 2012 National Champions with a total score of 197.85.
It all came down to the last competitor on beam for the Tide when Ashley Priess needed a 9.9 to tie Florida for the title.
Priess not only matched that score but exceeded it as she finished the night with a 9.95.
Although UCLA finished on a bye, they put up a very solid 197.75 for the Gators and Crimson Tide to try and reach.
However, the Bruins's total wasn't enough as they finished the night in third.
UCLA was led by Vanesa Zamarripa's 39.775 in the all around– a score which would have won the individual all around title the night before.
Stanford finished their night off with a huge vault rotation scoring a 49.55.
The Cardinal finished in fourth with an impressive 197.5.
Utah finished in fifth with a 197.375 and Arkansas had to absorb a rough 48.45 floor rotation to finish sixth with a 196.3.
This was one of the tightest Super Six finals in years.
With Alabama's win, the NCAA trophy will stay within the "big 4" schools– the four school to have won a national title– for at least another year.
1. 1. Alabama 197.85
2. 2. Florida 197.775
3. 3. UCLA 197.75
4. 4. Stanford 197.5
5. 5. Utah 197.375
6. 6. Arkansas 196.30

Click here for full Super Six Results