Two Americans Down in World Championships Training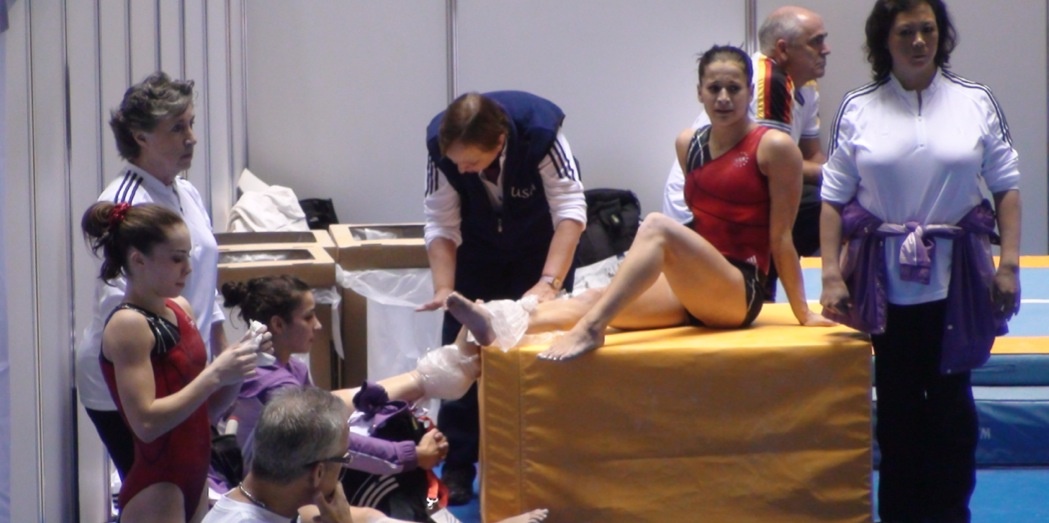 I attended the American women's training session this morning in the Yoyogi Training Hall and am afraid I have some very unfortunate news to report. Brestyan's gymnasts Alexandra Raisman and Alicia Sacramone both went down with injury during the team's practice. 
The Americans started on beam where they looked solid as ever. At the end of a hit routine for Raisman, she went for a roundoff double tuck dismount which is typically very simple for the powerful gymnast, but she looked off on her punch and landed extremely short, almost failing to get the second flip around, and injuring what looks to be her ankle(s). She walked with assistance off to the side to be assessed by the trainers and sat with an ice pack as her teammates moved to floor. 
Floor is where things got worse. Reigning World vault champion Alicia Sacramone was doing a full floor routine and went down on her second tumbling pass, a double arabian. It appears the injury happened in the punch for the arabian. She fell to her back, winced in pain and the training hall fell silent. This injury appears more serious. She was carried off the floor by team coaches. 

Regarding Sacramone's injury, USA Gymnastics states that it is an ankle injury and she is currently being evaluated.
I felt sick walking out of the hall today. I can only imagine how the American team and coaches must feel. Raisman is one of the team's top all arounders and has serious contention at a floor medal. Sacramone is the experienced team leader as has been looking fantastic here in Tokyo. 
Shawn Johnson is the team's non-traveling alternate and if need be she will be flown out to Tokyo to join the team. However they will be cutting it close as the US women's team is scheduled to compete in the qualifying round of competition in just 2 days, October 8th at 1:15pm Tokyo time. 
I hope for the best for both Alexandra and Alicia and will keep you updated as we hear more.