Event Hub
Pac Rim Championships: Sisters and Ex-Competitive Gymnasts Share Their Thoughts on the Competition
Elsie and Samantha, sisters and ex-competitive gymnasts, share their experiences at the 2012 Kellogg's Pacific Rim Championships in Everett, Washington over the weekend. Elsie and Samantha were lucky enough to check out the Men's and Women's Individual Event Finals on Sunday, March 18.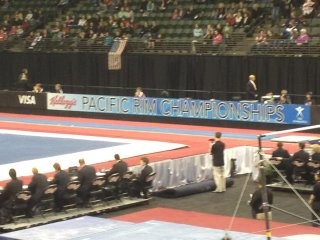 Samantha: I haven't stepped in the gym, much less watched a gymnastics competition, in a really long time, so it was amazing and unreal to see how much the sport has changed. The last time I was in the gym, gymnasts were still using the old vault, Dominique Moceanu was THE gymnast to watch, and everyone wore velour shorts to gymnastics practice. Oh, and we can't forget about all the hair clips and glitter! I didn't even know some of these skills they were performing were even possible! And where did the Perfect 10 go?!

Elsie: Gymnastics, the toughest sport in the world (yes, it is -- don't fight me on this one), has changed so much since the days of the Magnificent 7 back in 1996. Gymnasts now receive two separate scores -- one for difficulty and one for execution for each event. The two are then added, usually resulting in a score around 12.0 to 16.0.

Samantha: You could tell a lot of the gymnasts were really fighting to get their scores up for difficulty. There were a lot of falls, which I wasn't used to seeing. I felt more people fell off Beam and High Bar than those who stayed on! The gymnastics definitely kept us on the edge of our seats though! I was never this stressed competing at the higher optional levels, but watching it is another story.

Elsie: Although there were a lot of falls, there were still a lot of unique and solid routines that really stood out. Christine Lee (Sr., Canada)  has one of the most impressive Beam routines, starting with a flair mount. This skill is almost solely performed by the guys! She also did a triple turn (yes, THREE spins), standing full, front tuck ½, and a stuck double pike dismount. Another routine that really stood out for me was that of Katelyn Ohashi (Jr., USA) -- at 14 years old, her major tumbling pass was a backhandspring, backhandspring, layout full ON the beam. That speaks for itself -- there are no words to further describe the awesome-ness of that pass.

You gotta check out these routines…

Check out Christine's beam routine here. She finished 2nd in the Individual Event Finals on Beam for the Seniors!
Check out Katelyn's Beam routine here. She finished 1st place in the Individual Event Finals on Beam for the Juniors!

Samantha: As for the guys, Jake Dalton and Chris Brooks (Srs., USA) really stood out at this competition. Jake Dalton had a really impressive Floor routine starting with an Arabian double layout (which again, I didn't even know that skill was possible) and ending his routine with a triple twist! Chris Brooks hit his Rings routine and stuck his one-and-a half twisting double back, resulting in a huge round of cheers from the stands. The one thing I really like about watching this level of guys compete is that they are just so easy-going. They never seem stressed or nervous and you always hear them cheering for guys on their team, and off.

You gotta check out these routines…
Check out Jake's Floor routine here. He finished 1st in the Individual Event Finals on Floor for the Seniors!
Check out Chris' Rings routine here. He finished 1st place in the Individual Event Finals on Rings for the Seniors!
Elsie: So, speaking of Chris Brooks… is he married? I feel this information is truly important in order to get all the facts straight in this blog…

Elsie works out at Capital Gymnastics in the Northern Virginia area and still competes in gymnastics meets (specific to the adult gymnastics community). You can reach her at eoldaker@gmail.com for additional information on adult classes or upcoming meets. She hopes she can convince her little sister to check out the adult class in nearby Seattle so they can start competing against each other again just like the old days….

Capital's adult class, in Burke VA, is on Monday, Tuesday, and Thursday nights, 9-10:30pm, $20/class.  For your complete source of all things adult gymnastics, including a list of upcoming adult meets and classes near you, check out Gymnastike's adult gymnastics page.