Olympians in the NCAA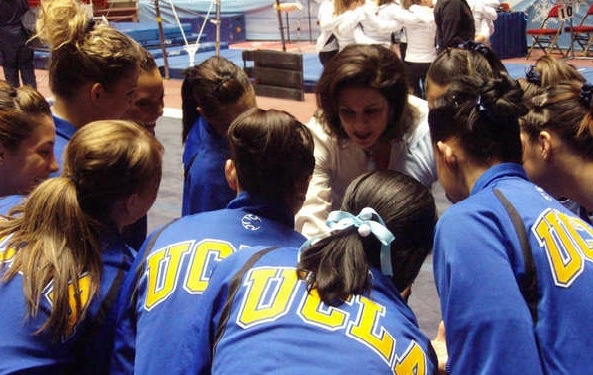 The life of a collegiate gymnast is drastically different from one of an a elite gymnast.  So it was surprising when five members members of the 2000 U.S. Olympic Women's Gymnastics Team announced their intention to abandon elite gymnastics and compete in college. Possibly starting a new trend, Jamie Dantzscher, Kristen Maloney, Tasha Schwikert and team alternate Alyssa Beckerman decided on UCLA while Elise Ray decided on Michigan. Characteristically, Olympians choose to turn professional so they can accept money from endorsement opportunities. These ladies were not the first Olympians to compete collegiately, but it was strange for so many collegiate gymnasts to emerge from the same Olympic team.

Many wondered how these athletes would adjust to the dramatically different lifestyle of college. Collegiate gymnasts train about half of the forty hours averaged weekly by the elite level. Sometimes the  journey of an elite gymnast is a lonely experience by placing the emphasis on their individual success. Collegiate gymnastics requires a different mindset  than the elite level with the primary focus on team performance. 

NCAA gymnasts still have the opportunity to score a perfect 10.0 and have more freedom with their choreography. Unfortunately, I do not believe the FIG code of points would adequately reward a difficult skill like the "Moon Walk", made famous by the University of Georgia GymDogs, on the balance beam. 

The NCAA scene is extremely competitive and the level of talent is extraordinary.  However, these 2000 Olympians still managed to win a plethora of titles over the next four years.

Here are a few highlights:

Elise Ray won three national titles and was a fourteen time All-American at Michigan. Kristen Maloney and Jamie Dantzscher helped UCLA win three NCAA Championships in four years. Dantzscher also won four individual NCAA titles and set a school record with her twenty-eight perfect 10's. Maloney struggled with injuries but persevered and came back to win the prestigious Honda Award, given to the nation's top gymnast.  Tasha Schwikert deferred collegiate gymnastics to train for the 2004 olympics. In 2008, Schwikert was the first gymnast from UCLA to win multiple NCAA all-around titles.

Perhaps inspired by the colligate success of the 2000 team members, the trend continued in 2004 when Olympians Courtney Kupets, Courtney McCool, Mohini Bhardwaj and Terin Humphrey all chose to compete in the NCAA. Kupets and McCool went to the University of Georgia to compete for Coach Suzanne Yoculan and Humprey went to Alabama and Coach Sarah Patterson. Humphrey won the NCAA tile on bars for Alabama. 


Baradwaj's story was unique because the 24-year-old made the Olympic team following the completion of her NCAA career. She
 was an eleven time All-American and Honda Award winner at UCLA. Bhardwaj credited collegiate gymnastics and her UCLA Coach Valerie Kondos-Fields for giving her gymnastics a new energy and a better work ethic.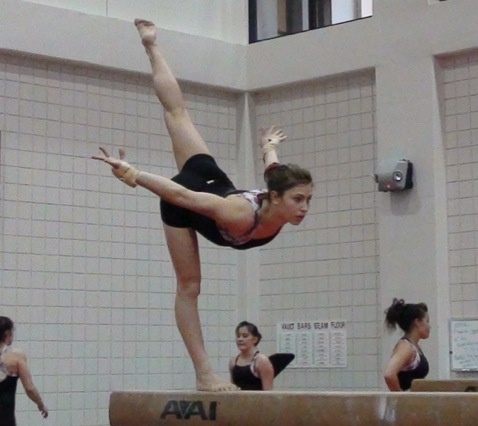 Both Courtney McCool and Courtney Kupets set the collegiate world on fire at Georgia, leading the team to multiple titles and racking up plenty of individual awards for themselves. While every one of these gymnasts has made their mark on collegiate gymnastics, perhaps no one flourished in collegiate gymnastics more than Courtney Kupets. Kupets was out for a season with an injury, but still won the NCAA Championship All-Around title three times. Additionally, she won NCAA titles on each of the individual events.

Currently, 2008 Olympian Samantha Peszek is competing for UCLA and won the 2011 NCAA title on the Balance Beam. After the completion of her collegiate career at UCLA, Anna Li was the alternate on the 2012 olympic team.
2012 Olympic Champion Kyla Ross told us she plans to hold on to her college eligibility as well.
She will be the only member of the "Fierce Five" in the NCAA.

The future looks bright for Olympians succeeding at the collegiate level.  2008 Olympian and  2009 World All-Around Champion Bridget Sloan will compete for Florida next season. Sloan will be the first World All-Around Champion to compete at the collegiate level. The talent at the collegiate level is astonishing without any Olympians in the picture, but it sure is fun to see some familiar faces competing for four more years.  I am extremely excited about the upcoming season and can not wait to see which team will win the title.