Exploring The New Code: Uneven Bars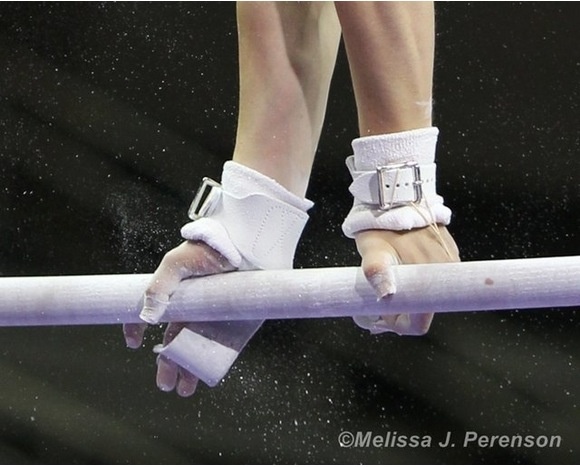 The Federation of International Gymnastics has released the 2013-2016 Code Of Points. Over the next several weeks, we will explore the changes in the Code and analyze how the changes will help and possibly even hurt the sport.
Uneven bars has seen drastic changes over the history of the sport. From the gradual separation of the bars to the importance of handstand positions, the FIG has made uneven bars nothing less than exciting.
When looking at the New Code, however, it is surprising to see so few changes to the apparatus as compared to past Codes. However, there are a few key changes which we will outline below. 

For general execution, there have been no changes. Deductions for handstand positions, form breaks, falls, extra swings, etc, have remained the same.
What is new are connection bonus points and how they are awarded.
Example of Connection Bonus (CB):

2009-2012 COP

0.1 CB
D (flight HB to LB) + C (must be performed in this order)
C/D element must have flight or min. ½ turn (180°)          

D + D (or more)
0.2 CB
D (flight - same bar or LB to HB) + C or more (on HB) (must be performed in this order)

D + E (one element with flight)

E + E
 
2012-2016 COP

0.1 CB
D + D (or more) Â  Â 
Example: Tkachev to Pak Salto or Tkachev to Pak Salto to Shaposhnikova
0.2 CB
D (flight - same bar or LB to HB) + C or more (on HB) (must be performed in this order)
Example: Shaposhnikova to a Clear Hip Circle press to handstand
D + E (both flight elements)
Example: Tkachev to a stalder Tkachev
The New Code also states that for uneven bars as well as balance beam and floor exercise, that there will be the possibility of 0.3 in connection bonus. However, the Code does not state how this may be achieved leaving one the think that the FIG is waiting to see if gymnasts will take advantage of the new rule.



Changes to Difficulty Values

Every four years, the FIG decreases skill values so gymnasts will continue to create new skills or add-on to existing skills in order to make them more difficult. This is to ensure that the sport does not become boring and stagnate.
But much to gymnastics fanÂ's surprise, only four skills have had their values changed. And in a rare move, two of the four have increased in value.
New uneven bars difficulties vaules in the 2013-2016 COP:
Shaposhikova 1/2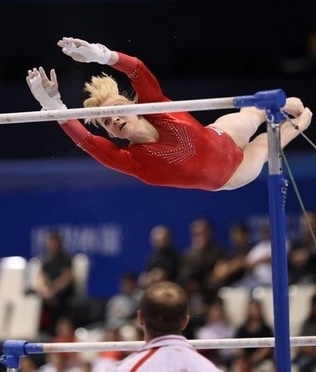 A clear hip circle through to a handstand with                                                          
a ½ turn at 180° in flight to hang on the
high bar   
E (from D)Â  Â  Â  Â  Â  Â  Â  Â  Â  Â  Â  Â  Â  Â  Â  Â  Â  Â  Â  Â  Â  Â  Â  Â  Â  Â  Â  Â  Â  Â  Â  Â  Â  Â  Â  Â  Â  Â  Â  Â  Â  Â  Â  Â  Â  Â  Â  Â  Â  Â  Â  Â  Â  Â  Â  Â  Â  Â  Â  Â  Â  Â  Â  Â  Â  Â  Â  Â  Â  Â  Â  Â  Â  Â  Â  Â  Â  Â  Â  Â  Â  Â Â 

Hang on high bar while facing the low bar to an 
immediate swing forward and a roll backwards with
legs tucked or straddled to a clear support
on the Low bar
C Â (from B)Â 


Shushunova (full twisting tkatchev)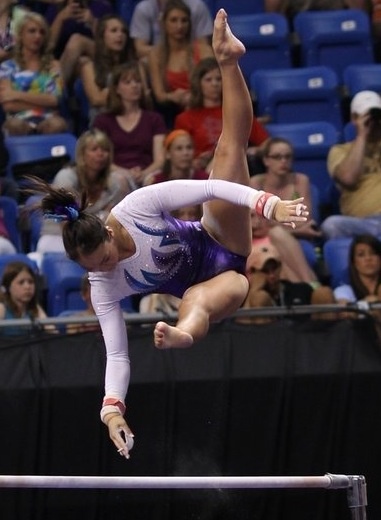 A long swing forward with a ½ turn                                                                              
at 180°, further ½ turn at 180° to a
counter straddle in flight over the
high bar to hang 
EÂ  (from G)

Ray (toe-on Tkachev)


A pike sole circle backward to 
counter straddle-reverse
over the high bar to hang
D Â (from E) Â  Â 
        
 
New Skill:
Victoria Moors
of Canada introduced a new dismount at the London Olympics that has now been named for her. A toe-on to a front layout with a half twist. It is a
D skill
. Â [
video here
]
      
Introducing H Skills
The New Code has also introduced the possibility of H skills. Currently, there are no H valued skills on uneven bars. But the FIG will value new skills at H if the skill meets their requirements to do so.
2009-2012 COP
A = 0.10
B = 0.20
C = 0.30
D = 0.40
E = 0.50
F = 0.60
G = 0.70
2013-2016 COP
A = 0.10
B = 0.20
C = 0.30
D = 0.40
E = 0.50
F = 0.60
G = 0.70
H = 0.80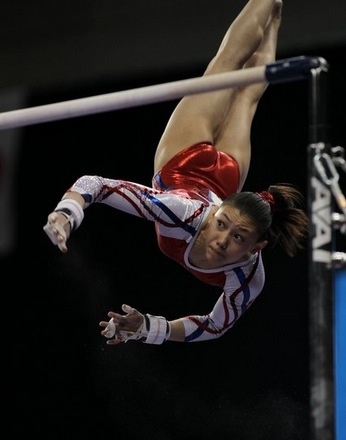 Element Groups
There are five elements groups that must be fulfilled. Each is worth 0.5 with dismounts receiving 0.0, 0.3 or 0.5 depending on their difficulty. The points are added to the gymnastÂ's Start Difficulty. The requirements that have been changed are italicized.
2009-2012 COP
1 Flight element from HB to LB & from LB to HB award 0.50
2 Flight element on the same bar award 0.50
3 Min. two different grips (no cast, MT or DMT) and a Close bar Circle element (non flight) award 0.50
4 Non flight element with min. 360º turn, performed on the bar (no MT) award 0.50
5 Dismount
No dismount, A- or B- dismount award 0.00
C- dismount award 0.30
D- or higher dismount award 0.50
 
2013-2016 COP
1 Flight element from HB to LB award 0.50
2 Flight element on the same bar award 0.50
3 Different grips (no cast, MT or DMT) award 0.50
4 Non flight element with min. 360º turn, (no MT) award 0.50
5 Dismount
No dismount, A- or B- dismount award 0.00
C- dismount award 0.30
D- or higher dismount award 0.50
 
It is important to note that the FIG can revise these rules after the first year they are implemented. For example, the 2006 to 2008 COP originally stated that gymnasts had to perform kips to handstands with straight legs. Performing it with a split would be a deduction. However, they found that too many gymnasts were not able to perform it without the split and in turn, revised the rules so that a split was acceptable in 2007 and 2008. Â 
Over the next four years, uneven bars will no doubt continue to amaze as they have for decades. And at the 2016 Rio Olympics, we may once again be captivated by this apparatus. Â