Trivia Tuesday!! Answer is Up!


Question:

  Name the female gymnast who has the most skills named after her in the code of points?

If you have a great trivia question, send the Q&A HERE
---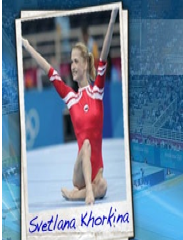 It is indeed, Svetlana Khorkina.  She is a nine time world champion,  winning three  all-around titles, in 1997, 2003 and 2007.  She earned the nickname "queen of the bars" after winning 5 World titles and 2 Olympic titles on the event. She has a skill named after her on every event.  She has 7 and a 1/2 skills named after her.  One skill is called the Khorkina/Chow,  shared with american Amy Chow.

The skill desciptions posted below are correct!