Catch of The Day!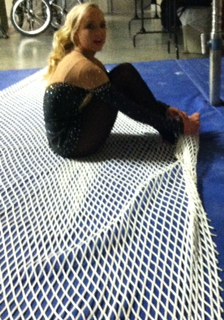 If you have been to the Kellogg's Tour of Gymnastics Champions, you may remember a solo number that 2008 Olympic Champion Nastia Liukin is in. She is inside a net that ends up being elevated 20 feet in the air at the center of the floor exercise mat.

This number is in the first act, and it is done to Taylor Swift's song Keep Your Eyes Open. The crowd really seems to like the originality and shock factor to see Nastia do something other than gymnastics.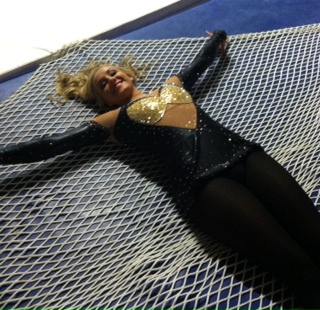 Nastia has nicknamed the number "Catch Of The Day" because she feels like a fish that has just been caught and wrapped in netting. To begin the act she lays on top of this netting which is spread out, and she secures her toes in each loop. She is then wrapped up in this netting. Acrobatic gymnast Michael Rodriguez and one of our stage managers carry her to the center of the floor while it is dark. They attach her to a rope that is hanging from the ceiling. As the music begins, she is elevated slightly and pushes off the floor to start spinning and the choreography begins.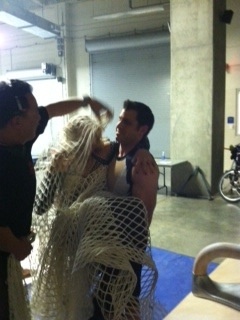 Nastia went to Canada to learn this choreography with Mary Sanders prior to rehearsals. Its hard to believe it only took her two days to learn this routine. It seems to be one of the crowd favorites because of the creativity and suprise that it is Nastia in the netting.