Coaching McKayla Maroney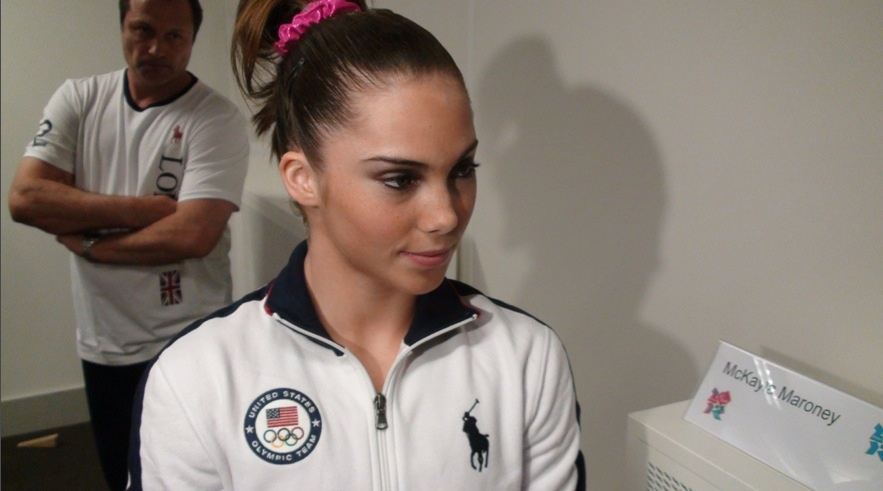 Coach Artur Akopyan looks on as McKayla Maroney talks to the media during the 2012 London Olympics

Since helping Team USA go down in history as Olympic Champions, and going viral with her "not impressed" face, McKayla Maroney has launched into superstardom. Her journey to the Olympics, however, was less than ideal. 
After the first night of competition at the 2012 Visa Championships in St Louis, Maroney was sitting 7th all around with a low score on uneven bars and a big lead on vault. Then, during floor warmups for the final night of competition, Maroney over rotated her signature 3 1/2 twist tumbling pass, suffering a minor concussion and nasal fracture. Suddenly, the reigning World Vault Champion's place on the 2012 Olympic Team was deeply in question.  
Maroney was out of the gym for a full week during an extremely crucial training period. She finally returned to training the Monday of Olympic Trials and was under enormous pressure to deliver a strong performance and achieve her dream of becoming an Olympian. Amazingly, Maroney showed up in San Jose looking fitter than ever and proved her mental toughness to the World. She decisively won vault, finished 7th all around, and was named to the five member Olympic Team. The rest is history. 
The morning after Maroney was at last named to the team, Marina Mazor sat down with the man behind the scenes in Maroney's success the past few years, Coach Artur Akopyan of AOGC. Maroney has worked with Akopyan since the spring of 2010 when she moved from Gym Max. Their partnership clicked right away and Maroney improved from 27th all around at the 2009 Visa Championships to 3rd all around in 2010, solidifying her place on the U.S. National team. 

Akopyan is a former Soviet gymnast and a 6-time World medalist. 
Mazor and Akopyan discussed the uncertain times following Maroney's head injury, what Maroney is like in the gym, and more in the exclusive interview below.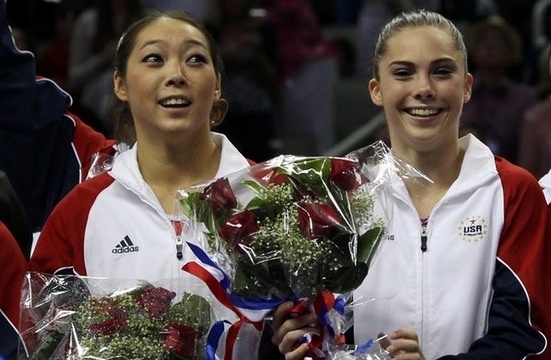 McKayla came back from that injury, and here she is on the Team. From a coaching standpoint, what was that time away from training like for you?

That was a rough time for me, actually more than for her because I could not help her in any way. It's up to what she feels and how she can perform. We know gymnastics doesn't like no training because every day counts, and she missed a whole week of training. I was concerned and so were her doctors. But I am pleased and thank God that she came back and did her job. 
After her injury, how concerned were you about her coming back and making the Olympic team?

That was a sad time for me. I thought it was very serious, the head injury. And nobody knew what was going to happen. But I trusted and knew she was strong mentally and has a brave heart. I talked to her parents and they convinced me. Even her father said, "the Maroneys are hard headed. She will come back. She will do it."
Once she began training again, was there any hesitation by her, or fear to throw the 3 1/2 twist again (the same skill where the injury occured)?

I just asked her to be honest with me about her injury because it's not an easy injury; it is scary. And I understand (the importance of) the Olympic Games, but living all your life with this injury, no one wants to see that. 
She had some hesitation. (The first day) she came back to the gym and tried to do some things, easy, and I sent her home. And then her doctors restricted her not to do anything until the last week with two days left before Trials. She was crying because the doctors would not release her. Every day she would go back to do testing for the mind and they didn't release her. And she was crying. I told her, listen, I trust you. You're my athlete. You've got to be honest and tell me everything happening with you. We started doing small skills when she got back, and getting back to shape, and by the third day she was ready to go. And by that time, I believed she was going to make it. Well, I believed in the beginning when I talked to the father and he told me the Maroneys are hard headed.  I was kind of relieved by that. They are a good, nice family.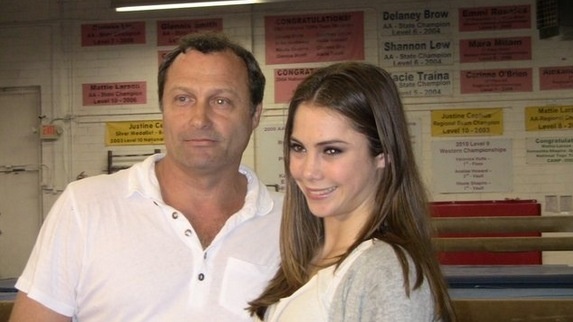 Akopyan and Maroney upon her return from the 2012 London Olympics
What is is about McKayla that makes her a special athlete?

First of all, she has a very good heart. She has a beautiful personality. All my life I've trained athletes, I've had good times and bad times with athletes and it's not easy to change the gymnasts and their personalities, so you have to deal with that. And with McKayla, every day I feel better after the workout. She's working hard. I will never have to raise my voice with her. She's a very strong and intelligent girl. But at the same time, she's girly and soft. And lady-like.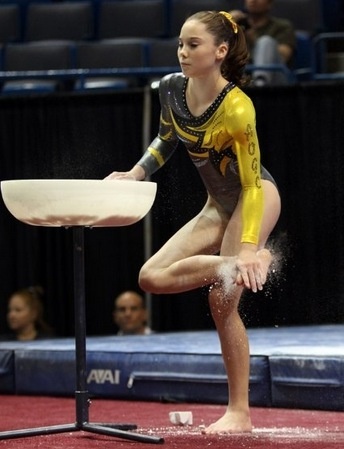 Maroney during her breakout meet as a junior, the 2010 Visa Championships
How have you seen her grow and blossom in the time she's been at your gym? 

She's a hard worker and very talented gymnast. But her (training) background was kind of down, not really into this level of gymnastics. She was doing vault. And the vault that she was doing - it's awesome. I decided to add the second vault. I decided to make up the other events and see if she could make the team, in any place. And that was the national team, first of all. We were not thinking about the Worlds or Olympics. Just slowly going through. She trained hard. And she grew up fast. 
When you look at her, you assume that she wouldn't be strong in the leg events as she has a very slight build. How does she excel on the leg events? 

She's actually a very powerful gymnast. She has like a gift from God in the power, the quickness. And she is a true athlete. Just a gift from God. Not many people have those things. 
What's your funniest memory working with her? 
I dont know. I would say, we don't have a funny time because she's very serious with what she does in the gym. I can not joke with her. I can say something funny and she will smile and walk away and then back to serious and about her training. And she really, really wants to be here. That is only her. She has the willing to be here and be on this team.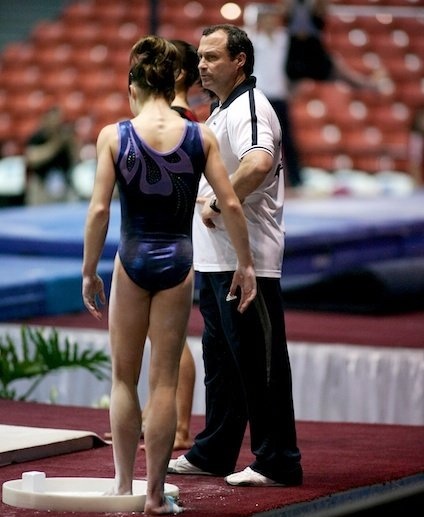 Maroney and Akopyan at the 2012 Secret Classic

In the bigger picture, what are you focusing on with her now?
It's not only this year. We are looking for the next year and she can become a better, stronger all arounder. 
McKayla looks very capable of doing a yurchenko triple twist. Do you think we'll ever see that in competition?


We tried it in the gym. She is really close to it, but I don't want to trust it. I don't want to do it for the Olympics. Maybe for Worlds.