2012 Level 10 Team of the Year
Your Best of 2012 votes are in! The 2012 Team of the Year as voted on by the Gymnastics Community is….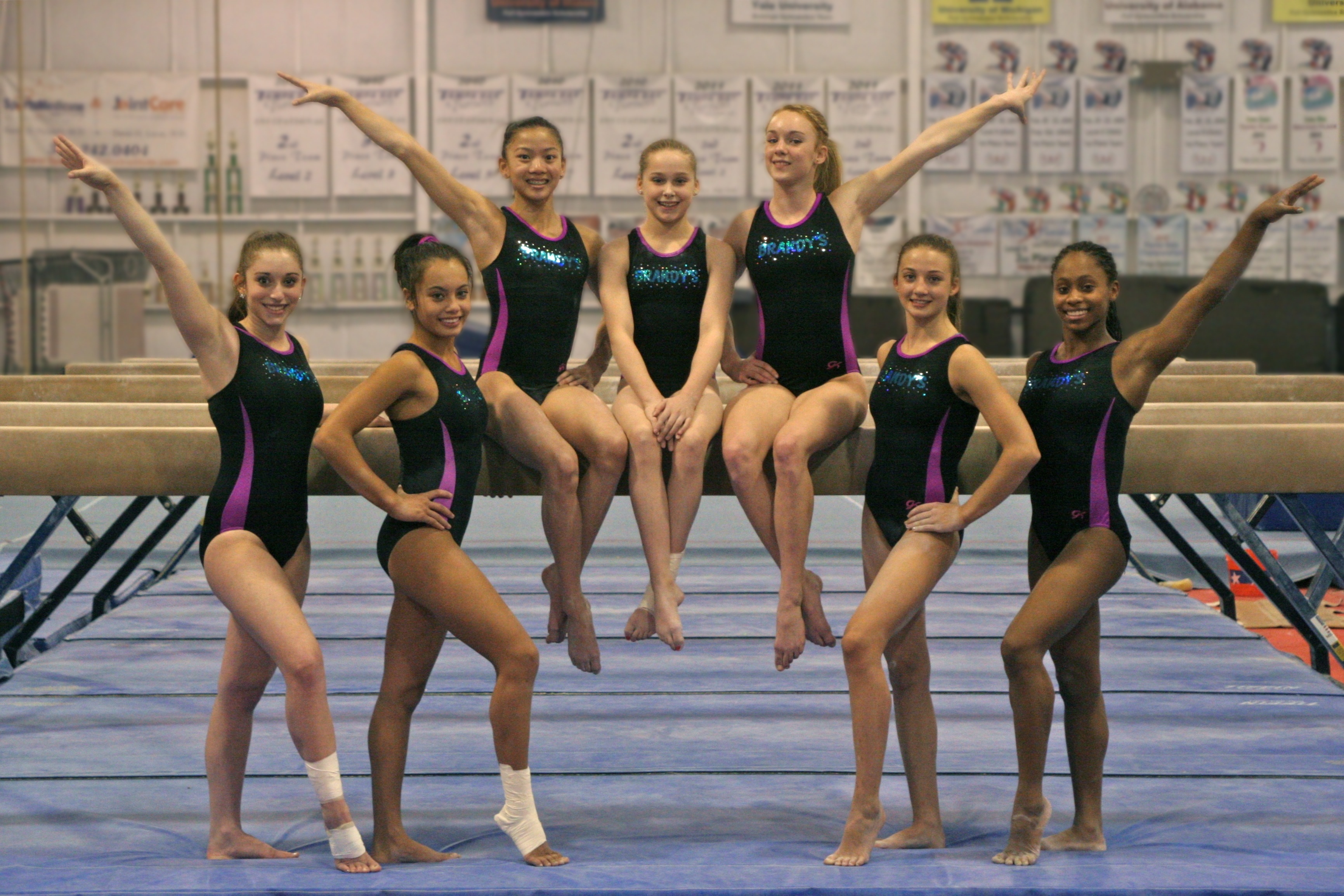 Brandy Johnson's Global Gymnastics of Florida! 
Ten deserving teams were up for the title of Level 10 team of the year after qualifying four or more gymnasts to the 2012 J.O. Nationals and then producing National Champions and/or Level 10 National Team members. 
Coming in second in the poll was Phenom Gymnastics of Illinois. Other teams nominated were Twin City Twisters of Minnesota, Brown's Gymnastics - Las Vegas of Nevada, Parkettes Gymnastics of Pennsylvania, Southeastern Gymnastics of North Carolina, Geddert's Twistars USA of Michigan, Chow' Gymnastics and Dance of Iowa, WOGA of Texas, and North Stars of New Jersey. 
During the regular season, Brandy Johnson's level 10 team won three Invitational meets: The Tampa Bay Turners invite, Tim Rand Invite and the Kurt Thomas Invite.
At the 2012 Region 8 Championships, Brandy Johnson's team qualified five gymnasts to the 2012 J.O. Nationals: Kaitlyn Schou, Aja Sims, Chelsea Grimison, Shonacee Olivia, and Morgan Smith. Sims won every gold medal in her age division.

Aja Sims first made a name for herself on Gymnastike with the debut of her original skill on uneven bars, the wieler kip to comaneci, which was named for her during the 2011 J.O. Natoinals. Watch that video here.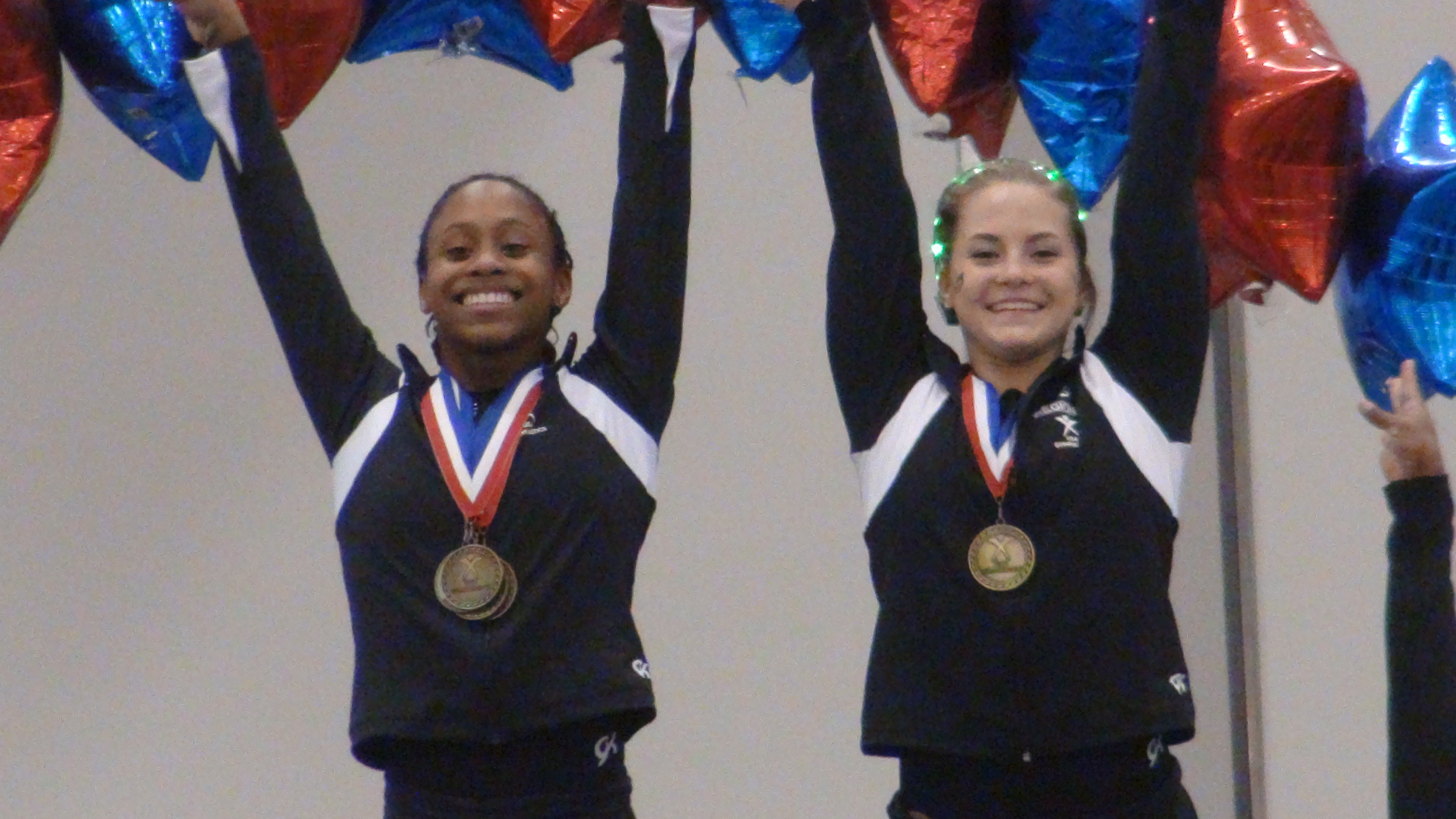 Aja Sims with co-champion Grace Williams at the 2012 J.O. Nationals
At Nationals, the team came away with two National Champions. Aja Sims tied with Grace Williams of Twistars for the junior D National All Around title. Sims also won the uneven bars title with a 9.75, won beam with a 9.70 and placed 2nd on floor. 
Morgan Smith finished 2nd all around in the Senior C division, won the national title on uneven bars, and placed 2nd on vault with a 9.80. 
The team's youngest National Qualifier, Katilyn Schou, placed 4th on beam.
Since Nationals, Morgan Smith has graduated and begun her collegiate career at the University of Michigan. Olivia signed with LSU in the fall, and Sims has verbally committed to the University of Alabama, the reigning NCAA Champions.
The women's team is coached by former elite Kelly Pitzen, Brian Amato, and Brandy Johnson-Scharpf. 
Brandy Johnson's Global Gymnastics is of course owned and operated by Olympian Brandy Johnson-Scharpf. As a member of the 1988 USA Olympic Team, she was the highest all around finisher for the USA. She was the 1989 USA National Champion and won a silver medal at the 1989 World Championships. 
You can watch Brandy Johnson's level 10 team in action next month during Gymnastike's coverage of the 2013 Chicago Style meet on February 9th. 
Congrats to Brandy Johnson's Global Gymnastics as well as all of our nominated teams. Best of luck for the 2013 season!