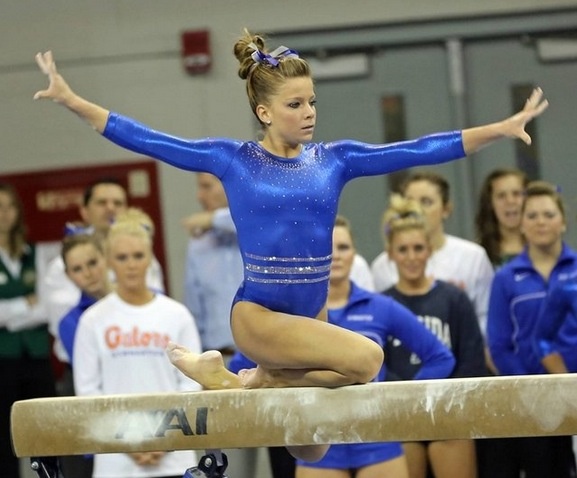 Mackenzie Caquatto - photo by Erin Long

When she landed her full out dismount on the uneven bars, the stands immediately errupted into a roar, and chills went down my spine giving me goose bumps. Everyone knew her routine was special, but no one on press row guessed the judges would put up that number. Florida junior Mackenzie Caquatto scored a perfect 10.0.

"That was a really great feeling! I was actually surprised," said Caquatto. "[When] I stuck the dismount I knew it was one of the best routines I did. And I was just happy I could contribute to the team. It was a good moment and I'll never forget it."

There was just something in the air that made Florida's home meet against Missouri feel special right from the get-go. Caquatto has her own theory about what it could have been.

"I think it just all started from warm-ups. The whole team just had a ton of energy, and everyone was kinda goofin' around, but like staying positive," she said. "It's kinda like we do in practice, so it wasn't really like a competition. And for the meet we just kept up the energy, and I think it helped everyone on everything."

Caquatto competed in the vault lineup for the first time since her freshmen year, after severely spraining both ankles in selection camp for the 2011 World Championships team. Scoring a 9.85 she set the tone for the rest of the meet.

Senior Ashanée Dickerson received a 10.0 from one judge and averaged a score of 9.975 on vault. It was only the 12th time in school history a Gator scored a near perfect mark. Caquatto would clench the perfect mark only a few minutes later.

Missouri's 5th All-American, Rachel Updike, almost gave Dickerson a run for her money, sticking her vault cold for a 9.95.

After a fall on her toe on piked Hindorff on bars, Bridget Sloan redeemed herself winning the beam title with a 9.90.

Beam gave Dickerson problems during the first home meet when she fell on her punch front. Since then, Coach Rhonda Faehn has changed Dickerson's routine to include a beat jump instead, still giving her a start value of 10.0.

The Gators are, without a doubt, a team of crowd pleasers and performers on the floor exercise. Every athlete takes the time to show both physical excellence and emotion during their routine.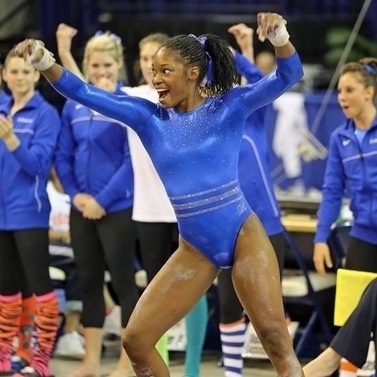 Ashanee Dickerson - photo by Erin Long

Dickerson once again sent chills throughout the crowd when she won her 17th floor title with a 9.90. She also clenched the all-around title with a 39.575.

The Missouri Tigers started at a disadvantage when a gymnast in the floor lineup was carted away on a stretcher during warm-ups. However, they finished strong scoring a total of 194.625.

The Gator's 197.30 victory came just after a disappointing loss to LSU. Coach Faehn attributed this win to a, "Different attitude of fight tonight."

I found myself smiling the whole way through this meet, to the point where my cheeks actually hurt. The incredible talent that this Florida team possesses is unlike any other. Maybe we will see more perfect 10.0's this season!

Check out the meet highlights from gatorzone.com: