Event Hub
2013 World Championships Women's GOLD Medal Routines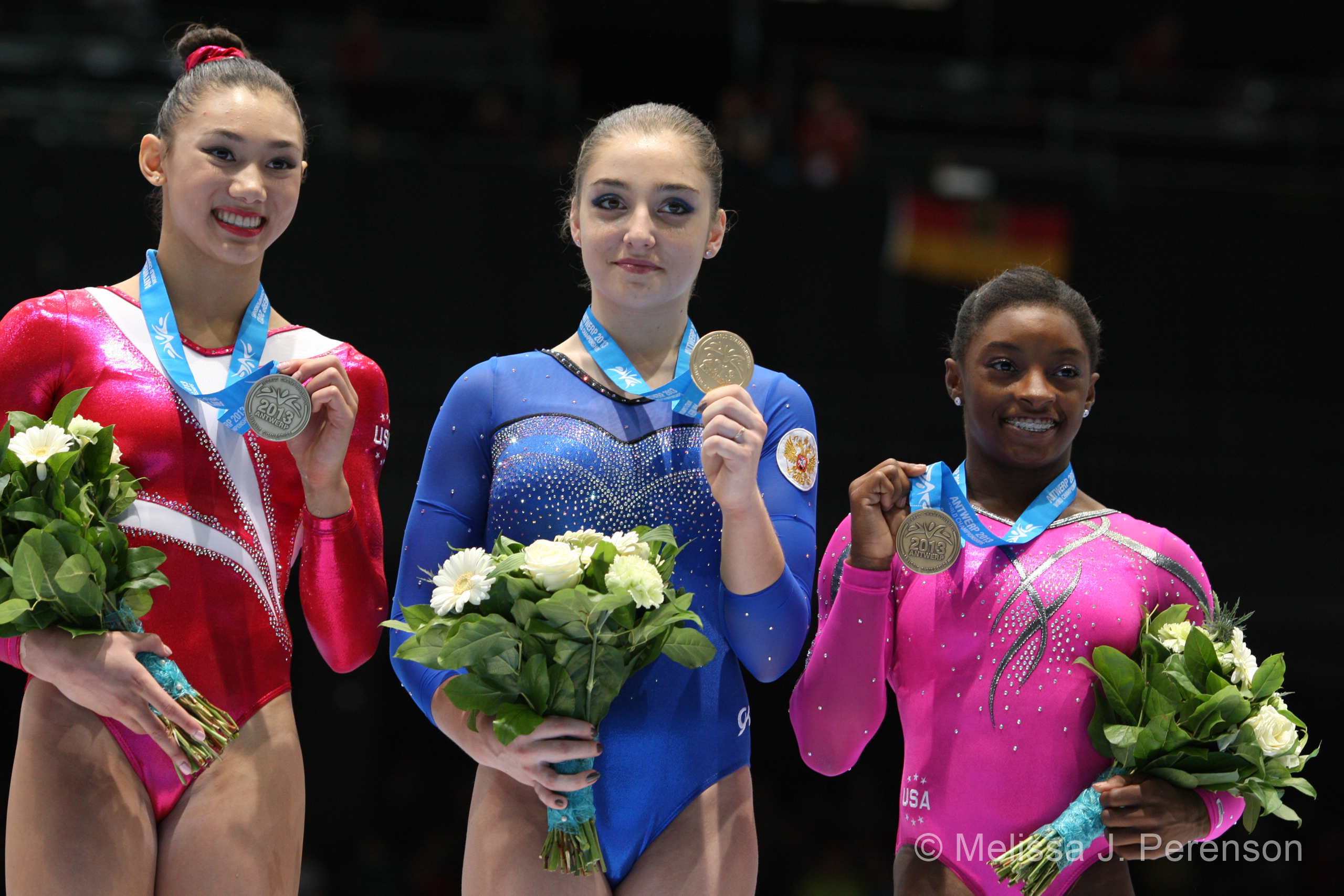 2013 World Beam Medalists, L to R: Kyla Ross, Aliya Mustafina, Simone Biles.

The 2013 World Gymnastics Championships came to a close over the weekend in Antwerp. Here's a recap of the newly crowned World Champions on the women's side. All eyes will be on these gymnasts as we progress into the quadrennium.
2013 Women's World Vault Champion: McKayla Maroney of USA
Score: 15.724 Average
VT1: 16.066 (6.30D / 9.766E)
VT2: 15.483 (6.00D / 9.483E)
As the final competitor in a very deep field, reigning World Vault Champion McKayla Maroney prevailed once again! Maroney stuck her Amanar vault and confidently executed her Mustafina vault. With a lesser difficulty score, All Around Champion Simone Biles slipped to second. 2008 Olympic Vault Champion Hong Un Jong of North Korea competed the most difficult vaults of the entire competition, an Amanar (6.30) and a Cheng (6.40), but her execution score could not hold up against the Americans. She took home the bronze. 
2013 World Uneven Bars Champion: Huidan Huang of China
Score: 15.400 (6.60D / 8.80E)
Huidan Huang of China claimed the Gold with an intricate routine packed with pirouettes and stuck full twisting double tuck dismount. Kyla Ross claimed the silver with another hit routine. Reigning Olympic uneven bars Champion Aliya Mustafina of Russia had to settle for the bronze.  The favorite for the title, Yao Jinnan, fell on her difficult Mo Salto release. 
2013 World Beam Champion: Aliya Mustafina of Russia
Score: 14.90 (6.00D / 8.90E)
Past World and Olympic Champion Aliya Mustafina finally earned an individual 2013 World title on the final day of competition in Antwerp. Mustafina qualified in last place to beam final, but hit her difficult combinations when it counted. Despite being disappointed in her score, it held in gold medal position. Kyla Ross won her third silver medal of the week and was only 0.067 out of first with a matching D score to Mustafina. After a scoring inquiry, Simone Biles moved into bronze medal position ahead of Italy's Vanessa Ferrari. 
2013 World Floor Champion: Simone Biles of USA
Score: 15.00 (6.50D / 8.50E)