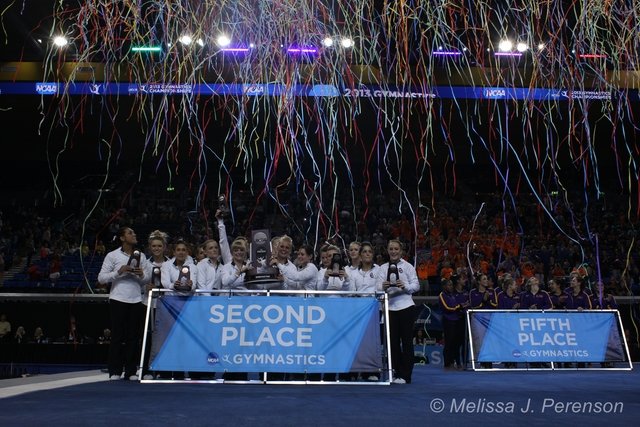 The days of dynasties in women's collegiate gymnastics are over. Since Suzanne Yoculan's Georgia Gym Dogs won five straight NCAA titles from 2005 to 2009, competitive parity has spread across collegiate gymnastics. Last season, a new team was welcomed into the elusive circle of National Champions when the University of Florida became the fifth program ever to win the coveted crown. Now, two more teams, Oklahoma and LSU, hover on the brink of their first NCAA titles. 
The 2014 NCAA Women's Championships are just a couple days away and the competition is shaping up to be an all out battle. In my opinion, there are five teams with a legitimate shot at the 2014 Trophy: Florida, Alabama, Oklahoma, LSU, and Utah. If OU or LSU accomplish the feat, it will go down in history as the first national title for their program.
But until the final dismount hits the mat in Saturday's Super Six, all we can do is speculate. So, I've fielded my team of gymnastics experts to weigh in with their Super Six picks. 
Here's how it will all go down in Birmingham: The twelve teams will face off in two preliminary sessions on Friday, April 18. The top three teams from each session will advance to Saturday's Super Six Team Finals. The scores start fresh in the Super Six. Every tenth will count, and the National Champion will be crowned. 
Prelim Session 1: Oklahoma, LSU, Georgia, Michigan, Stanford, Illinois
Prelim Session 2: Florida, Bama, Utah, UCLA, Nebraska, Penn State

The Expert Picks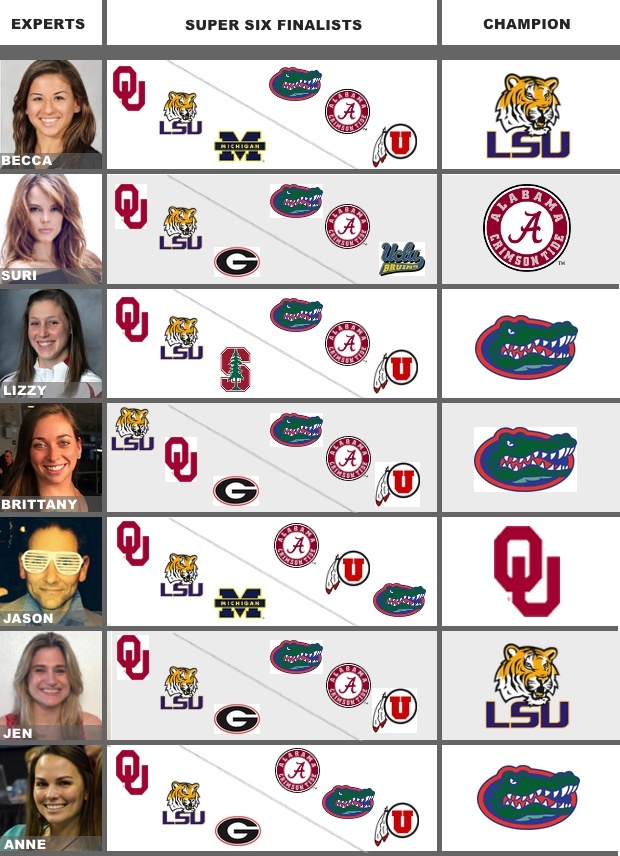 Florida has fizzled in their most recent meets, but I expect Bridget Sloan and the Gators to storm back to the top of the podium in Birmingham. But as you can see, not everyone agrees. Regardless of how it shakes out, we can expect it to be an emotional fight to the finish. And you're in luck, because you can watch the glory and the heartbreak unfold right here on Gymnastike! 

The Gymnastike crew heads to Birmingham on Wednesday to give gymnastics fans the most extensive coverage of an NCAA Gymnastics Championships to date! Gymnastike Gold subscribers will have exclusive access to watch top competition routines, analysis, and behind the scenes footage. Follow along as the story of the 2014 NCAA women's gymnastics Championships unfolds. Click here to sign up for Gymnastike Gold.