Event Hub
2015 Junior Olympic National Championships Qualifiers By Region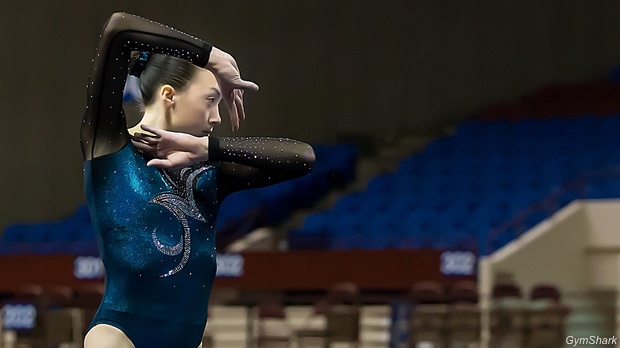 The 2015 Level 10 Regional Championships have concluded and below is a list of the gymnasts who qualified to the 2015 J.O. National Championships. Nationals will take place in Des Moines, IA on May 15 and 16.
Regionals is always an intense competition in that it's a gymnast's only shot at National Championship qualification. By placing in the top seven all around (with over a 34.0), gymnasts advance to the National Championships where they will compete with their Regional age group in team competition and contend for individual national titles.
Below are the gymnasts who qualified to compete at the 2015 JO National Championships. Note: this is not a complete list of competitors as it does not take into account injuries/replacements and the gymnasts who are added to fill the spots in regions that did not qualify seven gymnasts. 

REGION ONE

Jr A
1. Aubrey Zazula - Desert Lights - 37.575
2. Madelyn Williams - Head Over Heels - 37.225
3. Katilyn Lyle - Airborne - 37.125
4. Sydney Gonzales - Gym-Max - 37.1
5. Emily Lopez - Wildfire - 37.025
6. Jillian Hoffman - SCEGA - 37.0
7. Courtney Tsunoda - Azarian - 36.825
Jr B
1. Karley McClain - All American - 38.05
2. Nevaeh DeSouza - Dream Xtreme - 37.95
3. Nicoletta Koulos - Wildfire - 37.9
4. Cristal Isa, Cristal - Gymcats - 37.875
5. Frida Esparza - Head Over Heels - 37.725
6. Cassie Stevens - Arizona Sunrays - 37.7
7. Talitha Jones - Precision - 37.65
Jr C
1. Madison Mariani - Arizona Dynamics - 38.125
2. Madison Dagen - San Mateo Gymnastics - 38.025
3. Victoria Salem - San Mateo Gymnastics - 37.975
4. Katie Chamberlain - Paramount Elite - 37.875
5. Eve Micco - Arizona Sunrays - 37.475
5. McKenna Zimmermann - Airborne - 37.475
7. Caitlin Kho - Winners Gymnastics - 37.375
7. Miranda Cabada, Miranda - AOGC - 37.375
Jr D
1. Catherine Rogers - Epic - 38.05
2. Tatum Bruden - Arizona Sunrays - 37.925
3. Megan Verceles Carr - West Valley - 37.9
4. Sydney Freiden - AOGC - 37.85
5. Lauren Ramirez - Gold Medal - 37.7
6. McKinley Pavicic - Salcianu Gymnastics - 37.675
7. Alexia Burch - Gymnastics Nevada - 37.55
Sr A
1. Kennedi Edney - Precision - 39.025
2. Mariah Peterson - Epic - 38.45
3. Alaina Kwan - AOGC - 38.425
4. Kimberly Tessen - All American - 38.3
5. Autumn Jorgensen - All American - 38.075
6. Maddison Nilson - Gymcats - 37.825
7. Morgan Alfaro - Gym-Max - 37.55
Sr B
1. Jessica Yamzon - Gymcats - 38.325
2. Hannah Miller - Olympus School Of Gymnastics - 38.125
3. Shannon Hortman - All American - 38.075
4. Maya Washington - San Mateo Gymnastics- 38.0
5. Morgan Hart - Brown's Gymnastics - 37.825
6. Madisson McBride - All American - 37.775
7. Elizabeth Shoddy - Desert Lights - 37.725
Sr C
1. Shani Remme - Byers Gymnastics Center II - 38.325
2. Katelyn Lentz - Head Over Heels - 38.25
3. MaKenna Merrell - All American - 38.2
4. Yasmine Yektaparast - Edge Gymnastics - 37.725
5. Aya Suzuki - San Mateo Gymnastics - 37.7
6. Sylvie Seilnacht - California Gymnastics Academy - 37.55
7. Cassie Betts - Gold Medal Gymnastics - 37.5
Sr D
1. Sarah Means - Gymcats - 38.25
2. McKenna Singley - Olympus School Of Gymnastics - 38.15
3. Allison Bower - Desert Devils - 37.625
4. Jackie Sampson - Flames Gymnastics Academy - 37.55
5. Corinne Belkoff - Arizona Dynamics Gymnastics - 37.375
6. Allison Bennett - Elite Gymnastics Academy - 36.75
7. Cheyenne Hill - Gymcats - 36.55
REGION TWO
Jr A
1. Grace Johnson - Emerald City - 37.325
2. Madeline Tyau - Hawaiian Island Twisters - 37.05
3. Kaeli Cunningham - Cascade Elite West - 36.175
4. Jasmine LEe - Cascade Elite West - 35.575
5. Ashleigh Cate - Cascade Elite West - 35.525
6. Kalyxta Gamiao - Hawaiian Island Twisters - 34.95
Jr B
1. Jaime Fields - Garlands  Gymnastics - 37.3
2. Jenna Domingo - Hawaiian Island Twisters - 37.275
3. Jennifer Powers - Cascade Elite - 35.5
4. Kyrsten Leazer - Cascade Elite - 34.8
5. Mya Mulligan - Hawaiian Island Twisters - 34.675
Jr C
1. Jaden Andrus - MAC - 37.275
2. Kristina Peterson - Metropolitan - 36.75
3. Milana Brane - Cascade Elite - 36.45
4. Madison Brunette - Seattle Gymnastics - 36.25
5. Samantha Smith - Auburn - 36.1
6. Paige Yasui-Durlacher - Kokokahi - 35.8
7. Alisandra Marvel - Denali - 34.0
Jr D
1. Geneva Thompson - Metropolitan - 38.2
2. Kaitlyn Lane - Black Hills - 37.15
3. Jada Czysz-Deboer - Auburn - 36.875
4. Ashley Albrecht - Leading Edge - 36.475
5. Kylie Reese - NAAG - 35.875
6. Chloe Camello - Rainbow - 35.7
7. Miya Makabe - Rainbow - 34.6
Sr A
1. Gabrielle Spenser - MAC - 36.2
2. Destinee Davis - MAC - 36.075
3. Sienna Brane - Cascade Elite - 35.6
4. Hannah Bowles - Dynamic - 35.0
5. Lauren Lauro - Hawaiian Island Twisters - 34.775
6. Maela Lazaro - Rainbow - 34.55
Sr B
1. Evanni Roberson - Emerald City - 37.700
1. Jamie Law - MAC- 37.700
3. Lillie Minor - Naydenov - 36.875
4. Emma Byrd - Bronco Elite - 36.775
5. Kaitlin Campbell - MAC - 35.9
6. Emily Wilson - Northpointe - 35.000
7. Allyson Rudd - Black Hills - 34.65
Sr C
1. Hannah Wolf - Avant Coeur - 37.525
2. Kendall Watts - Auburn Gymnastics - 37.3
3. Malia Mackey - Cascade Elite - 36.8
3. Haley Roy - Auburn Gymnastics - 36.8
5. Eleanor Pascoe-Long - NAAG - 36.75
6. Amy Blyckert - Northwest Gymnastics - 36.675
7. Danielle Duran - Athletic Edge - 34.475
Sr D
1. Mary Jacobsen - Emerald City - 37.8
2. Lauren Schmeiss/Tossey - Cascade Elite West - 37.775
3. Madison Ward - Idaho Elite - 37.425
4. Savanah Lohr - Hawaiian Island Twisters - 36.9
5. Alexis Lawrence - Garland's Gymnastics - 36.6
6. Maryanna Peterson - Metropolitan - 36.425
7. Kiya Bjorge - Garland's Gymnastics - 35.175
REGION THREE
Jr A
1. Kelsey Knox - Dynamo - 38.25
2. Chae Campbell - Metroplex - 38.05
3. Kiya Johnson - TX Dreams - 38.0
4. Katherine LeVasseur - Aerial Athletics - 37.47
5. Victoria Loomis - Denton - 37.375
6. Brooklynn Bloxom - WOGA - 37.25
7. Olivia Hollingsworth - Stars TX - 37.125
Jr B
1. Kaitlin DeGuzman - Metroplex - 38.8
2. Brenna Brooks - WOGA - 38.75
3. Toy Kendal - Metroplex - 38.275
4. Chloe Widner - TX Dreams - 37.95
5. Sarah Weisberg - WOGA - 37.5
6. Erin Hutchison - WOGA - 37.4
7. Julia Wiest - Diamond - 37.25
Jr C
1. Shaylah Scott - Metroplex - 38.075
2. Mia Sundstrom - Airborne - 37.975
3. Kennedy Hambrick - Reflex - 37.8
4. Sydney Ewing - WOGA - 37.75
5. Whitney Barksdale - CO Aerials - 37.35
6. Jenny Leung - Stars TX - 37.3
7. Michel Koch - WOGA - 37.025
7. Lauren Joost - CGI - 37.025
Jr D
1. Rachael Flam - Stars TX - 38.5
2. Lauren Farley - WOGA - 38.475
3. Emily Glynn - Airborne - 38.4
4. Jennifer Oh - WOGA - 38.0
5. Kailey Gillings - Stars TX - 37.625
6. Mikayla Magee - Reflex - 37.4
6. Ava Verdeflor - WOGA - 37.4
Sr A
1. Katrina Coca - Dynamo - 38.4
2. Jade Buford - TX Dreams - 38.375
3. Reagan Campbell - TX Dreams - 38.35
4. Kyana George - Metroplex - 38.275
5. Alex Marks - Dynamo - 37.825
6. Tra'Vanni Jacobs - HHGC - 37.525
7. Ryan Henry - Bart Conner - 37.25
Sr B
1. Stephanie Day - Aerial Athletics - 38.75
2. Cassidy Keelan - TX Dreams - 38.525
3. Megan Tripp - WOGA - 38.1503
4. Kaylee Cole - TX Dreams - 38.075
5. Brianna McCant - Metroplex - 37.75
6. Tess McCracken - WOGA - 37.7
7. Lexi Montgomery - Metroplex - 37.5
Sr C
1. Macy Toronjo - TX Dreams - 38.1
2. Taylor Krippner - WCC - 37.725
3. Kirby Rathjen - Stars TX - 37.5
4. Rae Balthazor - Airborne - 37.3
5. Monica Riley - Top Flight - 36.95
6. Grace Broadhurst - Airborne - 36.725
7. Morgan Wilson - Diamond - 36.6
Sr D
1. Skyler Sheppard - WOGA - 37.8
2. Shannon McNatt - Stars TX - 37.525
3. Haylee Roe - Metroplex - 37.325
4. Sidney Dukes - Texas East - 37.275
5. Alexandra Robinson - CGI - 37.175
6. Emily Briones - Aerial Athletics - 37.0
7. Ashley Hiller - Stars TX - 36.475
REGION FOUR
Jr A
1. Tori Tatum - TCT  - 37.175
4. Jordan Bowers - Solid Rock - 37.05
3. Skylar Killough-Wilhelm - Triad - 36.675
4. Sophia Groth - Chows - 36.575
5. Sunisa Lee - Midwest MN - 36.475
6. Marissa Jencks - All American - 36.375
7. Danielle Sievers - All American - 36.200
Jr B
1. Madilyn Quarles - TCT - 37.75
2. Akoray Subject - TCT - 37.075
3. Mallory LeNeave - Xtreme - 36.025
4. Taylor Anderson - Triad - 35.575
5. Taylor Waldo - Flyaways Gold - 35.325
6. Annie Corbett - Swiss Turners - 35.100
7. Brooke Lutz - Swiss Turners - 34.875
Jr C
1. Alexa Al-Hameed - Triad - 38.100
2. Abigail Brenner - TCT - 38.000
3. Trudy Schoepfer - Triad - 36.900
4. Kaitlyn Gilson - TCT - 36.500
5. Aleysia Kolyvanova - Synergy - 36.425
6. Kennedi Davis - Xtreme MO - 36.225
7. Morgan Hooper - NSG - 35.575
Jr D
1. Sophia Carter - GAGE - 37.100
2. Zoie Schroeder - TCT - 36.925
3. Libby Garfoot - Premier - 36.65
4. Katie Waldman - Omega - 36.375
5. Kasey Lenarz - Midwest - 36.350
6. Evy Schoepfer - Triad - 36.250
7. Jada Rondeau - Legacy - 35.925
Sr A
1. Lynnzee Brown - GAGE - 38.000
2. Kynsee Roby - Triad - 37.250
3. Mollie Korth - Madtown - 36.950
4. Autumn DeHarde - LaFleur's - 36.700
5. Kylie Noonan - Midwest - 36.400
6. Annie Johnson - Legacy - 36.125
7. Molly Jozwiakowski - SLGC - 36.100
Sr B
1. Wynter Childers - Spearfish - 37.975
2. Taylor Houchin - Missouri Valley - 37.875
3. Kiera Miller - Oshkosh - 37.550
4. Jovannah East - Scamps - 36.825
5. Brianna Slonim - Gymfinity - 36.225
6. Lauryn Mattson - Legacy - 36.075
7. Courtney Loper - Chows - 35.900
Sr C
1. Alyssa Johnson - TCT - 37.850
2. Meaghan Sievers - All American - 37.600
3. Maddie Karr - TCT - 37.500
4. Kristen Quaglia - Classic - 37.350
5. Amanda Bartemio - North Shore - 36.950
6. Morgan Porter - Team Central - 36.675
7. Cierra Anderson - LaFleur's - 36.625
Sr D
1. Gracie Cherrey - TCT - 38.300
2. Michaelee Turner - Mercury - 37.625
3. Jenna Bresette - Fuzion - 37.500
4. Sienna Crouse - American Gold - 37.325
5. Madeleine Huber - SLGC - 37.150
6. Josalyn Ray - M&M - 36.775
7. Danielle Barmore - Nebraska - 35.775
REGION FIVE
Jr A
1. Sonte Turnage - Legacy - 38.05
2. Andrea Li - Legacy - 38.025
3. Alyssa Al-Ashari - Twistars - 37.975
4. Sierra Brooks - Aspire - 37.8
5. Eliana Lazzari - GymNasti - 37.725
6. Dani Petrousek - GAR - 37.625
7. Audrey Rodriguez - JPAC - 37.45
Jr B
1. Makarri Doggette - Buckeye - 38.125
2. Matilyn Waligora - Olympia - 38.1
3. Mallory Mizuki - Olympia - 37.95
4. Gabryel Wilson - MAG - 37.725
5. Kai Rivers - Twistars - 37.7
6. Leah Clapper - Gym America - 37.3
7. Brooklyn Sears - TOPs - 37.05
Jr C
1. Jenna Swartzentruber - Buckeye - 37.975
2. Sarah Hargrove - Cincinnati - 37.9
3. Claire Gagliari - Olympic Dreams - 37.325
3. Brooke Kylek - Twistars - 37.325
5. Kara Roberts - Splitz - 37.025
6. Hannah Morrow - Legacy - 36.65
7. Anna Kaziska - Champion - 36.625
Jr D 
1. Anne Maxim - Olympia - 37.425
2. Jeanai Scott - JPAC - 37.325
3. Taylor Dittmar - Wolrd Class - 36.85
4. Anna Dayton - Twistars - 36.775
5. Faith Leary - Cincinnati - 36.675
6. Paige Kovnesky - New Heights - 36.65
7. Grace Gough - JPAC - 36.625
Sr A 
1. Hunter Vincent - Aerial - 37.7
2. Brooke Chesney - Cincinnati - 37.5
3. Grabrielle Cooke - IK - 37.15
4. Molly Russ - Queen City - 37.05
5. Cinny Lamberti - Gymnastic Factory - 36.825
5. Mia Lord - DeVeaus - 36.825
7. Hanna Bergeson - Gym X Calibur - 36.8
Sr B
1. Shea Mahoney - Legacy - 38.8
2. Rachel Dickson - MEGA - 38.15
3. Jade Brown - Twistars - 37.65
4. Amelia Mohler - 37.55
5. Lexi Funk - IGI - 37.45
5. Christina Berg - Legacy - 37.45
7. Karen Howell - Olympia - 37.325
Sr C
1. Olivia Karas - IK - 38.3
2. Olivia Aepli - Buckeye - 37.875
3. Kathryn Bailey - DeVeaus - 37.575
4. Lucy Jones - Twistars - 37.475
5. Kailey Miller - PAL - 37.125
5. Carly Clark - 37.125
7. Kaitlyn Menzione - Naperville - 37.1
7. Riahanah Ali - Oakland - 37.1
7. Darby Stanton - JPAC - 37.1
Sr D
1. Sarah Lippowitsch - Queen City - 37.775
2. Ashton Burnett - Madison Gym World - 37.45
3. Rachael Underwood - Crystal Lake - 37.325
4. Ciara Gresham - World Class - 37.3
5. Emma McLean - Stars & Stripes - 37.1
6. Sydney Finke - Wrights - 36.875
7. Jenna Squillo - BIG - 36.85
REGION SIX
Jr A 
1. Jersey Dillman - RGA - 37.825
2. Emily Holmes-Hackerd - Brestyan's - 36.575
3. Simona Kerekes - Brestyan's - 35.475
4. Stephanie Berger - Brestyan's - 35.3
5. Angie Grabmeier - EGA - 35.175
6. Zoe Kyriako - SGC - 34.85
Jr B
1. Alisa Sheremeta - NY Sports, Fitness - 37.175
2. Kylie Gorgenyi - Ace - 36.5
3. Casey Hudson - GMGC - 36.275
4. Lovetta Kamara - Brestyan's - 36.225
5. Carly Kulevich - Brestyan's - 36.05
6. Leah Gneco - Galaxy Gymnastics - 5.85
7. Cassidy Girolamo - NEGX - 35.15
Jr C
1. Kristin Lang - RGA - 36.625
2. Marissa James - Brestyan's - 36.05
3. Kallie Grochowski - Roots - 35.8
4. Alexis Stern - GMGC - 35.7
5. Sierra DeMarinis - Roots - 35.675
6. Grace Garcia - NYC Elite - 35.65
7. Sophia Petrillo - Brestyan's - 35.6
Jr D
1. Hannah Cohen - GMGC - Huntington - 37.6
2. Nicole Biondi - 10.0 - 37.05
3. Jordan Ceccarini - FGA - 36.875
4. Alissa Bonsall - NEGX - 36.85
5. Catherine Karpova - NESA - 36.5
6. Amy Shen - MGC Waltham - 36.075
7. Kayla Baddeley - NESA - 35.9
Sr A
1. Ryan Stach - Galaxy Gymnastics - 37.675
2. Payton Bellows - Daggett's - 37.6
3. Peyton Hinterberger - RGA - 37.375
4. Taylor Worthington - AH - 37.15
5. Alexa Calandra - Galaxy Gymnastics - 36.65
6. Rachel Benoit - Gym & More - 36.375
7. Emily Szembrot - RGA - 36.325
Sr B 
1. Lindsay Dwyer - GMGC - Huntington - 37.7
2. Ally Ferber - GMGC - Huntington - 37.675
3. Annie Christman - Atlantic Gymnastics - 37.025
4. Riley Freehling - CGA - 36.55
5. Anna Salamone - Nastics - 36.525
6. Jordan Miranda - Gym & More - 36.2
7. Shannon St. Jean - GymRev - 36.175
Sr C
1. Alexandra Hyland - AGA - 38.1
2. Caitlyn Fillard - New Image - 37.525
3. Maya Reimers - Chelsea Piers - 36.95
4. Courtney Bondanza - OP - 36.075
4. Erin Carroll - Phantom - 36.075
6. Courtney Baker - Brestyans - 35.875
7. Candis Kowalik - WDGA - 35.275
Sr D
1. Kelly Martin - CGA - 37.2251
2. Aysia Sharif - NEGX - 37.15
3. Nicole O'Leary - Vasi's - 36.55
4. Mariam Traore - Nashoba - 36.475
5. Mary Elle Arduino - WCGA - 36.45
6. Thomara Powell-Brown - NEGX - 36.325
7. Brittany Capozzi - Yellow Jackets Gym - 35.85
REGION SEVEN
Jr A
1. Jessica Hutchinson - Silvias - 38.05
2. Amanda Cashman - Arena - 37.95
3. Madeleine Johnston - Hills - 37.625
4. Amelia Cassaday - Parkettes - 37.4
5. Jada Mangahas - Parkettes - 37.3
6. Jenna Coleman - Parkettes - 37.175
7. Reese McClure - Frederick - 37.05
Jr B
1. Megan Link - Parkettes - 37.95
2. Christiana Thompson - TNT Elite - 37.525
3. Kianna Yancey - Montco - 37.425
4. Kylie Piringer - US Gym II Mahwah - 36.8
5. Zoe Schweitzer - X-Cel - 36.775
6. Valerie Aubley - Hills - 36.7
7. Brooke Mills - Paragon - 36.675
Jr C
1. Rachael Lukacs - North Stars - 38.825
2. Griffin James - Gymstrada - 38.25
3. Simone Banen - North Stars - 38.2
4. Josie Angeny - Prestige - 38.15
5. Natalie Wojcik - Berks - 37.925
6. Kaylee Quinn - North Stars - 37.825
7. Paige Apperson - Silvias - 37.8
Jr D
1. Emma Marchese - Hills - 38.2
2. Abby Kaufman - Prestige - 37.875
3. Audrey Barber - Sportsplex - 37.3
4. Kylie Kratchwell - Will Moor - 37.05
5. Antonia Williams - Hills - 36.95
6. Michelina Lupinetti - ASAP - 36.9
7. Hope Masiado - Girls Co-Op - 36.675
Sr A
1. Meredith Sylvia - Parkettes - 38.6
2. Lauren Bridgens - Hills - 38.275
3. Melissa Reinstadtler - North Stars - 37.925
4. Erica Fontaine - Hills - 37.65
4. Kristen Politz - Rebound - 37.65
6. Sophia Steinmeyer - Berks - 37.55
7. Ashley Szafranski - Parkettes - 37.25
Sr B
1. Ava Watkins - TNT Elite - 37.45
2. Jazmyn Estrella - Parkettes - 37.175
3. Jessica Rothman - Gymstrada - 37.15
4. Chloe Cluchey - Capital - 36.975
5. Julia McLaughlin - Chantilly Academy - 36.925
6. Rebecca Chong - GMS - 36.75
7. Whitney King - Capital - 36.7
7. Taylor White - VIGS - 36.7
Sr C
1. Erika Muhaw - North Stars - 38.4
2. Jamie Stone - World Class VA - 38.125
3. Rachael Donovan - Parkettes - 38.0
4. Tiara Wright - Parkettes - 37.55
5. Kaitlyn Szafranski - Parkettes - 37.15
6. Emma Firestone - United Sports Academy - 37.0
7. Breahna Wiczkowski - Prestige - 36.975
Sr D
1. Alicia Boren - North Stars - 39.3
2. Kirah Koshinski - Northeast Gymnastics - 38.875
3. Isabella Amado - Excalibur - 38.275
4. Stephanie Brock - TNT Elite - 38.175
5. Roya Shirley - Ocean Tumblers - 37.7
6. Michelle Amoresano - North Stars - 37.625
7. Sabrina Garcia - Prestige - 37.45
REGION EIGHT
Jr A
1. Kinsey Davis - KPAC - 38.125
2. Gabbie Gallentine - Everest - 37.825
3. Abbie Thompson - Orlando Metro - 37.55
4. Lauren Little - Everest - 37.45
5. Piper Smith - First In Flight - 37.35
6. Hunter Dula - Southeastern - 37.275
7. Baleigh Garcia - American Twisters - 37.225
Jr B
1. Bailey Lovett - High Point - 37.9
2. Savannah Schoenherr - Georgia Elite - 37.85
3. Natalie Payne - Orlando Metro - 37.75
4. Arayah Simons - All American - 37.475
5. Delaney Keck - Gymstars - 37.4
6. Taylor Anderson - American Twisters - 37.3
7. Holly Hanlon - Southeastern - 37.2
7. Alaina Raybon - Ocean Flippers - 37.2
Jr C
1. Alexandria Ruiz - ACE - 37.95
2. Grace Waguespack - ACE - 37.825
3. Abby Heiskell - Southeastern - 37.775
4. Ella Warren - VEGA - 37.475
5. Karrie Thomas - American Twisters - 37.425
6. Alliah Harrison - Sonshine - 37.35
6. Derrian Gobourne - Lakewood Ranch - 37.35
Jr D
1. Samantha Durante - Georgia Elite - 38.325
2. Hallie Peele - Southeastern - 37.975
3. Kennedy Johnson - Gymstars - 37.9
4. Sydney Marler - Suncoast - 37.825
5. Ona Loper - Summit - 37.75
6. Lexi Graber - Coast Elite - 37.725
7. Rachael Mastrangelo - Southeastern - 37.65
Sr A
1. Maggie O'hara - Southeastern - 38.575
2. Diana Chesnok - Southeastern - 38.05
2. Tori Prati - Brandy Johnsons - 38.05
4. Kyla Bryant - Georgia Elite - 37.85
5. Courtney Cowles - Brandy Johnsons - 37.825
6. Lauren Kent - Sonshine - 37.8
7. Bridget Dean - Orlando Metro - 37.8
Sr B
1. Anna Glenn - Southeastern - 38.675
2. Jade DeGouveia - American Twisters - 38.175
3. Alexis Beucler - Brandy Johnson's - 38.05
4. Katie Becker - Everest 0 38.025
5. Ashlyn Kirby - Shooting Stars - 37.875
6. Alexa Phillips - Georgia Elite - 37.775
6. Melissa Brooker - Southeastern - 37.775
Sr C
1. Madison Osman - Orlando Metro - 38.575
2. Julianna Cannamela - Southeastern - 38.375
3. Meredith LaRoche - Brandy Johnson's - 38.175
4. Claire Kern - Southeastern - 37.65
5. Brittany West - Brandy Johnson's - 37.575
6. Sydney Converse - GGA Law - 37.25
7. Krista Collins - Southeastern - 37.225
7. Shynelle Agaran - American Twisters - 37.225
Sr D
1. Angelina Giancroce - Hayden's - 38.325
2. Brooke Kelly - Mountain Brook - 38.2
3. Amanda Huang - Brandy Johnson's - 38.15
4. Samantha Cerio - KPAC - 38.1
5. Kathryn Stuart - Gymnastix - 37.975
6. Nuriya Mack - Gymstars - 37.825