Catching Up With Ashleigh Clare-Kearney
Ashleigh Clare Kearney was a LSU gymnast from 2006-2009. Clare-Kearney won the vault and floor national title in 2009. Clare-Kearney led LSU to their first Super Six birth as a junior in 2008.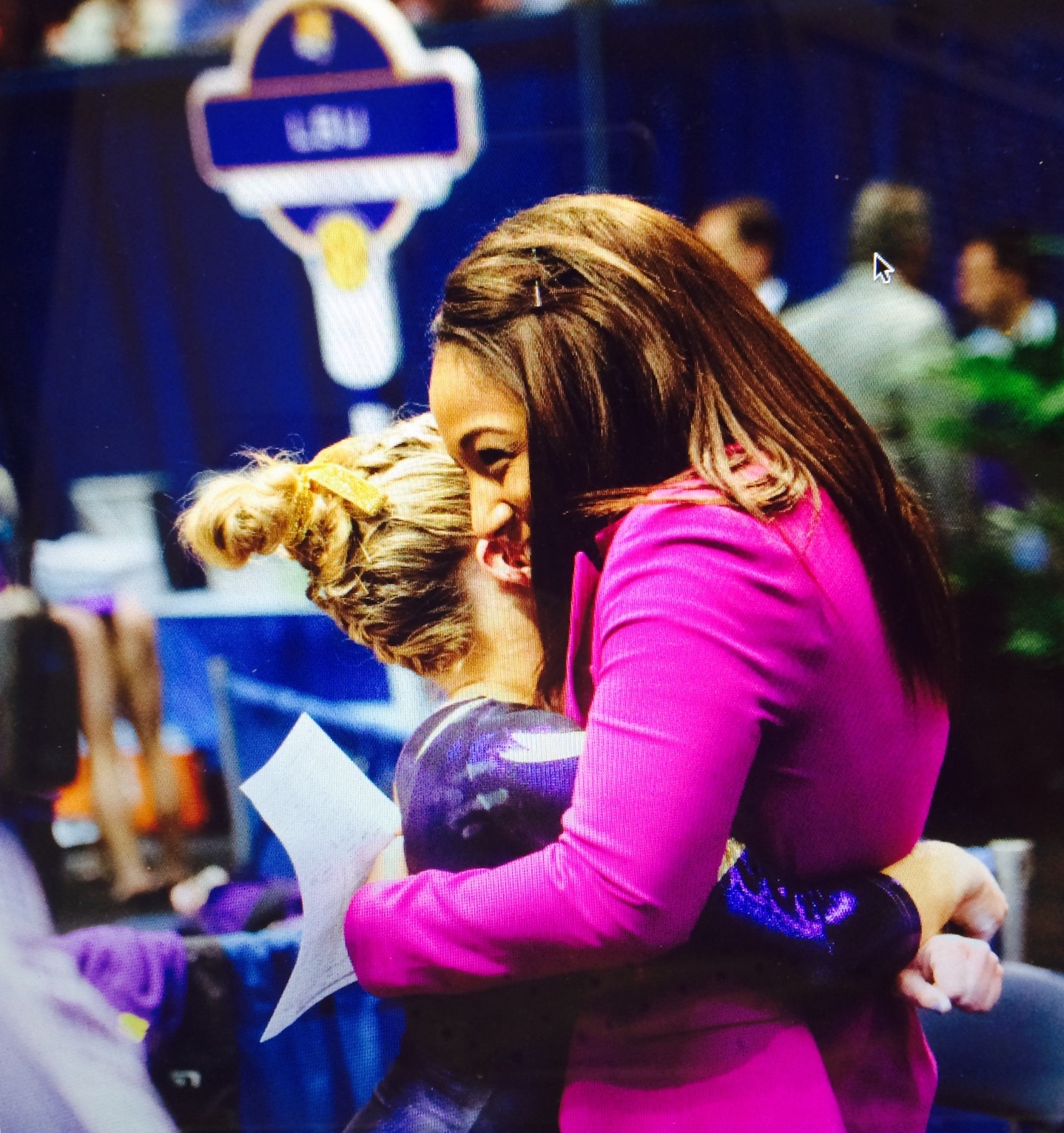 What have you been up to since graduating in 2009? 
I am a lawyer! Following graduation in 2009 I stayed at LSU for my masters in sports management. I then got my law degree at Southern University Law Center here in Baton Rouge. I work in a family court as a staff attorney. I love my job and love being a lawyer. It is an awesome learning experience for me and a good milestone to dig deeper into being an attorney. My job also allows me to still be active with the LSU team and maintain connections. It is a win-win for me! 
What are you most proud of as an LSU Tiger? 
Making the Super Six for the first time in 2008! It is an experience and a feel that I will never forget and cannot put into words. It was something that D-D wanted and worked toward, for over 30 years. It was an unbelievable experience to have with my teammates, but for D-D too. Personally it was amazing to win two National Championships in the same year, my senior year. But for me I would take the Super Six experience and accomplishment with my team over any personal accolade. I am thankful that I was able to leave a mark in NCAA gymnastics and LSU gymnastics. 
You were a part of LSU when they began to make appearances in the super six. LSU has continued to improve at Nationals, and had their highest finish last season. What do you think it will take for LSU to break through with their first championship? 
They need to believe that they genuinely can win! We have the depth, comradery and coaching that is needed to win. This team needs to trust themselves and not worry about the things out of their control. Each gymnast needs to buy into the system and believe in the outcome. This team has been more confident each year that they can win, and I believe they can do it! We are just as good as any other team out there and we shouldn't worry about the success of other teams. With
Jay Clark
joining our coaching staff has brought a new and different dimension that has helped and is working. 
What do you miss most about gymnastics and being an LSU Tiger? 
I am still involved with LSU Gymnastics so I don't miss being a Tiger. But I do miss being a gymnast! I miss competing and pushing myself to get better each week.  Throughout the season I often think, "I wish I could this one more time." I miss the thrill of competing, thrill from my teammates having my back. I miss being a part of a team's success and making history. 
Did you choreography this year's floor routines for LSU? If so... which routines and any insight into what we might see? 
Yes I did, I have done choreography for LSU for the past 3-4 seasons. I'm really excited about this year's floor routines. I tried to step outside the box with ideas for this season's routines. Each routine tells a story as each girl brings something different to the floor lineup. I also added one position that each girl does within her routine. I am excited to see if the fans can pick that out of reach routine. All of the routines are complete, except for Lloimincia's. I have spent more time on each routine this year and I think it is paying off. 
Any insight into Llominicia's routine? 
I can say that Lloimincia wanted this routine to be a going away party. It has more LSU spirit and is a Louisiana and LSU themed routine. Her signature move comes at the end of the routine. This routine is a great wrap up to her career as it carries tradition. It is also a great way to say thank you to LSU fans.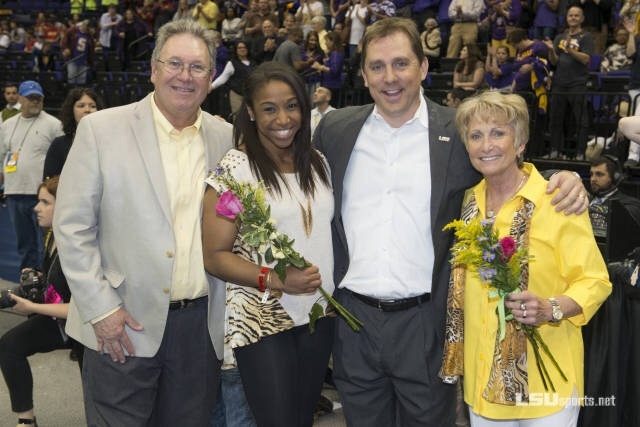 What is your current role with LSU? What is the best part about your role? 
I am the volunteer assistant coach and I also coach floor. I love to still be involved in a sport that I love so much and help specifically on an event that I love as well. It is great that D-D trust me to coach floor and do the choreography. I love that I can have a close relationship with the girls. It is very gratifying that I can relate to them, and they can call, text or ask me for advice anytime. I can be a big sister to them and mentor to them and share things that worked and didn't work for me. I love to be the person that they turn to in certain situations. 
What is next for you personally? What are your future goals?
I love being a lawyer but would love to be more of a behind the scenes type lawyer, not in the courtroom every day. I am also interested in contracts, maybe sports contracts. I would not be against not using my law degree to be a college coach someday. I think it would be exciting to coach and I would be a good asset to a team. Right now I am comfortable with where I am and taking it one day at a time. I would also love to be a business owner someday as well. I also have a passion for real estate. 
What is most exciting for you about the LSU programs most recent success? 
I love that gymnastics is finally becoming a headline at LSU. We have always been respected but people in the community are more aware of our program and success now, and out fan base is growing! It is exciting to watch the new facility go up as well. But most of all I love watching D-D have success. I have a great and close relationship with D-D and she is an amazing person. She has finally gained the respect that she deserves and she is so happy with all the recent success. She has been fighting for LSU gymnastics and a new facility for so long. D-D has such a great relationship with all of her athletes and demands respect. I just love to witness her happiness. 
Anything else you would like us to know about Ashleigh Clare-Kearney?
Watch out for LSU! It has taken awhile to gain respect but we appreciate the respect coming. We want to be the team that others want to be a part of. We want to gain respect from others as well as showing respect for other gymnasts and teams. We know how much hard work goes into this sport and respect that. Jay Clark has done a great job at teaching us all about respect within the sport. LSU is a great organization and we have great comradery and we have a lot of fun!