Catching Up With Kylee 'Botterman' Kolarik
Gymnastike recently caught up with former Michigan standout gymnast,
Kylee 'Botterman 'Koliak.
She
was a member of the Michigan gymnasics team from 2008-2011. Botterman lead the Wolverines back to the Super Six in 2011. Individually Botterman won the NCAA All-Around Title in 2011 as a senior.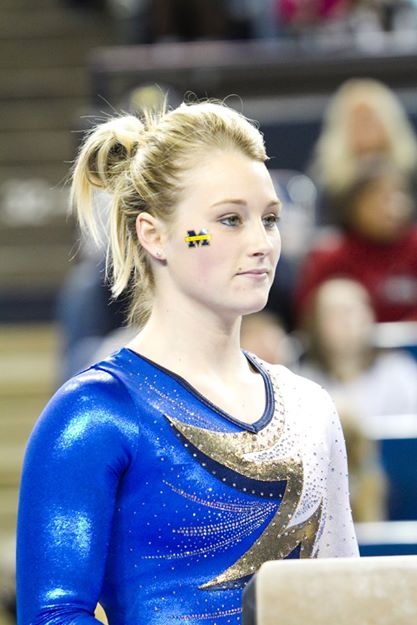 Image Via Michigan Gymnastics Facebook
What have you been up to since graduating in 2011?
My first two years after graduating I did a lot of coaching in Connecticut. I also worked with the Big Ten Network for those two years. My husband, Chad Kolarik, then took a hockey contract in Sweden. We lived there for a year and absolutely loved it. We were also able to do a lot of traveling. I then got pregnant with our first child and came home last summer when the baby was born in June. I have been back to Sweden with my husband, and he recently took a new contract in Russia. I am currently home in Chicago while my husband is working in Russia. I plan to move to Russia with him in the beginning of December throughout the remainder of hockey season, and we are very excited for the new experience! We then as a family will be home for the summer. 
When you look back at your career at Michigan, what moments stand out to you the most? 
All of the Big Ten Championships! That was my favorite meet of the year. This was a fun meet for the whole team as we had a lot to prove. There is great comraderie between all the teams and girls, in which we often have friends on other teams. My first two years I was able to see my sister who competed for Illinois at Big Ten Championships. I was fortunate enough to be able to win a championship each year I was a part of the team. 
What do you miss the most about being a Wolverine? 
What don't I miss! I don't miss going to class. But I miss everything else. I miss being with my best friends every day and training every day. I miss the Michigan sway and the Michigan gear we got each year. We were treated so well and taken care of, I miss that. I also miss running out of the tunnel in front our fans at Crisler Center. I also miss the feeling you would get when you stuck a landing and ran over to your teammates to celebrate, that it is a feeling I will never have again. 
What is the one NCAA accomplishment that you are most proud of?  
One of my goals when I came to Michigan was to help Michigan get back to the Super Six. Each year that we did not make it, only fueled my drive and goal even more. My senior year we made the Super Six competition and that is something I will never forget. It was something special to be on the floor the final night of the season. It was bittersweet knowing it was my final weekend of being a competitive gymnast. I am also very proud of winning the NCAA All-Around title my senior year. 
Bev has been very successful at Michigan and is a well-known and respected coach around the country. What is it about Bev that makes her a successful coach? 
Bev is awesome! We had a great relationship that grew with respect over my four years at Michigan. Bev does run a tight ship, but listens to her athletes very well. She had an open door policy which I loved very much. She communicated very well with her athletes and keeps everyone on the same page. She is very organized with everything she does and keeps everyone in check. Bev treats everyone like and adult and shows great respect. She has had a winning team for so many years, so she must be doing something right! She wants to win herself and has the same drive for the team.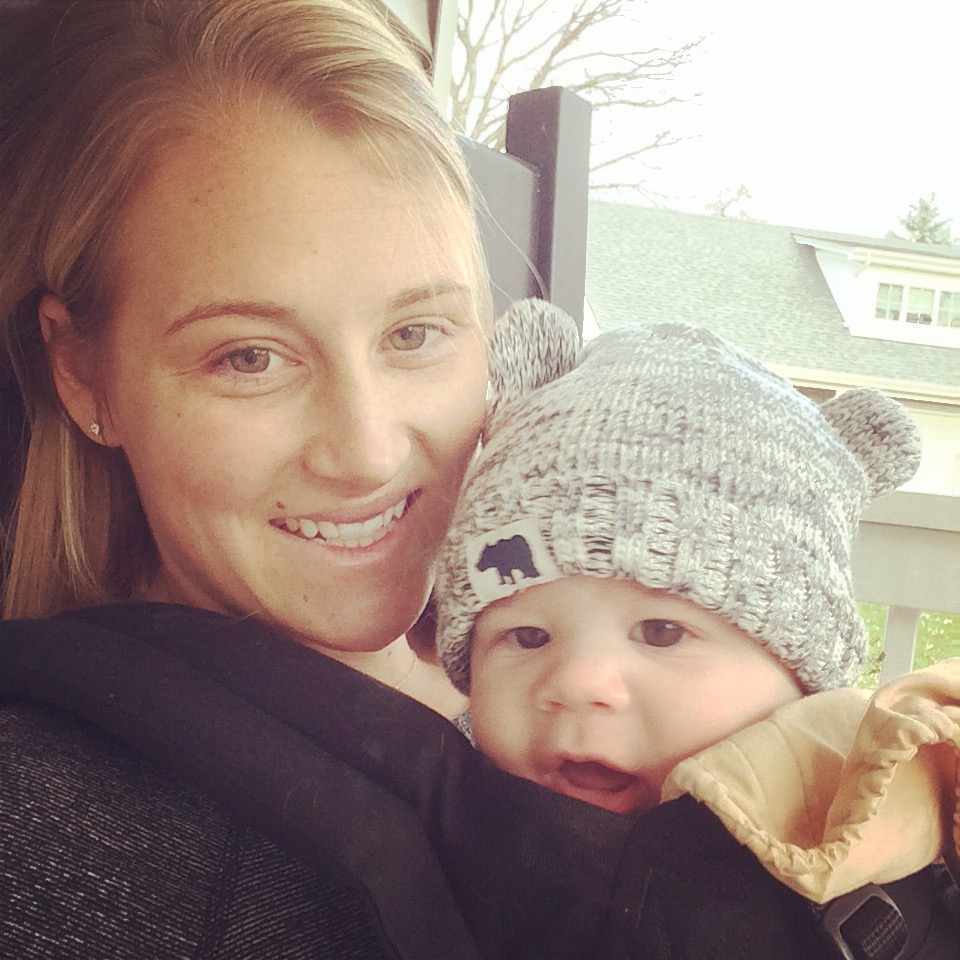 Congratulations on getting married and your first baby! Tell us what is has been like to be a mom. 
It is so great being a mom! I love him so much. Christian is 4 mo. old and is changing so much every day. It is hard at times with my husband being in Russia right now, but excited to get back together as a family soon. It is challenging at times, but very rewarding a lot of fun. I am so thankful to be able to FaceTime with my husband a lot so he can see Christian and share some memories together. He is starting to  roll over and talking a lot so that has been fun. 
In the past few years you have done some broadcasting for the Big Ten Network. Do you have plans to continue this? What have you enjoyed most about broadcasting? 
This opportunity came to me very randomly when the producer called me about broadcasting for the Big Ten Network. I said yes of course right away, and then started to get nervous about being on camera. I think I got better with each meet that I did. I loved doing it, it was a lot of fun! This was the perfect transition for me out of gymnastics. I got to be a part of the sport and the atmosphere that I loved so much, just in a different way. I was a part of the network for two years but then I moved out of the country, so I couldn't do it anymore. If I came back home and was offered the opportunity again, I would love broadcast again. I am happy I had the opportunity! 
Michigan Gymnastics has been in the top 10 in the country for quite some time now. What do you think it will take for U of M to be a contender at NCAA Championships?
I think Michigan has been a contender at Nationals. Every year each team has a completely new team and has the opportunity to win at Nationals. It doesn't matter your ranking, who you have beat, or who your start athlete is, the best team that night! It is anyone's game that night. Yes, Michigan lost a great group of seniors last year, but they have some great talent and a big class coming in this year. Every team across the country has lost seniors and great talent as well. With hard work and dedication I believe that Michigan can be in the Super Six where anything can happen. 
Related: