Event Hub
2013 NCAA Women's Gymnastics Championships LIVE Stream and Information
The 2013 Women's NCAA National Championships will take place April 19-21 in Pauley Pavilion on the campus of UCLA.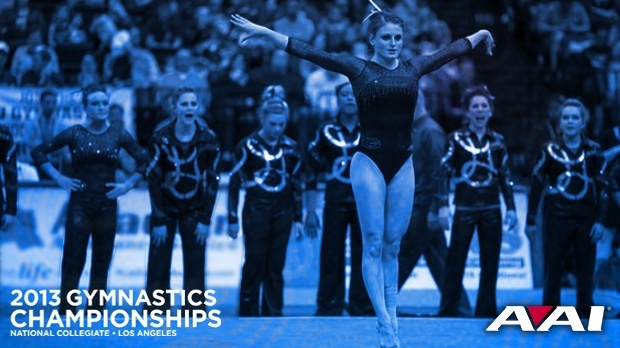 Gymnastike is back at the women's championships for the fifth consecutive year and will be your eyes and ears for the weekend. You can expect to see behind the scenes coverage, competition previews and recaps, video interviews, podium training videos, and live competition updates. 
Below is all the information you need to follow the most exciting week in NCAA women's gymnastics. 

Championship Schedule and Format
The competition begins on Friday, Apr. 19 with two semifinal sessions at 12 pm and 6 pm pacific time. The top three teams from each semifinal session will advance to the Super Six Team finals which will be held at 4pm on Saturday, April 20.
The NCAA all-around champion and individual event finalists will also be determined during Friday's semifinals. Individuals qualify for event finals by placing in the Top 4 (including ties) of that particular event during their own semifinal session.
Finally, competition concludes with Individual Event Finals which take place on Sunday, Apr. 21 at 1 pm.
Friday's Semifinal Sessions
Session 1, beginning at 12pm


No. 1 seed Florida, No. 4 Georgia, No. 5 LSU, No. 8 Minnesota, No. 9 Stanford and No. 12 Illinois.


Session 2, beginning at 6pm


No. 2 Oklahoma, No. 3 Alabama, No. 6 UCLA, No. 7 Michigan, No. 10 Utah and No. 11 Arkansas.
Click here to view the prelim competition draw
. 
2013 women's NCAA Gymnastics Championships Coverage
Here is what you can expect to see on Gymnastike during the Championships:


Video interviews. Hear from your favorite gymnasts and meet the rising stars before and after they take to the competition floor, and get a glimpse of the personalities of the stars of the 2013 NCAA Championships
LIVE Updates from Competition. Up-to-the minute competition quick hits, news, insights, and meet results throughout each and every day of competition. 
Additional Links to Follow the 2013 Women's NCAA Gymnastics Championships
2013 NCAA Women's Gymnastics Championships LIVE Stream Links
NCAA.com will broadcast Thursday's semifinals live, and ESPN3 will broadcast both the Super Six Team Finals on Saturday and the Individual Event Finals on Sunday. 
TV Coverage
The team finals will be televised by ESPNU on Apr. 30 at 5 pm PT. Calling the action for ESPN will be two-time Olympic gold medalist Bart Conner and two-time Olympic medalist Kathy Johnson Clarke with additional commentary by legendary Georgia head coach Suzanne Yoculan.

The Defending Champions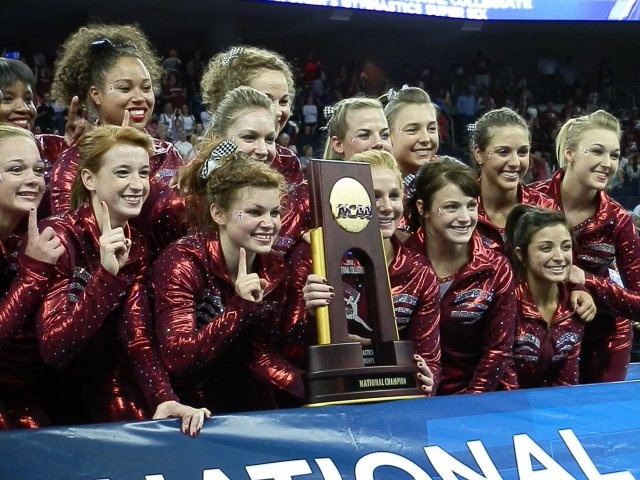 Team - Alabama 
All Around - Kytra Hunter of Florida
Vault - Kytra Hunter of Florida 
Uneven Bars - Kat Ding of Georiga (graduated)
Balance Beam - Geralen Stack-Eaton of Alabama (graduated)
Floor - Kat Ding of Georgia (graduated)

The Favorites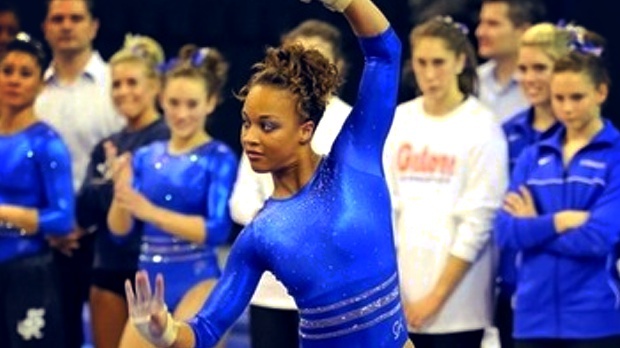 Florida is coming in ranked #1 with a monstrous season high of 198.425 and looking primed to win the program's first National title. 

In the all around, UCLA's Vanessa Zamarripa is ranked #1 nationally but her recent training has been slowed with a foot/ankle injury. Her biggest competition will come from freshman and former World All Around Champion Bridget Sloan of Florida, defending Champion Kytra Hunter, Michigan's Joanna Sampson, SEC Gymnast of the Year Rheagan Courville of LSU, Taylor Spears of Oklahoma, Nebraska duo Emily Wong and Jessie DeZiel, and Alabama 5th year senior Ashley Priess.