Event Hub
Sampson Sweeps as #3 Michigan Tops Iowa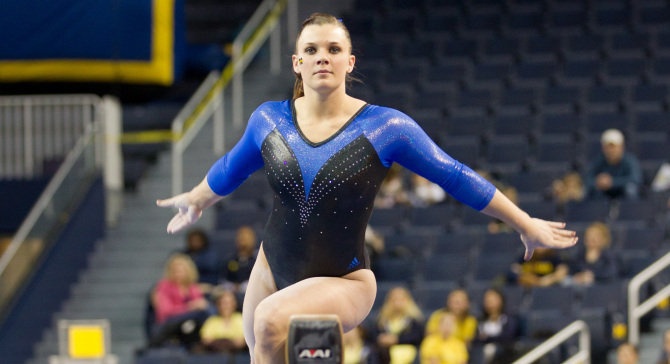 ANN ARBOR, Mich. -- Junior
Joanna Sampson
(Willow Grove, Pa./Upper Moreland) finished alone in first in all four events and scored a new personal best in the all-around (39.600) to lead the No. 3-ranked University of Michigan women's gymnastics team to a 196.675-195.200 victory over Iowa on Saturday (Feb. 2) at Crisler Center. The University of Iowa  team earned its second highest score of the season but could not overcome the Wolverines. 
Watch Sampson's 9.90 uneven bars routine:
Senior Katie Zurales (Wheaton, Ill./Wheaton Warrenville South) also had a strong meet, finishing second to Sampson in the all-around (39.400). Zurales finished in the top three in every event on Saturday, scoring 9.850 in all of them. She took second place on uneven bars and balance beam and third place on vault and floor exercise.
The Wolverines were in the lead from the very beginning of the meet, scoring a 49.275 on vault to occupy the first five spots on the podium, led by Sampson, who scored a 9.900. Following her performance was senior Natalie Beilstein (Butler, Pa./Knoch) in second (9.875), senior Katie Zurales (Wheaton, Ill./Wheaton Warrenville South) in third (9.850) and Texas natives Sachi Sugiyama (Keller, Texas/Keller) and Austin Sheppard (Dallas, Texas/Plano East) in a tie for fourth (9.825).
All six Michigan gymnasts up on uneven bars scored above 9.800, leading to a total of 49.225. Following Sampson's score of 9.900 was Zurales and Sugiyama, who both tied for second at 9.850. Other gymnasts to score well for Michigan included senior Brittnee Martinez (Colorado Springs, Colo./Doherty), who tied for fifth at 9.825, and sophomore Annette Miele (Easton, Pa./Easton Area) and junior Shelby Gies (Pennington, N.J./Hopewell Valley Central), who both tied for seventh (9.800). Halfway through the meet, Michigan led Iowa, 98.500-97.625.
Miele was up first on beam but scored only 9.125 after over-rotating on her dismount. The next five up all hit, scoring an even 49.000 and saving the Wolverines from having to count a fall. Sampson posted the highest score at 9.875, followed by Zurales in second (9.850) and Martinez in third (9.825). The two other scores that were counted came from Gies at 9.775 and junior Reema Zakharia (Miami, Fla./Coral Gables Senior High) at 9.675.
The Wolverines put an exclamation point on the evening on floor exercise, scoring 49.175. Sampson was once again the star, performing a double layout during the first pass to post a big score of 9.925. Zurales took third (9.850), followed by Beilstein and Zakharia, who each tied for fourth (9.825). Sugiyama gave the team a score of 9.750, while junior Stephanie Colbert (Naperville, Ill./Neuqua Valley), in her only event of the evening, scored 9.675.
Michigan has four of its final six regular-season meets on the road, beginning Friday (Feb. 8) at Ohio State. The meet will begin at 7 p.m. in Columbus, Ohio.
CLICK HERE  to watch meet videos by Kristin Nagle
. 
Meet Results