Event Hub
Washington Shows Up! Tops Arizona 196.025-195.200
After a disappointing start to the season, the unranked Washington Huskies finally put it all together today in Seattle, sweeping the meet over Arizona. Washington smashed their previous season high of 194.875 set last weekend at the Metroplex Challenge with a solid 196.025 today.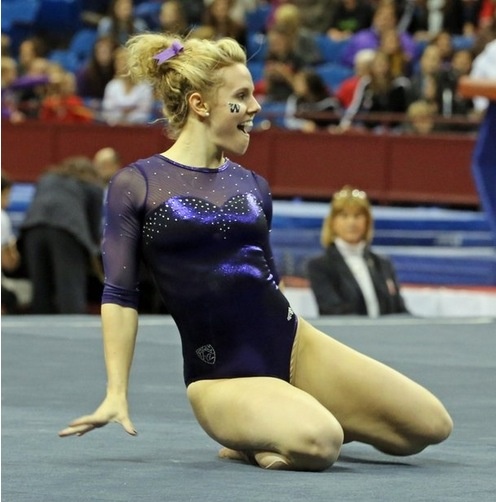 Photo by Erin Long


Below is the release from Washington Athletics:
SEATTLE - The team title. The all-around. The vault, bars, beam and floor. The GymDawgs won everything Friday night at Alaska Airlines Arena with a huge score and upset over No. 12 Arizona, 196.025-195.200.


Washington posted team season-highs on three of the four events and outscored Arizona on all four events to take the dual meet victory. It was the best team score for the Huskies in 2013 by over a point.
Despite tough scoring on vault which led to a 48.650, the Huskies were pleased with their routines and took that positive thinking to the next three events, scoring a 49.175 on bars, a 49.125 on beam and 49.075 on floor.
"We've been waiting to put four good events together," said head coach Joanne Bowers. "It was nice to be able to do it tonight. Everybody contributed. Our goal was to improve a little bit each week and put it together and we did that tonight."
Individually, nearly every Husky that competed scored at least a season-high if not a career-high on at least one event. For the first time in 2013, the Huskies swept all four individual titles and the all-around.
Senior Lauren Rogers (Plains, Pa.) won her second all-around title of the year posting a new career-best of 39.175. She also took the individual title on vault scoring a 9.850.
"I think we are all really proud of ourselves," said co-captain Rogers. "We have been building up to this every single meet and we are proud we really did it and proved to everyone what we could do."
Two freshmen won their first collegiate titles on the night with career-bests as Sheridan Metcalf (Mesa, Ariz.) won bars with a 9.875 and Allison Northey (Sammamish, Wash.) won the beam with a 9.850. Sophomore Jackie McCartin (West Covina, Calif.) tied for first on beam with Northey.
"Getting a 196 is something we knew we could get but we hadn't been able to execute in a meet and I know we can get higher so I'm excited to see what's next," said Northey.
Junior Aliza Vaccher (Eugene, Ore.) won her second-straight floor title with a 9.900. Vaccher was second on vault with a 9.775.
The Huskies took the top four sports on bars as McCartin, Northey and McKenzie Fechter (Mequon, Wis.) tied for second behind Metcalf with a 9.850.
Fechter and senior Paige Bixler (Rowlett, Texas) posted a 9.825 each to tie for third on beam. Bixler also posted a 9.825 on floor to tie for third on that event as well.
Next up for the UW is a Quad Meet at UCLA on Feb. 10 at 2 p.m. featuring UC Davis and Sacramento State.


Meet Results