Event Hub
OU Posts Season-High 197.375 in Win at West Virginia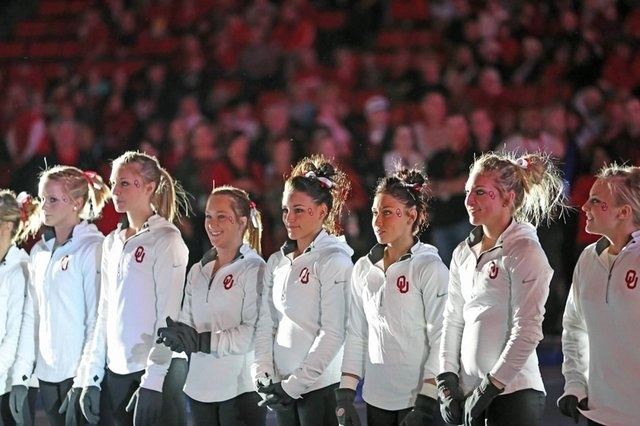 The 2013 Oklahoma Sooners. Photo by Erin Long

MORGANTOWN, W.Va. -- The No. 2 Oklahoma women's gymnastics team cruised to victory Friday, scoring 197.375 to defeat Big 12 foe West Virginia (195.875) and non-conference opponents Western Michigan (192.475) and William & Mary (192.225) on Saturday. 
The Sooners scored season bests on vault, beam and floor on their way to posting their second-highest team score in Big 12 competition in program history, finishing just shy of a 197.400 at Missouri last season. The score was also the ninth-best ever by a Sooner team. 
"I thought it was a phenomenal meet for us," said OU head coach K.J. Kindler. "We draw something new and different out of every meet and this meet I felt we were really good about being aggressive across the board."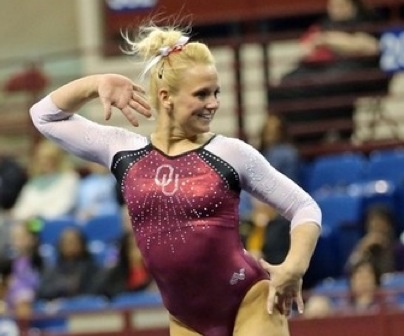 Senior Brie Olson earned the top all-around score with a 39.575, a personal best. Olson also tied a career high on bars and posted a new high mark on floor. 
Oklahoma continued to show why its the No. 1 beam team in the nation, scoring a season-high 49.475, smashing the Sooners previous national best score of 49.350 set against Denver. Juniors Madison Mooring and Taylor Spears each recorded scores of 9.925 while senior Brie Olson tied a career and season high with a 9.9.

Watch Mooring's beam routine: 


Watch more video of #2 OU, WMU, and W&M at West Virginia on gymnastike.org
The Sooners rode the momentum from beam to their floor routines, posting a 49.450, a season high. Freshman Haley Scaman put the exclamation on the rotation, posting a 9.95, a Sooner best on the event this season. 
Olson added a career-high 9.925 and sophomore Erica Brewer broke her career best of 9.875 with her own 9.925 score. 
"They competed very relaxed and confident," Kindler said. "That's something we look for because we always have our best meets when we go about it in a very calm, assured way."
The freshman duo of Scaman and Keeley Kmieciak led OU to its 49.300 on vault, with each gymnast registering a 9.9. 
OU score a 49.150 on bars, led by Olson and Spears each scoring a 9.875.