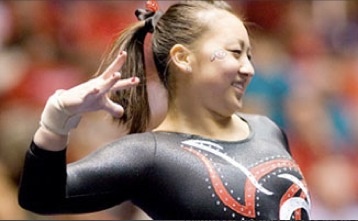 SALT LAKE CITY-- The No. 9-ranked Utah gymnasts beat Arizona State 196.425-195.450--scoring season highs on three events--but the mood was somber after the team learned it has lost All-American and team co-captain
Corrie Lothrop
for the season. Lothrop, who was coming off a victory on beam, where she scored a season-high 9.875, ruptured her Achilles during floor warm-ups. The junior was leading the all-around competition prior to the injury and entered the meet ranked 13th in the nation in the all-around.
It is the second time Lothrop has torn an Achilles, this time her left one. She tore her right Achilles the year before she came to Utah.
"I told the team we can feel sorry for ourselves for the weekend, but Monday, we need to come ready to work," said coach Greg Marsden. "Corrie leaves some big shoes to fill, but we have a team full of talented athletes and others need to step up."
Lothrop, an alternate for the 2008 U.S. Olympic team, is Utah's most decorated gymnast with five All-America awards in her first two seasons.
"It is emotional for everyone because Corrie is a big deal to all of us. She is a rock," said a tearful Mary Beth Lofgren, who replaced Lothrop in the floor lineup. "Corrie is a fighter and she'll find a way to help the team even in a boot," added Lofgren.
Lothrop seemed resigned to months of rehabilitation after the meet. "I can't believe I did the other one. I was trying to be someone who didn't do both. I came out of my first one well and recovered pretty fast."
Lothrop's injury overshadowed a huge night by sophomore Tory Wilson, who is quickly becoming a fan favorite. The crowd of 14,410 roared as a 10.0 came up from one judge and Wilson won her fourth straight vault competition with a career-high 9.975. Later, she scored a career-best 9.90 on floor.
For the third-straight meet, a Ute won every event title and the all-around, as defending Pac-12 champion Georgia Dabritz won the bars with a career-tying 9.95 and also won the all-around, despite a fall on beam, with a 38.90. Lothrop won beam with a season-best 9.875 and placing first on floor for the second-straight week was Becky Tutka with a career-high 9.925.
Utah never trailed in the meet, tying its season best on vault (49.325) and scoring season highs on bars (49.30) and floor (49.30), but ASU closed the gap in the third rotation when the Utes were forced to count a fall. Between falls by Dabritz and Lofgren, the "rock" Lothrop sailed to a 9.875.
Utah improved to 5-1 overall and 2-1 in the Pac-12. Arizona State dropped to 2-3 overall and 0-2 in conference play. The Utes play host to No. 20 Cal next Saturday at 7 p.m. in Short People Appreciation Night.