#1 Florida Scores 197.575 In Win Over Arkansas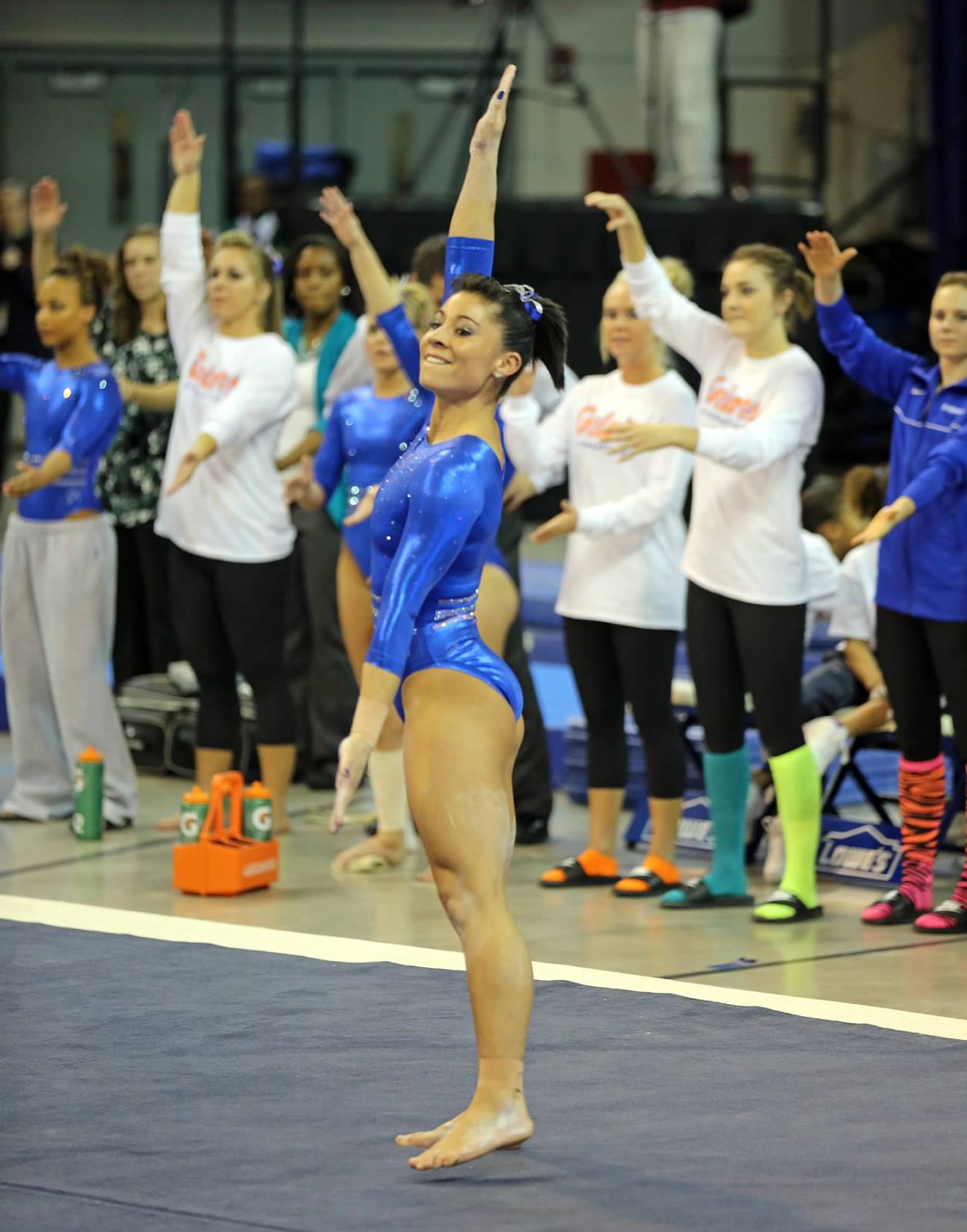 (c)Erin Long


The No. 1 Florida gymnastics team (4-1, 3-1 SEC) used the nation's second-highest total of 2013 to take the win at No. 22 Arkansas (1-3, 0-3 SEC) Friday in front a Barnhill Arena crowd of 5,278. Florida posted a 197.575 Friday while the Razorbacks turned in a season-high 196.175.
 
For the second consecutive Friday, the Gators were wearing pink. After tonight's performance, the Gators may consider wearing the hue more often. Last week in the Gators Link to Pink meet, Florida used the nation's top total of 197.65 to take the win and move into the No. 1 position in this week's national rankings. Tonight, the Gators were sporting the color again for Arkansas' Pink Meet and UF's winning total of 197.575 stands second to last Friday's total.
 
These pink meets are part of a Southeastern Conference initiative to raise awareness for the fight against breast cancer and all league gymnastics teams will have a pink meet this season.
 
The visiting team brought the No. 1 ranking into the last two regular-season meetings between these two programs with the home team taking the upset win both times. Although that particular nugget of information wasn't discussed pre-meet with the Gators, the team did know this was a chance to show they were capable of strong scores even with personnel changes.

Tonight the reigning SEC Gymnast of the Week and 2012 NCAA all-around champion, Kytra Hunter, performed only in the uneven bars and junior All-American Alaina Johnson is still out resting her sore back.
 
Florida head coach Rhonda Faehn couldn't have asked for a better response from the team.
 
"I was really happy with the way all of our athletes responded, especially knowing that we were going to rest Kytra on three of the four events and Alaina was still out. They knew we were going to change up the lineups," Faehn said. "And what I loved was that every athlete stepped up and took ownership of their event. I have told each and every athlete who gets put in the lineup that they are capable of scoring an amazing score."
 
Florida punctuated solid uneven bars and vault lineups with scores of 9.95. Junior Mackenzie Caquatto claimed her second uneven bars win of the season with her 9.95 and senior Ashanée Dickerson used the same mark to take her third vault victory of 2013. Freshman Bridget Sloan used a collegiate-best 9.925 to claim her second collegiate balance beam title. Arkansas' Katherine Grable took the floor exercise win at 9.95, while Dickerson and senior Marissa King were among the three-way tie for second at 9.90.
 
Florida's three all-arounders all were very close in the final scoring. Sloan shared her first collegiate all-around win with Dickerson at 39.55. It was Dickerson's third all-around win of the season and the 16th of her career. King posted a season-best 39.50 Friday to take third.

Mackenzie Caquatto said the team's attitude was noticeable as soon as the team entered the arena for warm-ups.
 
"Tonight was a lot of fun. The team atmosphere was just amazing. Everyone just went out there and did the best they could and it started off from warm-ups. We went out there with great spirit as everyone was cheering for each other and wanting everyone to do the best they could, " Caquatto said. "After everyone else had done great before me in the bar lineup, it just kind of set me up and set my mindset where it needed to be. I just wanted to do the best routine I could do for the team."
 
For every competition, the team keeps a word in mind to keep their goals in mind for the meet. Tonight's word -- passion -- was selected by Dickerson. The goal was to show the team's passion for the sport and for each other. Sloan thought it was another step in the right direction.
 
"Tonight the atmosphere was just incredible. The whole team was on fire and we showed a lot of passion tonight. Ashanée had our word of the meet, which was passion. We really showed how much passion we had for each other and for the team," Sloan said. "Again it was an incredible meet for everybody. We really came together as a team and supported each other 100 percent. I know I have been saying that a lot, but really each meet it gets a little better and better. There are only good things to come.
 
The top two teams in 2012 NCAA Championship competition meet next Friday in the O'Connell Center for one of the nation's top dual meets of the 2013 season. Florida plays host to defending NCAA champion and No. 5 Alabama (3-0, 3-0 SEC) on Friday, Feb. 8 at 7 p.m.