No. 1 Florida at No. 22 Arkansas

Sophmore Kytra Hunter 9.975 on Vault


The No. 1 Gator gymnastics team (3-1, 2-1 SEC) is back in pink this Friday when they compete at No. 22 Arkansas (1-2, 0-2 SEC) for the Razorback's Pink Meet. Start time is set for 8 p.m. in the Barnhill Arena.

Series Record (all-time): UF leads 28-3. Last meeting, Florida was second in 2012 NCAA Super Six competition (197.775) and Arkansas was sixth (196.30)

These "pink" meets are part of a Southeastern Conference initiative to raise breast cancer awareness and all of the league's gymnastics teams will participate in a "pink" meet this season.

Florida looked strong in their pink meet last Friday, using the nation's top total of 197.65 to take the seventh annual Gators Link to Pink meet over then No. 18 Auburn (196.025) in front of the program's sixth-largest crowd of 8,159. Sophomore Kytra Hunter upped her nation's leading total to 39.70 to claim her second all-around win of the season. Hunter also claimed the vault (9.975), balance beam (9.90) and floor exercise (9.925) apparatus titles.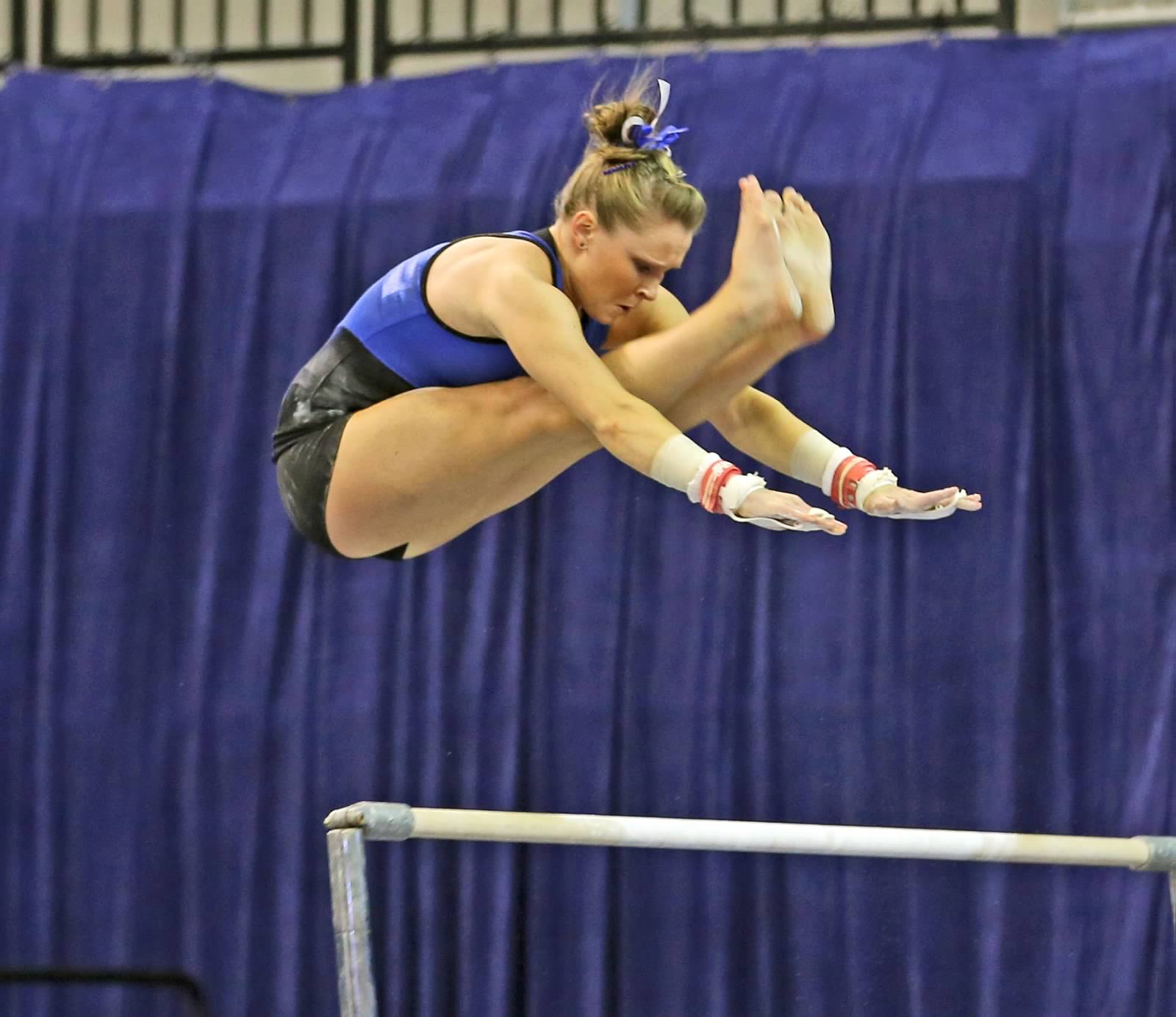 (c) Erin Long

A pair of freshmen shared the uneven bars title at 9.925. Bianca Dancose-Giambattisto, making her first appearance in a Gator lineup, posted a 9.925 on bars, which was matched by fellow freshman Bridget Sloan. For Dancose-Giambattisto, it matched Alaina Johnson's 2011 mark as the highest score posted in bars lineup debut. Florida's vault total of 49.625 is the second-highest in UF history, second only to 49.65 set versus UCLA in 2004.



Three Gators (Marissa King, Ashanée Dickerson and Sloan) all turned in vault marks of 9.925 and Hunter equaled Dickerson's season-high vault mark of 9.975.

Hunter's performance last Friday earned her the second SEC Gymnast of the Week honor of her career and first of 2013. She is the fourth Gator recognized by the SEC this season and second consecutive to earn the gymnast of the week honor, as Dickerson claimed the Week 3 award. Junior Mackenzie Caquatto was the Week 3 SEC Specialist of the Week and Sloan claimed the first SEC Freshman of the Year honor.

Florida has at least one gymnast among the nation's top 10 in each of the five events. Hunter tops the all-around (39.688) rankings and also hold rankings of No. 2 on vault (9.942), uneven bars (9.925) and floor exercise (9.917). Dancose-Giambattisto leads the uneven bars rankings (9.925). Sloan is No. 4 in the all-around (39.425) and Dickerson is also No. 4 on vault (9.931). Mackenzie Caquatto holds the No. 5 position in the balance beam rankings (9.888).

Arkansas' season-best total of 195.775 came last Friday in its upset win over then No. 11 Denver in the Barnhill Arena. Junior All-American Katherine Grable owns the Razorback's top all-around total of 39.45, set in their season-opener versus Georgia. Florida lost in its last two trips to the Barnhill Arena, so will be looking for its first dual meet win in Fayetteville since 2007.