Event Hub
Alabama Gymnastics Beats Missouri in Season Opener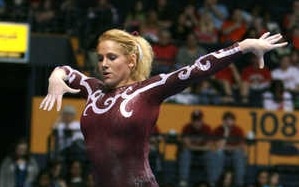 COLUMBIA, Mo. -- The two-time defending NCAA Champion Alabama gymnastics team opened the 2013 season with a 196.450-192.025 win over No. 21 ranked Missouri. Alabama, ranked No. 1 in the preseason coaches' poll, is now 57-8-1 in season openers under Sarah and David Patterson, who are in their 35th season leading the Crimson Tide.
"I felt like we did a good job tonight, I didn't feel like we were great, but I think that's down the road," UA head coach Sarah Patterson said. "We were pretty consistent, but we made little mistakes. For example, we hit all of our routines on the uneven bars, but we missed some handstands. We were just a little tight in some things like that."
Alabama scored better than 49 on all four events and won all five individual titles. In her first all-around since her freshman year, junior All-American Kim Jacob won posted a 39.275 for the win.
In its first rotation, junior All-American Sarah DeMeo led the Tide to a 49.050 team score on the uneven bars with a 9.9. In addition to DeMeo's winning score, senior All-Americans Ashley Sledge and Ashley Priess scored matching 9.925s to open and close the rotation.
Alabama came back on the vault and scored a 49.175 on the strength of junior All-American Diandra Milliner's winning 9.925. Sophomore Kaitlyn Clark and All-American senior chipped in a pair of 9.825s to the Tide's vault total.

Watch Milliner's 9.925 vault:



On the floor exercise, junior All-American Kim Jacob won the event with a 9.875, pacing Alabama to a 49.075 team score. Sophomore Brooke Parker scored a career-best 9.825 while DeMeo and Milliner closed out the Tide's set with matching 9.85s.
"We had a few mistakes on floor exercise, and that was the event that we had the most question marks about coming into the meet because that's the event that is the hardest to get back into coming off the Christmas holidays," Patterson said.
The Tide finished out the meet with a 49.150 on the balance beam, led by matching 9.9s from Jacob and DeMeo, which were the top scores on the event, while Milliner added a 9.8 to UA's total.
"I really thought we did well on the balance beam," Patterson said. "It was a good way to finish off the night and carry us into next week."

                                                     Alabama vs. Missouri
| | | | | | |
| --- | --- | --- | --- | --- | --- |
| | VAULT | BARS | BEAM | FLOOR | TOTALS |
| Alabama | 49.175 | 49.050 | 49.150 | 49.075 | 196.450 |
| Missouri | 48.625 | 47.450 | 47.250 | 48.700 | 192.025 |
ALABAMA 
196.450
MISSOURI 
192.025
| | |
| --- | --- |
| ALABAMA » UNEVEN BARS | |
| Ashley Sledge | 9.825 |
| Becca Alexin | 9.750 |
| Kim Jacob | 9.700 |
| Kaitlyn Clark | 9.750 |
| Sarah DeMeo | 9.900 |
| Ashley Priess | 9.825 |
| TOTAL | 49.050 |
| | |
| --- | --- |
| MISSOURI » VAULT | |
| Laura Kappler | 9.600 |
| Sandra Ostad | 9.750 |
| Katelyn Trevino | 9.650 |
| Tori Howard | 9.750 |
| Rachel Updike | 9.875 |
| Briana Conkle | 9.550 |
| TOTAL | 48.625 |
Rotation 2
| | |
| --- | --- |
| ALABAMA » VAULT | |
| Kim Jacob | 9.800 |
| Kaitlyn Clark | 9.825 |
| Lauren Beers | 9.450 |
| Ashley Sledge | 9.800 |
| Marissa Gutierrez | 9.825 |
| Diandra Milliner | 9.925 |
| TOTAL | 49.175 |
| | |
| --- | --- |
| MISSOURI » UNEVEN BARS | |
| Sandra Ostad | 9.500 |
| Taylor Medrea | 7.700 |
| Briana Conkle | 9.475 |
| Mackenzie McGill | 9.650 |
| Rachel Updike | 9.575 |
| Katelyn Trevino | 9.250 |
| TOTAL | 47.450 |
Rotation 3
| | |
| --- | --- |
| ALABAMA » FLOOR EXERCISE | |
| Lauren Beers | 9.650 |
| Kaitlyn Clark | 9.675 |
| Brooke Parker | 9.825 |
| Kim Jacob | 9.875 |
| Sarah DeMeo | 9.850 |
| Diandra Milliner | 9.850 |
| TOTAL | 49.075 |
| | |
| --- | --- |
| MISSOURI » BALANCE BEAM | |
| Laura Kappler | 9.725 |
| Taylor Medrea | 9.425 |
| Mackenzie McGill | 9.075 |
| Rachel Updike | 9.850 |
| Tori Howard | 8.625 |
| Briana Conkle | 9.175 |
| TOTAL | 47.250 |
Rotation 4
| | |
| --- | --- |
| ALABAMA » BALANCE BEAM | |
| Marissa Gutierrez | 9.775 |
| Diandra Milliner | 9.800 |
| Kayla Williams | 9.775 |
| Sarah DeMeo | 9.900 |
| Ashley Priess | 9.750 |
| Kim Jacob | 9.900 |
| TOTAL | 49.150 |
| | |
| --- | --- |
| MISSOURI » FLOOR EXERCISE | |
| Taylor Medrea | 9.650 |
| Cathryn Aliceaacosta | 9.350 |
| Katelyn Trevino | 9.800 |
| Tori Howard | 9.825 |
| Briana Conkle | 9.675 |
| Sandra Ostad | 9.750 |
| TOTAL | 48.700 |
All Around
| | | |
| --- | --- | --- |
| Kim Jacob | Alabama | 39.275 |
| Briana Conkle | Missouri | 37.875 |
Alabama