Event Hub
Mustafina Earns Russia's First Gold; Tweddle Medals at Last
MUSTAFINA ON TOP!

2012 London Olympics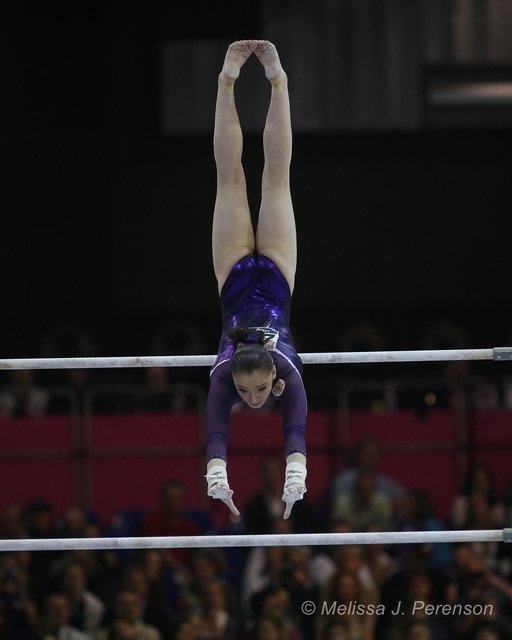 Russia's Aliya Mustafina saved her best for the uneven bars final, sticking her signature dismount to win gold over defending Olympic champion He Kexin and Great Britain's Beth Tweddle.  Mustafina's win cemented Russia's first gold medal in gymnastics at these Games.


Performing late in the lineup, Mustafina showed great flight on her transition elements, including a daring connection of Pak Salto to Stalder Shaposhnikova with half turn.  She left little doubt that she would take over first place when she drilled her "Mustafina" - a 1 1/2 twisting double back dismount to score 16.133.
China's He Kexin, the Olympic gold medalist from 2008, went up first and hit a steady routine with her fantastic combination of Jaeger 1/2 to Jaeger.  A 15.933 earned her a silver medal in her second Olympics.
Crowd favorite Beth Tweddle of Great Britain likely would have won gold had she not stumbled backwards after her double-twisting double back, giving away valuable tenths, but still managing a 15.916 and her first Olympic medal - a bronze.  Tweddle competed her full difficulty routine, including a stellar combination of Tkatchev 1/2-Yezhova-Maloney 1/2.  
Yao Jinnan of China finished just shy of the medals in fourth, showing exactness in her pirouetting skills (15.766), while Viktoria Komova hit her foot on the low bar preparing to dismount, finishing fifth (15.666).  
All Around Champion
Gabby Douglas
had a great routine going, but her aggression got the best of her, as she fell the wrong way after a pirouette to score only 14.9.

---
BETH TWEDDLE WINS AN OLYMPIC MEDAL AT LAST!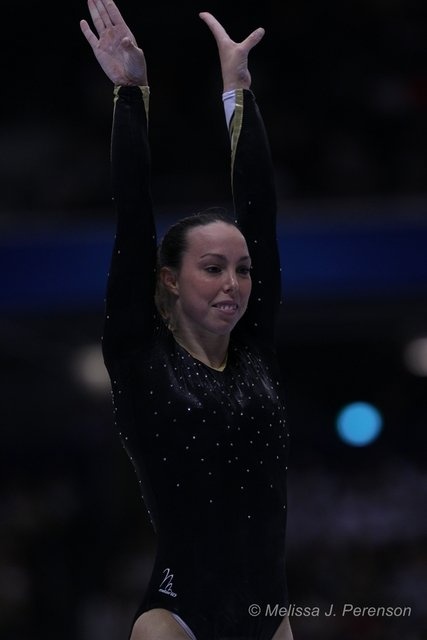 Team GB's Beth Tweddle has been one of the World's greatest on the uneven bars since 2002 and tonight she finally completed her medal collection with the ultimate prize, and Olympic medal.

Tweddle persevered after a disappointing 4th place finish in the Beijing uneven bar final and stuck it out four more years, eyeing this very day. The 27-year-old also had to bounce back form emergency knee surgery in May to even be ready for her third Olympic Games.

Tweddle hit her difficult routine in today's uneven bar final to secure the bronze medal and made history for her country once again. She has won the first ever individual Olympic medal for British women's Gymnastics and the first medal otherwise since the 1928 Games team bronze in Amsterdam. To make it even sweeter, Tweddle accomplished this feat in front of a home crowd.
"It's the best feeling in the world to win the bronze medal, there was one point today I thought I'd end in 4th like in Beijing 08, so I'm really happy. This was the one medal missing from my collection; this is the one I really wanted. I tried to keep calm and do what I do best and the crowd were amazing, as soon as I walked into the arena it was incredible. I haven't  made any future plans yet, I definitely won't be in Rio but I'm happy to go home now, have a bit of a holiday and then get back into the gym and if my hearts in it I will continue. I had a step on my dismount but at the end of the day I had to go for the difficult dismount to challenge for a medal. To be honest I could say 'what if' but I'm not disappointed in the slightest, any medal, any colour is what I always said I wanted, so I'm extremely happy."
- Beth Tweddle
 "It's been a long four years for Beth, Its all she's wanted and I'm really happy for her. It's all due to the fabulous support from British Gymnastics and the National Lottery and now there is only one way to go and that's forwards. She's the only gymnast I've ever worked with that's given 100% day in day out and I'm very proud she walked through my door all those years ago."
- Amanda Reddin (Beth's coach)
---
More QUOTES from uneven bars finalists:

Thoughts from Gold Medalist Aliya Mustafina:
"I am very, very happy I've won gold. Every medal represents its own thing. I was hoping very much to win and I was very happy with my routine. I didn't know what to expect of myself today, I did my own thing."
On whether, six months ago, she expected to win the final:
"Absolutely, I did not. I did not believe I could do it. I was nowhere near in the shape I am now."
On her preparation before the final:
"I woke up at 9am and had no breakfast. I did my warm up and rested, travelled on the bus with Victoria (Komova) and listened to music. I thought every element through before I came out."

Gabby Douglas on the challenge of the bar final
"It was definitely an amazing talent of bar finalists. You see Beth Tweddle with her insane connections, and Mustafina with her lines and preciseness. So, coming into bar finals was definitely a big challenge for me. You know, I made a little mistake but I'm human, and when you get to the end of the Olympics you get drained and tired. I wasn't doubting myself in bar finals, but even if I hit a good solid routine it still wouldn't be enough to medal because Tweddle, Mustafina and the Chinese girls post up these big scores, and going in I had an average to low start value. So, I'm going to go into beam tomorrow and finish on a good note, really strong."


2012 OLYMPIC UNEVEN BARS FINAL RESULTS:
1. Aliya Mustafina (RUS)- 16.133 (GOLD)
2. He Kexin (CHN)- 15.933 (SILVER)
3. Beth Tweddle (GBR)- 15.916 (BRONZE)
4. Yao Jinnan (CHN)- 15.766
5. Viktoria Komova (RUS)- 15.666
6. Elizabeth Seitz (GER)- 15.266
7. Koko Tsurumi (JPN)- 14.966
8. Gabby Douglas (USA)- 14.9
------------------------------------------------------------------------------
2012 OLYMPIC UNEVEN BARS FINALISTS:
1. Beth Tweddle (GBR)- 16.133
2. He Kexin (CHN)- 15.966
3. Viktoria Komova (RUS)- 15.833
4. Yao Jinnan (CHN)- 15.766
5. Aliya Mustafina (RUS)- 15.7
6. Gabby Douglas (USA)- 15.333
7. Elizabeth Seitz (GER)- 15.166
8. Koko Tsurumi (JPN)- 15.033

Reserves: Celine van Gerner (NED), Kyla Ross (USA) and Rebecca Tunney (GBR)
------------------------------------------------------------------------------------------------------------------
WAG:   Team     AA     VT     UB     BB     FX
MAG:   
Team
AA
FX
PH
SR
VT
PB
HB
When: Monday, Aug. 6 - 9:50 a.m. ET


------------------------------------------------------------------------------------------------------------------


How to advance to Uneven Bars Finals
The top eight gymnasts based on scores from prelims will advance to event finals. However, only two gymnasts per country may advance.

Past World Champions
2011 Viktoria Komova (RUS)
2010 Beth Tweddle (GBR)
2009 He Kexin (CHN)

Past Olympic Champions
2008 He Kexin (CHN)
2004 Emilie Le Pennec (FRA)
2000 Svetlana Khorkina (RUS)
1996 Svetlana Khorkina (RUS)

2012 Olympic Medal Contenders



Aliya Mustafina, Russia
In her first Worlds final in 2010, Mustafina took home silver.  Since dominating the Rotterdam Worlds, she has torn her ACL and painstakingly worked her way back to form.  The one event she'll be sure to peak on in London is uneven bars, where she has upgraded her routine to a 7.0 D-score. Already in 2012, Mustafina has scored 16.220, the highest bars score in the world.




Beth Tweddle, Great Britain
A two-time World Champion on uneven bars in 2006 and 2010, Britain's Beth Tweddle is still lacking an Olympic medal on the event, after ending up in fourth at the Beijing Games.  An innovator and supreme risk-taker on the apparatus, Tweddle's routine has the potential to take your breath away.




Gabby Douglas, USA
The top uneven bars worker in the U.S. is high-flying Gabby Douglas, nicknamed the "Flying Squirrel" because of her dynamic release skills.  With a D-score lower than the other top contenders, Douglas will rely on stellar execution to earn a medal.




He Kexin, China
As reigning Olympic champion, He Kexin is aiming to defend her bars title in London.  The last addition to the Chinese team, He Kexin has shown improvements at just the right time, boasting the world's highest D-score (7.1) and scoring as high as 15.85 in 2012.




Viktoria Komova, Russia
The World Champion from 2011, Komova is a favorite to win Olympic gold on the event in London.  With big amplitude and gorgeous lines, Komova's 7.0 routine is a walk in the park for her. Scoring as high as 16.2 this year, her biggest competition may be her own teammate, Mustafina.

Youna Dufournet, France
A dark horse for an uneven bars medal in London is veteran Youna Dufournet, who placed eighth on the event at last year's World Championships.  Dufournet utilizes difficult combinations on bars to build her D-score up to 6.9.  Inconsistency and injuries have hampered her in the past.  Will she rise to the occasion in London?




Kyla Ross, USA
Ross earned a spot on the U.S. Olympic team by delivering consistent and high-scoring bars routines. With a top score of 15.65 this year, Ross is in position to take advantage of any mistakes from favorites in the final.